I Was Imprisoned for Eight Years for Upholding My Belief
December 25, 2014 | By Li Wenbo, a Falun Gong practitioner from Yunna Province, China
(Minghui.org) Editor's note: Mr. Li Wenbo, a 48-year-old farmer and a Falun Gong practitioner, was sentenced twice for a total of eight years for upholding his belief. He was tortured to the brink of death several times in labor camps and prison. After his release earlier this year, he told us his story.
***
Three days after I was arrested on February 2, 2005, I was sentenced to three years of hard labor for practicing Falun Gong.
During the three years and four extended months I was detained at Yunnan No. 2 Forced Labor Camp, where I was beaten and tortured for not giving up my belief. By the time I was released on June 21, 2008, I had lost six teeth, my vision had become blurred, and there was an 8-inch long scar on my left leg.
The labor camp often transferred me to different wards – I was tortured by various groups of guards, who kept trying to force me to give up my belief. As a result of my refusing to admit I committed a "crime" for believing in Truthfulness-Compassion-Forbearance, I was beaten by guards every day.
In addition to the beatings, the guards also tortured me with burning, freezing, and sometimes a spittoon used to contain excrement and urine was placed on my head.
Division chief Hu Wenchang once told the guards while beating me with my mouth taped, "If he dies, we'll just tell his family that he committed suicide."
Sentenced to Five Years Without Family's Knowledge—Family Denied Visitation
Less than a year after being released from the labor camp, I was arrested again, on May 11, 2009. Five months later, on October 12, 2009, I was sentenced to five years in prison by Jingning County Court, and my family wasn't notified of the trial. Only when they visited me at the detention center did they realize that I had been secretly sentenced.
After I was transferred to Yunnan Province No. 1 Prison on March 4, 2010, the prison authorities would not allow my family to visit me. My sister was threatened with "strict management" for her persistent attempts to see me.
During the five years I was imprisoned, my daughter was the only family member allowed to see me. Not until I was tortured into critical condition did the prison allow my other family members to visit me.
Locked in a Cage for Years
The first day I was in prison, a guard kicked my face, causing my mouth to bleed. In order to hide the injuries he inflicted on me, he put a mask on my face.
I was locked in a cage, my hands were cuffed to the upper bars of the cage, and my feet were cuffed to the other side of the cage. I was forced to sit in this cage night and day, except when I ate or used the bathroom.
The guards removed the foot cuffs several months later, but kept me handcuffed in the cage for years.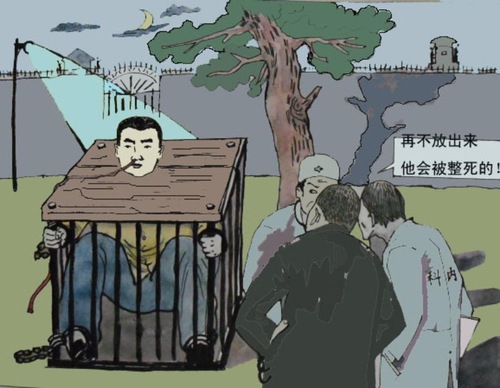 Torture illustration: locked in a cage
Health Ruined
After so many years of being persecuted, my health was ruined–I often vomited blood, and had blood in my stools.
The prison didn't take me for a physical examination until I lost consciousness one day. After being extensively examined by the hospital doctor, I was diagnosed with liver, stomach, and other gastrointestinal problems.