Taiwan: CCP Official Chen Deming Again Greeted by Protests
(Minghui.org) During his 8-day trip to Taiwan, which began December 9, Chen Deming, president of the Association for Relations Across the Taiwan Straits, an organization set up by the People's Republic of China, ran into protests by Falun Gong practitioners in multiple cities. Practitioners were calling for the main culprits involved in the 15-year persecution of Falun Gong in China to be brought to justice.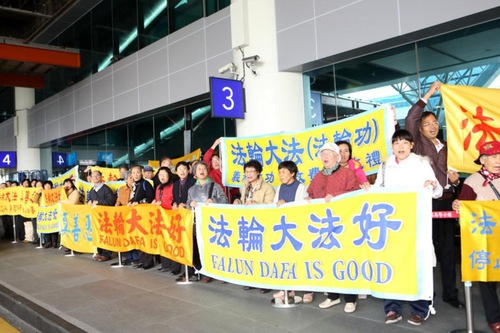 Falun Gong practitioners protest at the airport at Chen's arrival
This was not the first time that Chen has encountered practitioners calling for an end to the persecution in China. During his last visit in February, Falun Gong banners greeted him at every stop, from the airport, to the hotel, to the tourist spots.
Chen was actively involved in persecuting Falun Gong when he was deputy governor and then governor of Shaanxi Province from May 2002 to July 2007. In 2002, he expressed his support for the government's persecution policy at the 9th Provincial People's Congress. Also in 2002, he visited and ordered the provincial police department to ramp up the suppression of Falun Gong practitioners. During his tenure, at least 36 practitioners were tortured to death in Shaanxi Province.
In Shuangpei, Taoyuan, Huatung, Pingtung, and Hsinchu, Falun Gong practitioners held up banners, and shouted to Chen Deming's passing motorcade, "Stop persecuting Falun Gong!" and, "Falun Dafa is good!"
Practitioners protest along Chen Deming's route to Hualian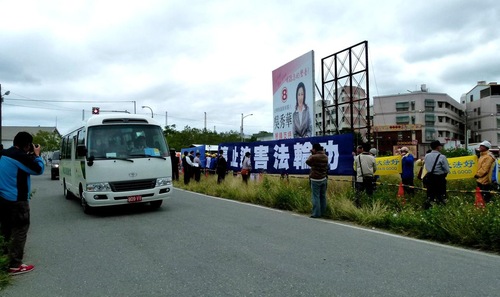 Practitioners protest in Taitung
Practitioners protest in front of Yuanshan Hotel in Kaohsiung
Local citizens and police officers in charge of security for Chen and his delegation supported the Falun Gong protests. Police officers in several cities indicated that they understood the reason for the practitioners' protest and agreed that human rights need to be protected. In Pingtung, the police department even arranged a special spot for Falun Gong practitioners to protest so that Chen and other Chinese government officials could hear them clearly.
The president of Hemei Corporation, Mr. Ye Chunjin, said to a Minghui reporter: "Falun Gong is a peaceful group. I support their peaceful resistance against the brutal persecution. The Chinese government should hear what they have to say.
"Several high-ranking Chinese government officials were arrested recently, including Zhou Yongkang and Bo Xilai. They were all involved in the persecution of Falun Gong. Their downfall shows that sooner or later, evil will be punished."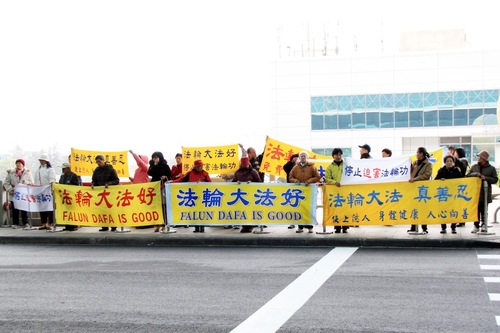 Practitioners protested at Taoyuan Airport as Chen's delegation was leaving
Every day and at every stop, Chen was greeted with a Falun Gong protest, including his last day in Taiwan. As he left, he heard practitioners' shouting as soon as he stepped into the Taoyuan Airport terminal. Many tourists noticed and took photos and videos of the protest.
Besides Falun Gong, several other organizations protested human rights violations in China during Chen's visit.
Mr. Tsai, a practitioner from Taipei, said, "The persecution of Falun Gong is still going on, so we need to continue to inform the public about it. Every time a Chinese government official visits Taiwan, such as Chen Deming or his predecessor – the former president of ARATS, Chen Yunlin – we see it as an opportunity to remind the public of the persecution. We also hope that our voices will ring in the Chinese officials' ears so that our message gets back to China."