Experts and Lawmakers in UK Brainstorm Ways to Help End Killing for Organs in China
December 14, 2014 | By Minghui Correspondent Tang Xiuming
(Minghui.org) "Don't you want to hear her testimony?" asked journalist Ethan Gutmann, referring to a Falun Gong practitioner he interviewed who had been forced to take a medical exam thought to be sizing her up as an unwitting organ donor. She was detained in May 2013 with 500 other prisoners of conscience, the majority of whom were Falun Gong practitioners.
Mr. Gutmann, along with human rights lawyer David Matas and 18-year veteran Canadian Member of Parliament David Kilgour, shared the results of their investigations into state-sanctioned forced organ harvesting in China—killing prisoners of conscience for their organs. The three were visiting various cities in England, Scotland and Wales to raise awareness.
Legislators and human rights advocates attending the seminars stated that such crimes should not be tolerated.
Rhodri Glyn Thomas, Member of National Assembly for Wales, suggested to submit a "No name motion" to the Wales Assembly to guarantee that the issue will be fully discussed. He also said that he plans to write to First Minister and Minister of Health on the issue and will consider Mr. Matas' recommendation of closing the three Confucius Institutes in Wales.
"I believe that international pressure will help end this [forced organ harvesting]. It is very important. As the institution that represents Wales, we must speak up as a member of the international community," he added.
Bob Doris, Member of the Scottish Parliament, said that the Scottish Parliament is debating on "Human Trafficking Act." He believed that the timing is good to push for ending forced organ harvesting in China.
The attendees of the November 26 event in the National Assembly included Ms. Julie Morgan of Labour Party, Assembly Member and member of Human Rights and Peace Committee, Mr. Andrew RT Davies of Conservative Party, Assembly Member and Assembly Member Ms. Jocelyn Davies representing South Wales.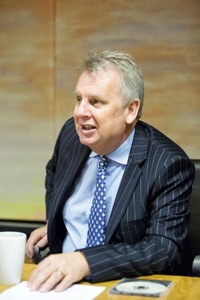 Member of National Assembly for Wales Mr. Rhodri Glyn Thomas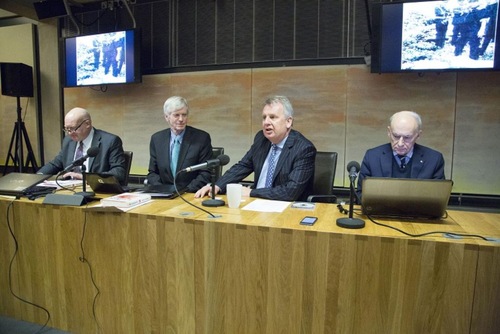 Forum in National Assembly for Wales on November 26, 2014, was hosted by Assembly Member Rhodri Glyn Thomas. From left to right: Ethan Gutmann, David Kilgour, Rhodri Glyn Thomas, and David Matas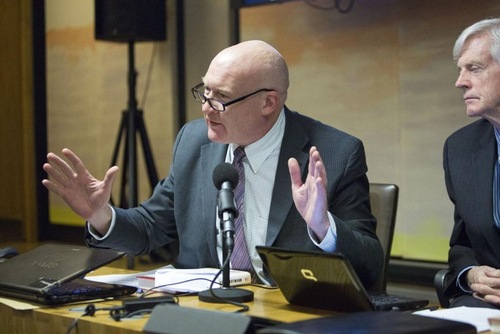 Author and researcher Ethan Gutmann.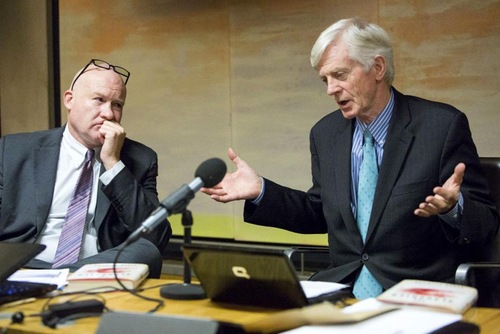 18-year veteran Canadian Member of Parliament and Crown Prosecutor David Kilgour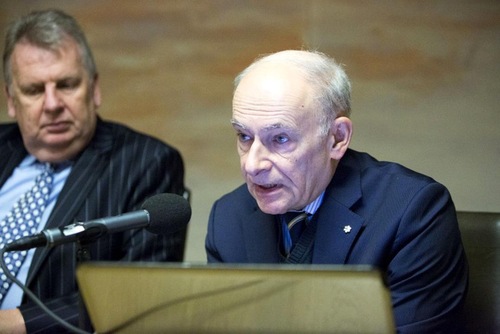 Human rights lawyer David Matas
Mr. Doris welcomed the Mr. Kilgour and Mr. Gutmann for their second trip to Scottish Parliament at the November 27 forum. He expressed his disappointment that the Chinese Communist Party had deceived the international community again.
He said that he learned from Mr. Gutmann that Falun Gong practitioners are not only subject to imprisonment and organ harvesting in the prisons but also forced to take medical exams at home. He stated that this shows expansion of human rights violations.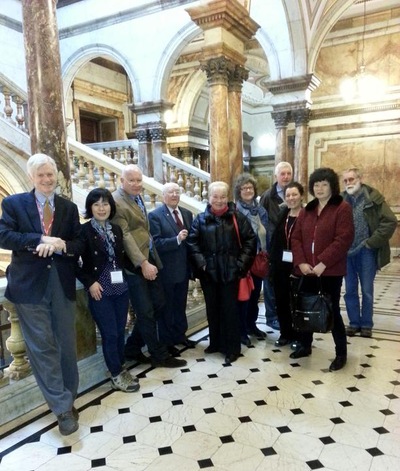 Mr. David Kilgour, Mr. Ethan Gutmann and Councilor Mr. John McLaughlin and others at Glasgow Council Building on November 28, 2014.
Councilor John McLaughlin thanked Mr. Kilgour and Mr. Gutmann and Ms. Li. He encouraged the attendees to explore and learn more details.
The councilors and speakers discussed the possible actions to end organ harvesting in China at the November 28 forum in the Glasgow City Council.
The councilors agreed to draft a resolution condemning the Chinese Communist Party's forced organ harvesting crime and submit it to the Scottish Parliament between the end of January and early February 2015.
One councilor suggested to submit a motion to the Minister of Health to prevent Scottish citizens involved into illegal organ trafficking. Another suggested to revoke the city's sister-city relationship with Dalian City, one of the first cities that engaged in the crime of organ harvesting.
In his answers to audience, Mr. Kilgour often gave a typical organ transplant case first reported on Minghui.org that a Westerner traveled to China twice in a few months to receive a total 8 livers until a suitable organ for transplant was provided. Eight people had to die so that the one patient could get a new liver.
He reminded the audience that the organ harvesting in China is systematic and state-sanctioned: "This is not a normal crime. It is a mass killing."