Domestic Security Division Head Declares: "I Am a Hoodlum!"
November 20, 2014 | By a Minghui correspondent from Nanjing, Jiangsu Province, China
(Minghui.org) When he arrested Ms. Zhai from her workplace on September 26, 2011, Xiao Ningjian grabbed her arm and shoved her to the floor.
"You are a hoodlum--you can't treat her like that!" the practitioner's colleagues told him.
"I am a hoodlum! So what?" Xiao shouted at them.
***
Since the persecution of Falun Gong started 15 years ago, Xiao Ningjian (肖宁健) , the head of the Domestic Security Division and the director of the 610 Office in Nanjing, has actively participated in it.
In addition to orchestrating waves of arrests, ransacking practitioners' homes, and beating and torturing them, he also sent several practitioners to forced labor camps without following due process.
Specific Examples
Following her arrest in November 2011, Ms. Zhang Yuhua was refused admission to a labor camp because of her high blood pressure. Xiao Ningjian refused to let her go. After three failed attempts to get the labor camp to accept her, Xiao ordered doctors and nurses to tie Ms. Zhang to a bed in the hospital where she was detained. They injected and fed her with unknown drugs twice a day. She couldn't hold still.
When Xiao took Ms. Zhang to the labor camp for the seventh time, she was finally accepted.
Xiao Ningjian also got another practitioner, Mr. Ma Zhenyu, admitted to the labor camp.
The police and Domestic Security Division staff arrested Mr. Ma on May 26, 2011. They beat and interrogated him. Mr. Ma had a heart attack and was sent to a hospital.
The police took Mr. Ma to a labor camp, but he was refused admittance twice.
Xiao took Mr. Ma to Nanjing Military Hospital and tried to feed him unknown drugs. Mr. Ma resisted. Xiao beat him and forced him to take the drugs. He then took Mr. Ma to the labor camp for the third time.
Ms. Liu Kaimei and her husband, Mr. Zhang Xuefeng, were arrested on May 16, 2011. Ms. Liu was refused admission to a labor camp because of her heart problem. Xiao Ningjian was finally able to get a labor camp take her on his seventh attempt.
Torture and Illegal Arrests
Xiao Ningjian used coercive measures to interrogate and try to force practitioners to give up their belief.
After arresting Ms. Zhu Jianling, Xiao hung her up by her wrists. Her hands swelled up in just a few minutes.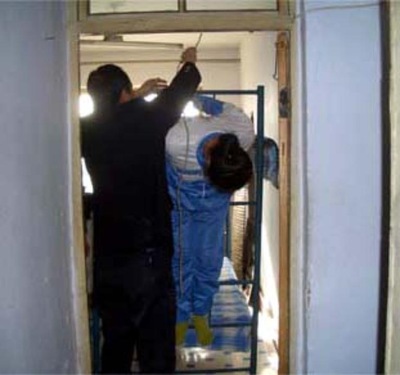 Torture Re-enactment: Hung up
At a brainwashing center in 2012, to try to force Ms. Xu Guofang to renounce Falun Gong, Xiao Ningjian slapped her face, grabbed her neck, and choked her.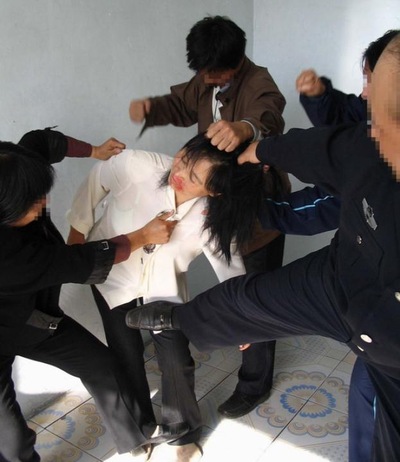 Torture Re-enactment: Brutal beating
Even elderly practitioners aren't spared.
Xiao and eight police officers broke into Ms. Wang Wenyong's home in July 2013. They raided the 80-year-old woman's home and confiscated her personal belongings, including materials containing information about Falun Gong, two computers, and a printer.