Introducing Falun Gong in Bangladesh (Photos)
November 20, 2014 | By a practitioner in Australia
(Minghui.org) "You have a beautiful heart," said Tajkerak, a local woman in Dhaka, the capital of Bangladesh, to Falun Gong practitioner Ms. Li, as she hugged her and placed a garland around her neck. Tajkerak had just started learning Falun Gong in Ramna Park, where Ms. Li was teaching the exercises.
Ms. Li and Mr. Luo, also a practitioner, came from Australia to introduce the practice in Dhaka for several days. Through many touching experiences, they sensed that people had been waiting for Falun Dafa.
"I Feel I Am in Heaven"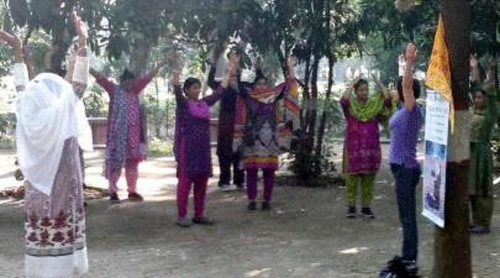 Falun Gong practitioners taught the Falun Gong exercises for free in Ramna Park.
Smirty, a local, came to learn the exercises in the park from Ms. Li on November 7, 2014. After she learned all five exercises, she told Ms. Li, "I feel I am in heaven." She embraced Ms. Li, who gave her a leaflet with Falun Dafa information and talked about the persecution of Falun Gong in China. Smirty told Li that she worked in government and she did not like communism.
"You Have a Beautiful Heart"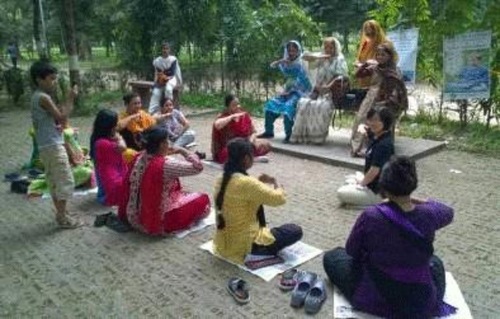 Teaching Falun Gong in Ramna Park. Tajkerak, sitting in the middle on a bench, is in a light-colored sari.
Local resident Tajkerak was walking in the park when she saw Ms. Li teaching the exercises. She stopped and asked about Falun Gong, then sat on a bench to watch. She imitated the movements. After the fifth exercise, Tajkerak hugged Li and said, "You have a beautiful heart, so you have a connection with God."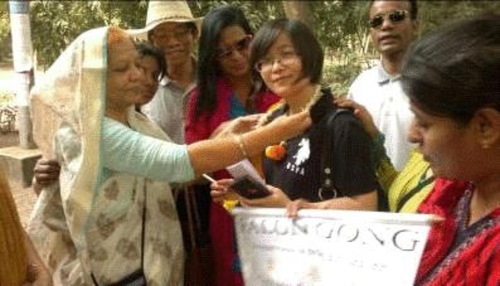 Grateful to Ms. Li for her teaching Falun Gong, Tajkerak places a garland around her neck.
People took their phones out to take photos as a keepsake after the exercises. Ms. Li wrote down practitioner Mr. Luo's contact information for them. Tajkerak placed a garland around Ms. Li's neck and told her, "My husband is an acupuncturist from China. We've been promoting traditional Chinese medicine locally."
"Thank God That I Came Today and Saw You"
Local residents Shukhy, Painu, Mili, and Asmejama sat down with her to learn the fifth exercise on Ms. Li's last day of teaching the exercises at Ramna Park. Shukhy and Painu could easily sit with their legs double crossed. Ms. Li taught them the hand gestures first, then extended the meditation time. She felt a very peaceful field and she saw serenity in their faces. She took out her phone and photographed this wonderful moment.
Later on, more women sat down and joined the exercises. Afterwards, Ms. Li asked if they had felt the peaceful energy field. They all nodded.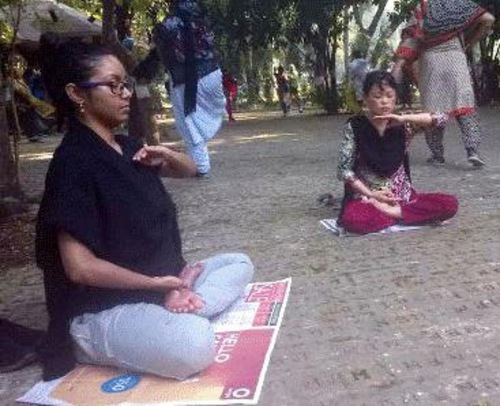 Shukhy (right) and Painu (left) sit with their legs double crossed the first time they did the fifth exercise.
Just before she left, Ms. Li told them she would be leaving Dhaka soon and this was the last time she would teach the exercises in Ramna Park. Mili held her hand and said in Bengali, with the person next to her translating, "I feel so good after the exercises. When will you come back to Bangladesh?"
Ms. Li pointed to the website on the leaflet and told her, "This website has all kinds of free information. You must go to this website and have a look. If I have the opportunity to come back, I'll tell Shukhy and ask her to notify everybody."
Shukhy spoke better English, so she wrote down her email address. Not long after Ms. Li left the park, she got an email from Shukhy: "Thank God I came today and saw you."
Hoping for Falun Dafa Books in Bengali
Mr. Luo returned to Dhaka. He helped the new practitioners who learned the exercises last time and met new people interested in learning the practice. He told them to read Dafa books frequently and to share the practice with others.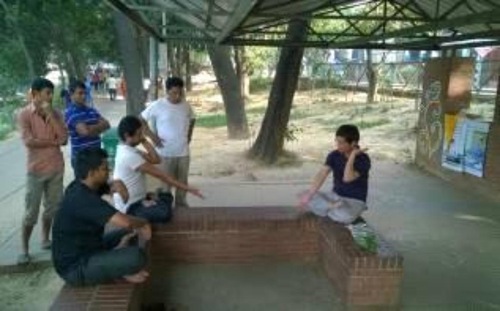 Mr. Luo teaches Msksud (second from right) and Jahid (first from right) the fifth exercise.
New practitioner Msksud hoped to be able to read Dafa books in Bengali one day. He followed Mr. Luo to different parks, including the Ramna Park and Dhanmondi Lake Park.
A Local Government Official Signs a Letter of Appreciation for Master Li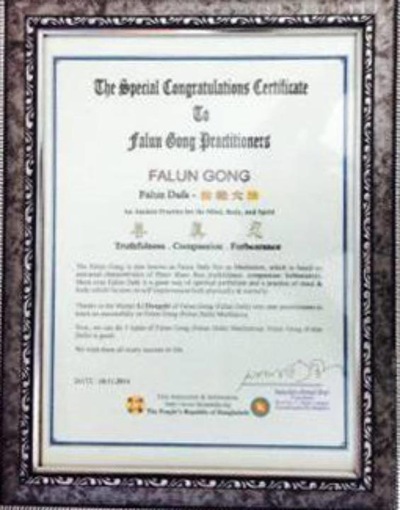 Letter of appreciation from a local government official to Master Li.
Rahid was the first local person to learn Falun Gong from Mr. Luo. A park security guard drove Mr. Luo away when he went to Lake Park to teach Falun Gong there at the beginning of the year.
Rahid talked with the security guard and park manager, and this time he prepared a letter of appreciation and visited Salauddin Ahmed Dhali, President of Ward No.17, Dhaka Metropolitan City, Bangladesh. Mr. Dhali was pleased to sign the letter and pressed his seal in English. The letter says, "Thanks to Master Li Hongzhi of Falun Gong (Falun Dafa), who sent practitioners to teach us the practice."
"You Must Come Back Next Year to Visit Us."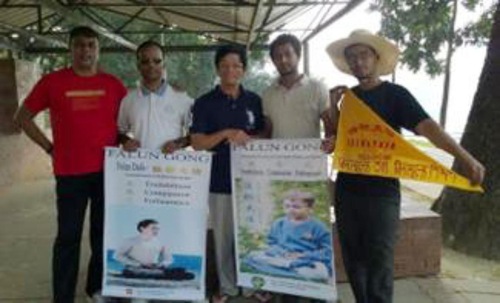 Group photo of Masud (first from right), Anwar (second from right), Msksud (second from left), Jahid (first from left), and practitioner Mr. Luo (middle)
Anwar, a new practitioner, said repeatedly to Mr. Luo when he learned he was to leave Dhaka, "You must come back next year to visit us." Anwar started to learn Falun Gong in Dhanmondi Lake Park from Mr. Luo at the beginning of this year. He began to understand more about Dafa and brought Mr. Luo to Ramna Park to offer free teaching there.
Mr. Luo gave his Dafa book in English to Anwar. Anwar said he would read more and try to translate Falun Gong into Bengali.
Mr. Luo went to Dhaka three times this year and distributed several hundred Falun Gong flyers. He wanted the locals to learn Falun Gong and be informed about the brutal persecution in China. Mr. Luo advised the new practitioners to read Dafa books and become genuine Falun Dafa practitioners.