Taiwan: Two College Students Tell How They Better Themselves By Practicing Falun Gong
November 16, 2014 | By Minghui correspondent Huang Yusheng
(Minghui.org) Hundreds of thousands of people from all walks of life practice Falun Gong in Taiwan. Many of them are faculty members and students in universities.
They form Falun Gong clubs and are actively involved in campus activities. For example, the Divine Land Marching Band is invited to return to perform at the 86th anniversary celebration of National Taiwan University on November 16. The Divine Land Band is composed entirely of Falun Dafa practitioners.
Among the practitioners at the university, Shen Caibei (from School and Graduate Institute of Occupation Therapy in College of Medicine) and Qiu Yujie (from the Department of Agronomy in College of Bio-Resources and Agriculture) both say that their practice has helped them better themselves and reduce stress.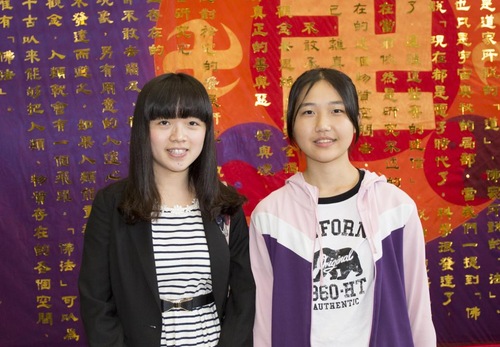 Ms. Shen Caibei (left) and Ms. Qiu Yujie (right) are both Falun Gong practitioners studying at National Taiwan University.
Letting Go of Attachment to Prestigious Schooling
Ms. Shen is in her junior year. She started practicing Falun Gong in elementary school. Two teachers there taught the students the exercises. She, her old brother, and other students joined the teachers during lunch break to study the Fa and do the exercises.
Through reading the main Falun Gong text Zhuan Falun, she decided that practicing Falun Gong was going to part of her life. When it was the time for her to apply for a university, she picked National Taiwan University because she knew that there was a Falun Gong club there. And she made it into the university, considered as one of the best colleges in Taiwan.
She now has fulfilled her wish and even served as the president of the club. The weekly club activities helped her to resolve conflicts with friends and schoolmates by looking inward and improving herself.
She no longer got stirred up because of others' criticism. She is able to study the Fa with a calm mind and eliminate her own bad notions by evaluating herself against the Fa principles. The practice also helped her balance studies and extracurricular activities.
Ms. Shen shared, "It's so good to be able to practice Falun Gong starting from a young age." She just attended the Taiwan Falun Dafa Cultivation Experience Sharing Conference on November 9. It was held on the campus of her university.
One of the speeches left her with a deep impression. It was from a practitioner with elementary school education. The speech was written with others' help.
"Her solid experience and serious attitude towards cultivation reminds me that success is not from the diploma or the reputation of the school, but from a good work ethic. I realized that I should let go of my attachment to attending a prestigious school. I will strive to be a truly good student through putting the Fa principles in practice," Ms. Shen said.
"Practicing Faun Gong Keeps Me Focused"
Ms. Qiu is a freshman. She comes from a family of practitioners. She said, "My parents don't teach me by feeding me theories or ideas. We share openly from the perspective of Fa principles. We share the same practice so we are able to remind and encourage each other. We don't have family conflicts as often."
When she started going to school, she discovered that many classmates' value systems are different than hers. First she felt lost and didn't know what to do. However, she realized that she was fortunate to have found Falun Gong, "I am centered because of my practice. Practicing Falun Gong keeps me focused."
She was part of the gifted math class in high school. Many students in the class were top of the top. The more outstanding they were, the more stressed out they were. Many fretted over their academic performance not being the best. They lost sleep and appetite.
Ms. Qiu, on the other hand, knew to take it lightly because she knew that one's fate is arranged. All one can do is be a good student and do what is required.
She was eventually admitted to National Taiwan University, which was a pleasant surprise for her.
She said that she planned to be more diligent after attending the Falun Dafa experience sharing conference on November 9. She would allocate more time to clarify the truth to tourists from China and share the beauty of Falun Gong with them.