Taiwan: Falun Dafa Cultivation Experience Sharing Conference Held in Taipei
(Minghui.org) Over 7,500 Falun Gong practitioners assembled in the stadium on the campus of National Taiwan University on November 9 to share their cultivation experiences. Eighteen practitioners from all walks of life read their papers.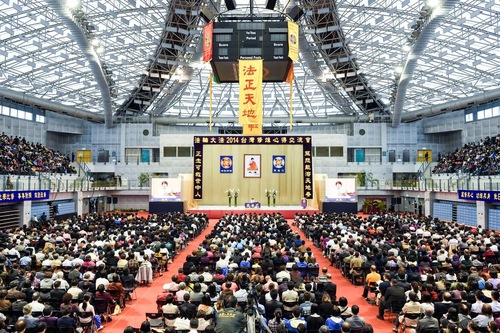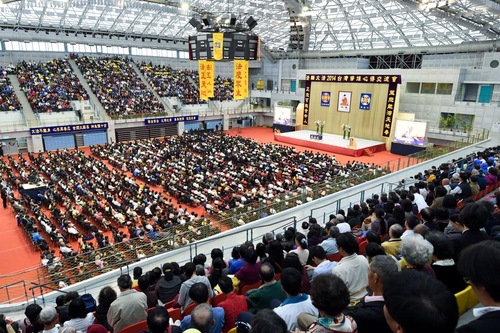 The conference hall
Seventy-five-year-old Ms. Fan Jinmei from Hsinchu talked about how she explains to Chinese tourists what Falun Gong really is. In the last few years, she has spent three hours every day at a tourist spot, talking to tourists about Falun Gong and the persecution.
She lives far away and has to take several different buses to get there, but she never misses a day, even when the weather is bad. Her sincerity has touched many tourists, and she has persuaded many Chinese to quit the Chinese Communist Party and its organizations.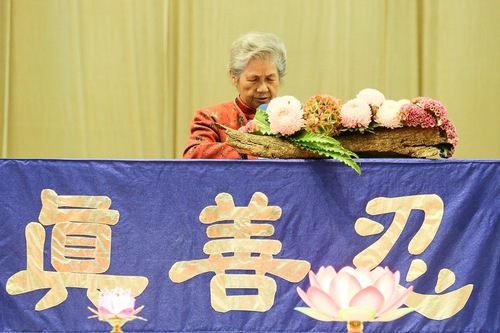 Ms. Fan Jinmei
Mr. Zheng Wanzhong, 68, from Tainan shared his experiences of clarifying the truth of Falun Gong on the phone to people in China. He has made phone calls to Chinese detention centers, asking those who answer to release jailed practitioners and encouraging them to quit the Party.
Mr. Zheng also talked about memorizing Zhuan Falun. At first it took him about 7 or 8 hours to memorize just one page. In time he could do it in an hour and a half. Finally he memorized the whole book.
"The more I memorize, the faster my xinxing improves and the purer my heart is," he said.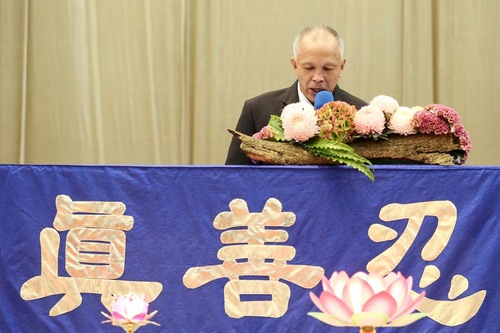 Mr. Zheng Wanzhong
Ms. Cao Huiling from Taipei said that she used to be shy and did not now how to socialize. However, as a Falun Gong practitioner, who needs to clarify the truth to the public, she realized that she must talk to all kinds of people.
"To make friends with non-practitioners, I often need to spend time outside of work attending all kinds of events, and sometimes I have to endure some pretty crass entertainment events. But I know that this is necessary so that I can have a chance to tell people what Falun Gong really is," she said.
Ms. Cao also shared how she communicated with businessmen and how she conducted herself with the selflessness of a Falun Gong practitioner.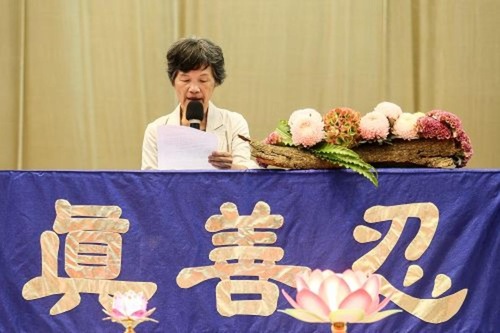 Ms. Cao Huiling
Mr. Hsu Zonghsian from Keelung started practicing Falun Gong ten years ago, hoping that he could be healed of illnesses. When he could not endure the pain in the sitting meditation, he soon gave up the practice. A few years ago, he broke the law and was put in jail, where he got a chance to read Zhuan Falun again.
After getting out of prison, he found a local practitioner, who helped him resume cultivation. To make up for lost time, he cultivates diligently and attends all kinds of activities so that he can tell people what Falun Gong really is. As a taxi driver, he memorizes the Fa when he has no passengers and clarifies the truth to them when he does.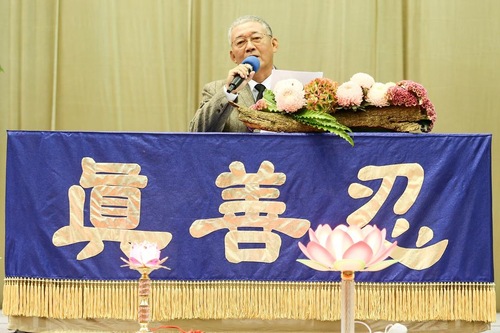 Mr. Hsu Zonghsian
Mr. Luo Yongjie from Taipei spoke about promoting Shen Yun. During the busiest time, he only gets to sleep about three hours a day. But, as a cultivator, he always works tirelessly with fellow practitioners.
Mr. Luo said, "When conflicts between practitioners arise, the problem can always be solved if we look inward for our own shortcomings and correct our own wrong thoughts."
Last year, he visited more than 300 insurance companies and introduced Shen Yun to many influential people.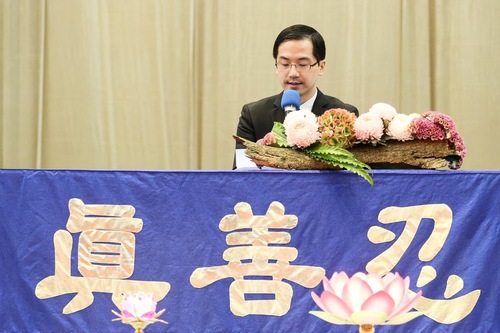 Mr. Luo Yongjie
Attendees Benefit from the Sharing Papers
Mr. Lian Kaicheng attends the Fa conference every year. "Practitioners' sharing speeches always help me to improve," he said. "I can see my own shortcomings by comparing myself with others."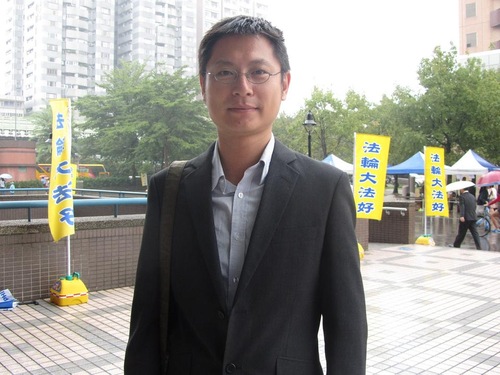 Mr. Lian Kaicheng
Ms. Hsiao Qingmei, who works in the media, was encouraged by the senior practitioner's account of memorizing the Fa. She had tried to do the same before, but gave up.
"Memorizing the Fa really gave me deeper understanding," said Ms. Hsiao. "His story is encouraging. I will try my best to find the time to memorize the book, no matter how busy I am.
"Several practitioners talked about looking inward for one's own shortcomings. During conflicts, I always emphasize the other person's problem. These sharing papers let me see what I need to work on in cultivation."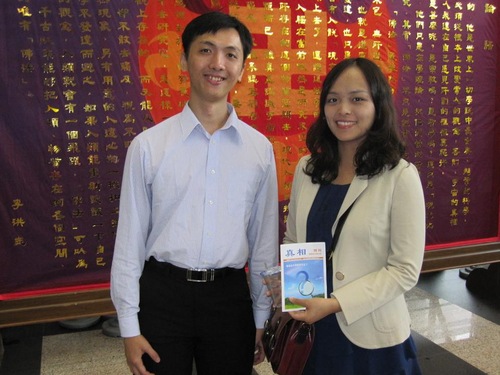 Ms. Hsiao Qingmei (right)
The conference concluded at 4:30 p.m.