It's Never Too Late to Start Cultivating
November 11, 2014 | By Minghui reporters Su Rong and Sun Bai, reporting from Tainan, Taiwan
(Minghui.org)
80 Is Not Too Old to Start Cultivating
Mr. You Jingshan is 84 years old and so is his wife. Both of them started to practice Falun Dafa four years ago.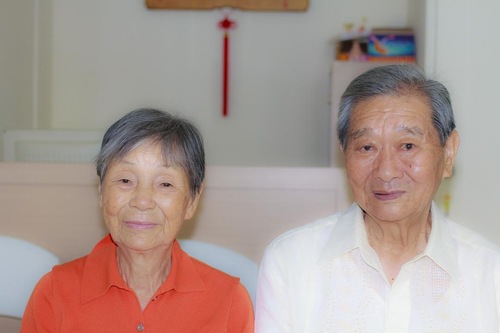 Mr. You Jingshan and his wife
Mr. You worked hard throughout his life. When he got older, he had money but was in bad health. He had high blood pressure, heart disease, and chronically inflamed joints.
He walked and did other physical exercises and had massages beginning at the age of 60. But after 20 years, he felt no better. In fact, he felt sore all over. Every winter he caught a cold that lasted for several months. He had to see his doctor so often that they became friends.
Mr. You's wife also had many health issues. She complained of back pain and had sinusitis. She was on a number of medications. Her health turned for the worse, and she was skin and bones. She felt she had reached the end of her life.
Their son-in-law, who had practiced Falun Dafa for more than 10 years, suggested that they do the same: "You two are in and out of hospitals all the time. Falun Dafa is so good. Why don't you practice?" They discussed it and said, "Our son-in-law is right. He has not seen a doctor for as long as we can remember, while we are constant visitors to the doctor's office. Why don't we try Falun Dafa?"
They went to the Dongning practice site to learn. In just a few days, Mr. You improved a lot. He could walk so fast, it almost like he was flying. This was new to him. Because of his ill health, he had thought could not take part in such an activity. He told himself, "This Dafa is really powerful. I will continue to practice it."
He hasn't set foot in a hospital in the past four years. He told his doctor that he was practicing Falun Dafa and no longer had to go to a hospital. The doctor said, "That's great! I have heard that Falun Dafa is very good. I will recommend it to my other patients.""
Mr. You's wife's health also improved after she began to cultivate in Dafa. Even her temperament has changed. She used to have a very bad temper. From cultivating she learned that everything that happens is because of a karmic relationship. She is more relaxed, and all her illnesses are gone.
After they first retired, they traveled abroad for a while but then had to stop because of poor health. After practicing Falun Dafa, their health improved, and they have attended Falun Dafa Experience Sharing Conferences outside of Taiwan. They've even walked in four-hour-long parades.
The couple used to argue often. Now they live in harmony. Their son and daughter-in-law saw how they changed and began to practice Falun Dafa, too. Now almost the entire family practices Falun Dafa.
Reborn after Practicing Falun Dafa
Ms. Wang Yuxia, 78, began to practice Falun Dafa at the age of 66. Twelve years later, her face is glowing and virtually wrinkle-free. It is hard to believe she is nearly 80. "Without Falun Dafa, I perhaps would be bedridden and in a nursing home."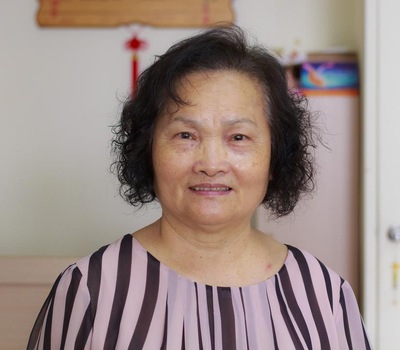 Ms. Wang Yuxia
Ms. Wang used to complain about numerous health issues. Her muscles, joints, and bones hurt constantly. Sometimes she felt as if a screwdriver was turning inside her. She was unable to sit due to severe pain and had to eat standing or squatting. She had a persistent cough and sometimes large blood vessels in her lungs ruptured from coughing. She had a sleeping disorder and stomach problems.
Her daughter-in-law had started to practice Falun Dafa after attending a Falun Dafa seminar for teachers. She recommended that her mother-in-law practice it, too. Ms. Wang listened but didn't practice it.
Her daughter-in-law said one day, "My mother is going to attend a nine-day seminar to learn Falun Dafa. Would you like to join her?" She agreed. To her surprise, after the nine days, she felt significantly less pain. So she attended another nine-day seminar, and then another. She attended six nine-day seminars in a row.
Her daughter-in-law bought a copy of Falun Dafa's main book, Zhuan Falun, for her to read. But it frightened Ms. Wang, because it was so thick. She said, "Such a heavy book. Can I understand it at all?" One day she came down with a bad headache. To distract herself, she put on her reading glasses and started reading the book. Within 5 minutes, she felt a shock in her head, and her headache was gone!
She now reads the Falun Dafa book and does the exercises daily. Rain or shine, she rides her bike to the Dongning practice site. She has returned to good health and feels like she's been reborn. She tells everyone, "It was Falun Dafa that returned me to good health."