Details Revealed: Brainwashing Center Associated with September Arrests of Over 30
November 01, 2014 | By a Minghui correspondent in Jilin Province
(Minghui.org) Over 30 Falun Gong practitioners were illegally arrested on September 2 in Tonghua, Jilin Province. Twenty were sent to brainwashing sessions arranged by various local 610 Offices. Further details have been reported by practitioners who have been released.
Three sessions were held at the Xishan Brainwashing Center in Jilin Province between September 2 and October 18, 2014:
1. First session: September 2-25, arranged by 610 Offices of Jilin Province, Tonghua City, and Dongchang District of Tonghua City2. Second session: September 26 to October 15, arranged by Dongchang District 610 Office3. Third session: October 15-18, arranged by Tonghua 610 Office
Multiple security agencies, including city and district-level Political and Legal Affairs Committee and 610 Offices, and over eight local police stations coordinated the arrests.
This case is featured in a recent Minghui overview report showing how the number of arrests during the first nine months of 2014 increased by 42%, compared with the same period in 2013. Jilin Province ranked number one regarding the number of confirmed arrests resulting in brainwashing center transfers.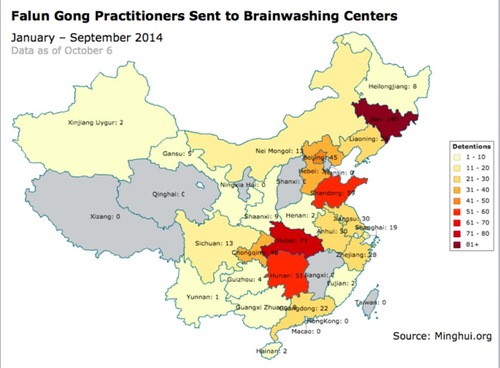 The arrests and brainwashing center detentions are consistent with the "final battle" plan of the Chinese Communist Party (CCP), as reported by the Epoch Times in November 2013. A collection of 56 circulars from official agencies across China revealed that a renewed, nation-wide campaign to eliminate Falun Gong is underway.
"Carrying out the '2013 to 2015 Final Battle on Education and Transformation' is the scientific decision made by the Party Central based on the current struggle," indicates one official website. "Convert all the unconverted Falun Gong [practitioners] by the end of 2015, and continue the propaganda criticizing Falun Gong," indicates another.
The Xishan Brainwashing Center was one of 119 such facilities reported by Minghui to be in operation in 2014.
This brainwashing center is located in a building to the east of the Xishan Drug Rehabilitation Center (formerly the Xishan Forced Labor Camp), situated on a hill near the Xishan Hotel of Tonghua City. Hongqi Elementary School is to its east.
Inside the iron gate is a courtyard about 30 meters long (south to north) and 12 meters wide. The main brainwashing facility is in a four-story building on the west side of the courtyard.
Half of the first level is underground. The north side of the building connects with the drug rehabilitation center, which was previously part of the center.
Two large conference rooms are on either end of the fourth floor. There are three units and four units on the second and third floors, respectively. The cafeteria is on the first floor.
Two rooms on the third floor have foam-padded walls for soundproofing, and are used exclusively for individual "transformation" sessions, and interrogations.