Dozens of Falun Gong Practitioners Illegally Arrested in Tonghua City in One Day
(Minghui.org) More than 30 Falun Gong practitioners were illegally arrested on September 2, 2014 by police in Tonghua City of Jilin Province, under the instructions of the 610 Office.
Large-scale Arrests on September 2
Police prepared for this wave of arrests in the early hours before dawn and began to round up Falun Gong practitioners around 6:00 a.m. that morning.
Ms. Zhu Yaping was ambushed and arrested as soon as she went grocery shopping. The police took her house key, opened her door and arrested Ms. Zhu's sister, Ms. Zhu Yaxian, who was still in her pajamas. They also searched and ransacked their home before taking the sisters to Laozhan Police Station. Police officer Wang poured cold water over Ms. Zhu Yaxian. After being taken to a detention center, Ms. Zhu Yaxian started coughing up thick phlegm and having chest pain. She later started to spit blood, but she was still detained in the detention center.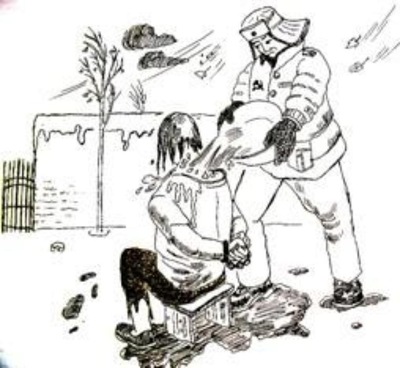 Torture reenactment: Pouring cold water
Ms. Zhang Shuhua, 72, was also arrested that morning by police who had been waiting to ambush her. She was taken to Xinzhan Police Station and her home was searched and ransacked without any warrant.
Ms. Li Xiuhong's home was broken into at the same time by six or seven officers. One officer showed her his ID and shoved her on the bed and arrested her. The police searched her home before taking her to Tuanjie Police Station. She was only allowed to put on a jacket over her thin pajamas, and wasn't allowed to put on pants. She was not allowed to drink water or eat while she was detained at the police station between 7:00 a.m. to 7:00 p.m.
Ms. Zhao Lihua opened the door to take her son to school just past 6:00 a.m. that day when more than ten officers waiting outside pushed her back in. Ms. Zhao insisted that she must take her son to school, so the police followed them to school, but Ms. Zhao never came back. When her boss heard about this, he went to her home to find out what had happened. As soon as he walked in, he was detained by police as well and was not allowed to leave until the police were convinced that he was not a Falun Gong practitioner. When the police tried to take Ms. Zhao's husband away as well, his parents trembled with fear and tried to stop them. He was still taken to Xinzhan Police Station and wasn't allowed to return home until later.
Wang Chengfu, head of Tuanjie Police Station arrested his distant uncle Mr. Pang Zengde around 6:40 a.m. and took him to the police station. He then arrested Mr. Pang Zengde's young son and took him to Changchun Police Station. He put the boy in a cage and didn't allow him to go home until after 6:00 p.m. that evening.
Ms. Li Xiuying's daughter Ding Lina opened the door to go to work that morning when a group of officers broke into their home and arrested Ms. Li who was still in bed in her pajamas. They took her to Laozhan Police Station first, but because it was already crowded with practitioners arrested that day, she was transferred to Dongchang Police Station. The police also slapped her daughter and took her to Huantong Police Station.
Ms Liu Xiaona opened her door to take the trash out around 7:00 a.m. when five or six officers broke into her unit. Despite the fact that Ms. Liu has an 18-month-old baby, the police shouted violently, handcuffed her and took her to Dongchang Police Substation. They also took away her brother's computer, even though her brother was not a practitioner.
Mr. Yang Benlin was arrested that morning when he came downstairs to go to work. When his wife heard the noise and saw her husband being arrested, she tried to stop the police and had a heart attack. The police still took Mr. Yang Benlin to Tuanjie Police Station.
Mr. Hou Qinghua was arrested that morning and taken to Laozhan Police Station when he went to work in his vegetable garden. The police searched and ransacked his home later around 12:30 p.m.
Ms. Wei Baoxia, a practitioner from the 606 geological team of Tonghua Teachers College, was arrested that morning when she went to the vegetable garden. When she shouted: Falun Dafa is good, the police put a black hood over her head to stop her. Many local people gathered around and told her not to go with the police, saying that if she went she might never come back. During the arrest, Ms. Wei suffered a heart attack and her lips turned purple. The police had to give up.
Mr. Du Guolin was arrested at work around 8:00 a.m. He resisted the arrest, so the police called in special force police and violently took him to Dongchang Police Station. Mr. Du's younger sister is suffering from late-stage cancer. When she saw her brother's home being ransacked, she could only cry in bed. It was truly a heart-wrenching scene.
Ms. Qin Xiulin was tricked by police around 10:00 a.m. into opening her door by asking a woman to pretend to collect a utility fee. Ms. Qin was forcibly taken to Longquan Police Station in spite of her husband's and daughter's strong objections.
Mr. Xu Hongjun was arrested by police and his home was ransacked.
Mr. Zhang Chaobin was arrested while waiting for a bus to go to work that same morning.
Mr. Shan Guangdong was arrested that day and his home ransacked.
Practitioners Wang Shumei, Wang Yushu, Qu Xiaofei, Zhao Guihua and Wang Lijun were arrested that day as well.
Abuse in Detention Center
Thirteen practitioners were detained in Changliu Detention Center. Some practitioners were extorted 1000 yuan each by the detention center.
Ms. Li Xiuhong, Ms. Ding Lina and other practitioners were often beaten by inmates for refusing to wear a prison uniform. The inmates forced them to do roll-calls by abusing other practitioners, and threatened that if they refused, no practitioners would be allowed to open an account or keep their clothes in the storeroom.
Practitioners started a hunger strike to protest the persecution. They were then subjected to brutal force-feeding.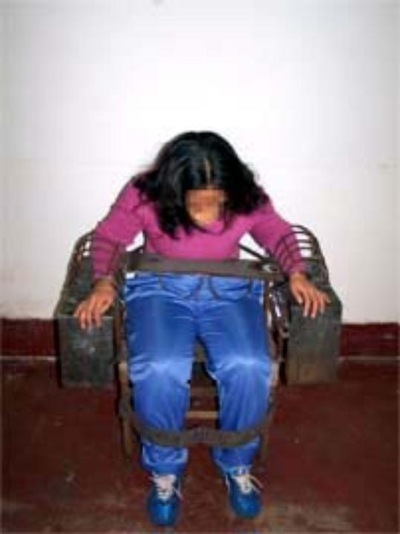 Torture reenactment: Iron Chair
Ms. Ding Lina was tied to an iron chair while being force-fed in the corridor. The guards taped her hands tightly to the iron chair. They put her on a drip first, then force-fed her. They tortured her this way from 9:00 a.m. to around 3:00 p.m. When she was taken back to her cell, she looked very pale and weak.
Her mom Ms. Li Xiuhong went on a hunger strike in the detention center and her health rapidly deteriorated, and she suffered congenital heart disease.
The political and legal affairs committee in Tonghua issued an order that Falun Gong practitioners must not engage any lawyer from elsewhere. The lawyer hired for Ms. Li Xiuhong went to visit her, but was denied visitation. Ms. Li was transferred to a brainwashing center on October 9. Because she was so sick the brainwashing center asked her family to take her home in order to evade responsibility.
Around 14 practitioners were detained in Xishan Brainwashing Center, where the 610 Office hired "accompanying personnel" to brainwash and threaten them.
A Premeditated Plot
It's said that a few days before the large-scale arrests, a number of individuals from the political and legal affairs department gathered secretly in Jian City to discuss their plan. A few days after they returned, they carried out the arrests on September 2.
The police took more than 30 computers and at least 30 mobile phones, plus a large amount of cash and personal belongings during the arrests. Practitioner Mr. Pang Zengde's car, worth several hundred thousand yuan, was taken away. The political and legal affairs committee in Tonghua City then fabricated charges against the practitioners they arrested. In order to seek rewards, they lied to the Jilin Province government that they had "captured a gang."
Some practitioners are said to have returned home, while others are still detained either in detention centers or brainwashing centers.
Incomplete list of individuals involved in the large-scale arrests:Zhao Zhongguo (赵忠国), head of Tonghua Political and Legal Affairs Committee: +86-13894587888Qiao Jiucheng (乔久成): +86-13674351926XueYuliang (薛玉亮), deputy head of Tonghua 610 Office: +86-435-3908495 (Work), +86-435-5223195 (Home), +86-13904451512 (Cell)Zang Haijiang (臧海江), head of Dongchang District Political and Legal Affairs Committee: +86-435-3315661, +86-435-3625216, +86-13843515578Miao Ying (苗英), head of Dongchang District 610 Office: +86-13514358799Shi Jian (石剑), head of Dongchang District Police Station: +86-13614455666Gao Xiaolei (高晓雷), deputy head: +86-435-3900578, +86-13894532226Cao Hailei (曹海雷), from Domestic Security Division: +86-435-3258809, +86-15944585556 (Cell)Chuai Zhiyong (啜智勇), head of Changliu Detention Center: +86-13843595959Ma Yubo (马云波), head of Changliu Detention Center: +86-13943580168Jiang Hongjie (姜宏杰), deputy head: +86-13766181995Li Xinchun (李欣春), female guards leader: +86-13894536715