Pennsylvania General Assembly Urges the Medical Community to Raise Awareness of Unethical Organ Transplants in China
October 09, 2014 | By Minghui Correspondent Brianna Pendleton
(Minghui.org) The General Assembly of Pennsylvania unanimously passed a resolution on October 8, 2014, urging the medical community to help raise awareness of unethical organ transplant practices in China.
It cites investigation results of WOIPFG (the World Organization to Investigate the Persecution of Falun Gong) that the central authorities in China are involved in forced organ harvesting from Falun Gong practitioners.
It urges the United States government to thoroughly investigate the organ transplant practices in China and calls upon the State Department to block the entry of any Chinese doctors involved in such crimes from entering America.
The Commonwealth of Pennsylvania hosts many well-established organ transplant centers. The University of Pittsburgh Medical Center (UPMC), in particular, is a leader and pioneer in the field.
UMPC runs regular training programs for Chinese doctors and entered the consulting business in China in 2011. UMPC just announced a new partnership with Xiangya Hospital in China's Hunan Province. Xiangya's organ transplantation program was highlighted in UPMC's press release.
This state resolution is the second legislative document passed in 2014, following that of Illinois State House of Representatives in February. Given the Commonwealth's presence in the field of organ transplantation, the resolution passed yesterday has a focus on the medical community.
Falun Gong practitioners have stepped up their efforts to inform the medical community about the crimes of organ harvesting in China. Medical professionals had the opportunity to speak to practitioners and connect their experience with practitioners' findings outside of major organ transplant conventions.
The two major ones this year are the Joint Congress on Organ Transplants in London in June and the World Transplant Congress in San Francisco in July.
The 2014 World Transplant Congress (WTC) rejected 35 Chinese applicants on the grounds of medical ethics.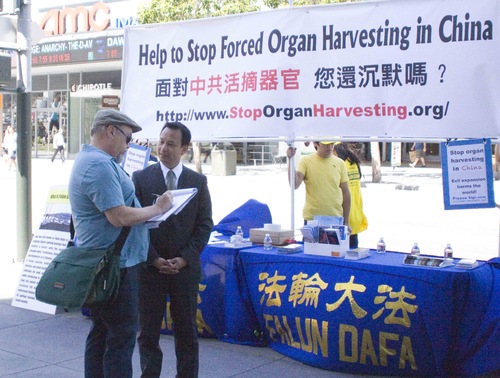 A person signs the petition calling for an end to forced organ harvesting outside of the World Transplant Congress at San Francisco's Moscone West Convention Center in July 2014
The American Journal of Transplantation, the top journal in the field of transplantation, published "Organ Procurement from Executed Prisoners in China" in July. The article points out that "this practice [of forced organ harvesting from prisoners of conscience] continues unabated in 2014."
The House of Delegates of the Medical Society of Virginia (MSV) passed in May 2014 a resolution to condemn systematic, state-sanctioned organ harvesting in China and express its support for the pending House Resolution 281 in the U.S. Congress. The resolution has passed the House Committee on Foreign Affairs and awaits general voting. It has already obtained bi-partisan cosponsorship from half of federal legislators from both aisles.
The resolution of the General Assembly of Pennsylvania is certainly a step in the right direction for more awareness in the medical community.