Human Rights Lawyers Speak Out Against Persecution of Falun Gong (Graphic Photo)
October 05, 2014 | By a Minghui corespondent from Liaoning Province
(Minghui.org) "The charges against Falun Gong practitioners have no legal basis," said attorney Zhao Yongling. "The Public Security Bureau, Procuratorate, and the courts conspired to frame these people of faith and impose heavy sentences at will. They are illegally detained, and many have even died while in detention." Zhao is the defense lawyer for one of the twelve Falun Gong practitioners charged in a recent case in China.
In April 2013, 12 Falun Gong practitioners were arrested in Benxi City, Liaoning Province. Due to a lack of evidence, the authorities needed three attempts to bring the case to trial. The practitioners and their lawyers boycotted the first trial to protest the illegal proceedings imposed by the court.
The court then split the case into 12 separate cases and began trying the practitioners individually. One of them died awaiting trial. Recently, some human rights lawyers who have defended the practitioners spoke out.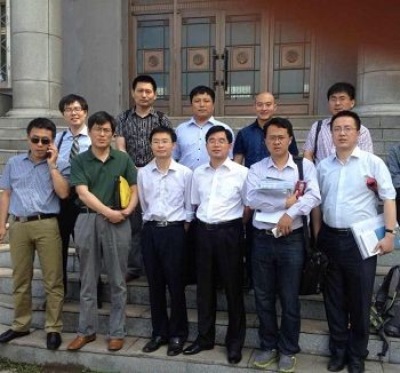 11 Defense Lawyers
According to lawyer Lan Zhixue: "Under current Chinese law, there is no legal basis to persecute someone for spending a night at a friend's home or possessing articles related to a spiritual belief."
Zhixue represented Ms. Zhang Meizheng, who spent the night at another Falun Gong practitioner's home. After arresting both practitioners, police found several Shen Yun Performing Arts DVDs in Ms. Zhang's purse and some Falun Gong related materials on her cellphone.
Another Falun Gong practitioner, Ms. Wang Xiulian, was arrested while visiting her sister. She was charged with "undermining law enforcement." However, her lawyer, Chen Jiangang, felt the arrest was an absurd example of law enforcement under the Chinese Communist Party. "This is a joke," he said. "How can a woman who is almost 60 years old with an amputated foot be dangerous to society?"
"The 12 defendants were arrested because police found Falun Gong materials at their homes," said lawyer Guo Haiyue. "The persecutor's so-called evidence does not prove any crime. The law can only punish one's actions—not one's belief."
The lawyers also expressed their disdain for the proceedings promulgated by the Mingshan District Court. "The court has refused to work with defense lawyers for one-and-a-half years," said lawyer Lin Qilei. "It is a clear sign of their disregard for the law." Mingshan authorities denied bail to Lin's client and refused to offer an explanation.
At the first trial of the 12 practitioners in June 2014, the defense lawyers were asked to go through safety inspections, even though the law stipulates that judges, prosecutors, and defense attorneys are exempt from this procedure. During the same trial, the judge also demanded that the practitioners fire their lawyers. The trial was adjourned after the defense lawyers refused to comply with any of these demands and after practitioners protested the court's illegal conduct.
Another lawyer, Shi Yongsheng, was shocked by what happened in court. "Aren't they making a mockery of the law?" he asked. "Who is sabotaging the law? It is the court, not the defendants or defense lawyers."
While the detained were awaiting their trials, the 12 practitioners were forced to make silk flowers using toxic glue for up to 12 hours a day. Several developed serious health issues from constantly inhaling the toxins.
Mr. Li Chunzheng, 47, was released for medical parole after he became critically ill. He passed away the day after his release. His lawyer Dong Qianyong said, "I am deeply saddened by Mr. Li's passing. I cannot imagine what his family is going through."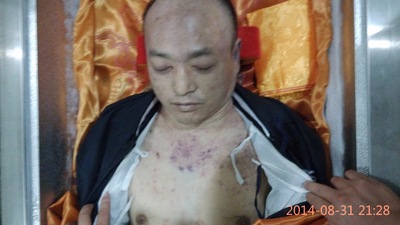 Photo of Mr. Li Chunzheng's corpse
Ms. Sun Yuxia's health deteriorated while incarcerated. Her weight dropped from 140 lbs. to less than 110 lbs, and her hair turned gray. Another practitioner, Gao Chong, suffered a stroke and was hospitalized.
Improvement from the Heart
Some lawyers reflected on how their cases changed them at a fundamental level. Lawyer Tang Tianhao felt that working with Falun Gong practitioners helped him improve his own character. "They became kinder and more tolerant because of their faith," he said. "Every encounter with them was like being purified myself."
Lawyer Zhang Keke shared similar sentiments. "The purpose of my life became clearer after I got involved in the case representing Falun Gong," he said. "I am saddened to see these practitioners tortured and even killed by the persecution. At the same time, I am more determined to protect citizens' rights. Even if it is only to reduce their sentences by a little, I will not let up."
Zhang was also touched by the practitioners: "When I asked them if they resent the police involved, their answers were surprisingly the same. They always answered, 'No, they are being deceived by lies, too,'" he said. "They have shown me humanity at its best."
Related articles:Mr. Li Chunzheng Died the Day After His ReleaseHuman Rights Lawyers Still Barred from Defending Falun GongEleven Defense Attorneys Refused to Go Through Unlawful Safety InspectionsTwelve Practitioners from Benxi City Face Trial