Falun Gong Returns to Granny Smith Festival in Australia
October 26, 2014 | By Minghui correspondent Hua Qing
(Minghui.org) Falun Gong practitioners in Australia returned to the Granny Smith Festival in Eastwood, a suburb of Sydney, on October 18, 2014. The Divine Land Marching Band, celestial maidens, float, and waist drum team were all well received.
Local residents June and Rachel, grandmother and granddaughter, have watched the parade every year, "We know Falun Gong well. We like your music, dances, and exercises demo. This group is the best!"
First introduced in 1985, the annual festival is celebrated by dozens of parade entries and nearly 300 vendors. It promotes cultural diversity, freedom, equality, peace, and harmony. Over 80,000 people visited the event this year.
The master of ceremonies (MC) introduced the Falun Gong procession as it passed the main stage, "Falun Dafa, also known as Falun Gong, is an ancient meditation system practiced by over 100 million people in more than 100 countries."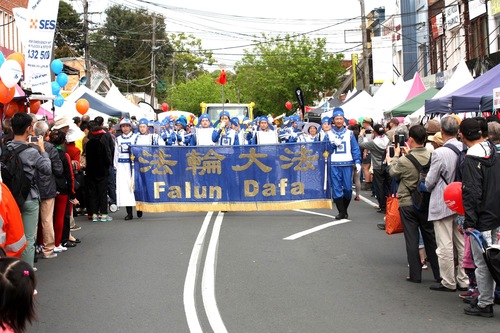 The Divine Land Marching Band in the parade on October 18, 2014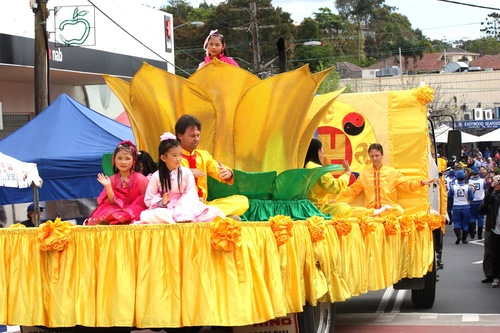 Practitioners demonstrate the Falun Gong exercises on a parade float.
"Practicing Falun Gong is free of charge and everyone is welcome," the MC continued, "Free teaching of exercises is provided by practitioner volunteers every day at the Eastwood Park between 6 and 7 in the morning."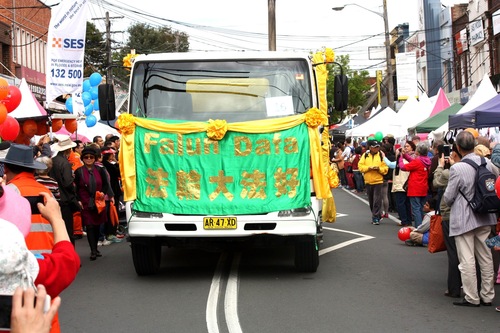 Many people enjoyed the parade and took photos.
Waist drum team marches in the parade
Emmy, a practitioner volunteer distributing pamphlets, said that many people reached out asking for materials to learn more, and asked, "What is Falun Gong?" She was busy giving out materials until the last pamphlet was taken. "I was very touched," she said, "They were so eager, as if they had been waiting for the materials."
Another practitioner, Joey, felt the same. "Many people said the parade was great and magnificent. They were deeply amazed." An elderly Chinese lady, in particular, was very excited, and repeatedly said she loved the strong energy from the group.
A practitioner who was demonstrating the Falun Gong exercises on the float said such warmth from audience reminded her of the large-scale group exercises at the Bund in Shanghai, before the persecution began in 1999.
"The Shanghainese were as amazed back then as the people here today, by the beauty and peaceful energy field of Falun Gong. They, too, were taking pictures," she said. She felt sorry that the access to such a wonderful practice is blocked by the Chinese regime for the majority of Chinese people today.
Even Chinese in Australia are affected by propaganda about the persecution from China. One of them is a 70-year-old gentleman from Shanghai.
He was watching the parade when Sophie approached and asked him whether he knew anything about Falun Gong. He replied with hesitation, "I only know the health benefits of Falun Gong. Nothing else."
Sophie then asked if he read the Epoch Times newspaper. The man seemed uneasy, "No, I don't."
Sophie could tell that he had been influenced by the CCP's slanderous propaganda against Falun Gong. So she said, "It is nice to meet you today. Seeing you reminded me of my father. I missed him so much because he cared about me a lot. But during the Cultural Revolution—I was a child at that time, he was wronged and humiliated. The suffering was so much that he jumped out of a third floor window and died. I always hoped to have a harmonious family, but that is just a dream—the CCP took it away, and it never came back."
"But the tragedy continues today." Seeing the man listening attentively, Sophie explained to him the suppression of the democratic movement in Tiananmen Square in 1989 as well as the massive crackdown of Falun Gong 10 years later. "We have been fooled by the party for such a long time. Now it's time for us to read some facts, such as reports from the Epoch Times newspaper, to learn what's really going on." she said.
The man was listening quietly, without saying a word. "Falun Gong has been practiced and welcomed in more than 100 countries. But practicing this meditation in China is considered a crime. Why is that? Is there something wrong with the principles of Truthfulness-Compassion-Tolerance? Putting innocent people in prison, torturing them, tearing their families apart, and even harvesting organs from living practitioners to sell for money... Can heaven allow such things to continue?"
The man still didn't say anything.
"We are both from Shanghai. And we all hope for a happy and peaceful life. But if we don't disassociate ourselves from the CCP, when the Party sinks one day, won't we go down with it?" Sophie continued.
After learning that the man had joined the CCP's Young Pioneers, Sophie asked if he would like to quit the organization for a better future.
"I understand now," the man nodded, "Yes, I do."