Washington DC: Protest at the Chinese Embassy Demands Release of Wang Zhiwen
October 26, 2014 | By Minghui correspondent Li Jingfei
(Minghui.org) A press conference demanding the immediate and unconditional release of Falun Gong practitioner Zhiwen Wang was held in front of the Chinese Embassy in Washington DC on October 24, 2014.
Mr. Wang's daughter Danielle spoke about how her father has been persecuted for persisting in his belief in Falun Gong. She hopes that by making her father's case public, more people will learn about the persecution taking place in China today.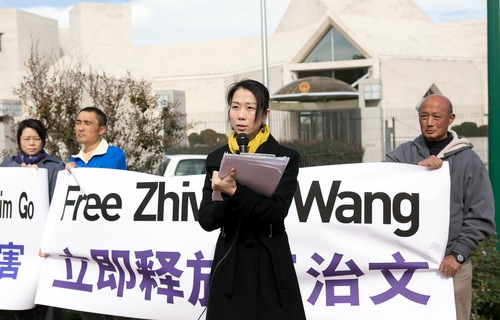 Danielle Wang describes the tortures that her father Zhiwen Wang was subjected to during his 15 years of imprisonment.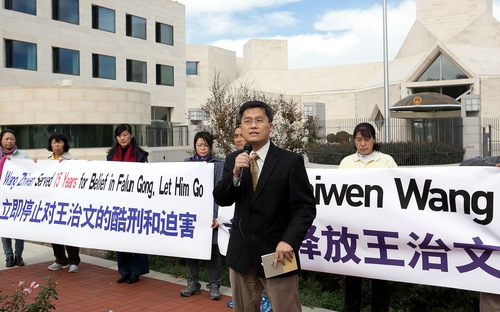 Mr. Li, spokesperson for the Washington DC Falun Dafa Association
Ms. Wang said, "My father was imprisoned for more than 5,475 days. He was released a few days ago. But the police took him directly to a brainwashing center to continue persecuting him.
"While he was in prison, my father was horribly tortured. His teeth are now gone as a result of violent beatings; his fingernails were pierced with toothpicks; he was deprived of sleep for seven days; he was handcuffed, and shackled with heavy metal chains; his clavicle was fractured in a beating; he was subjected to forced labor; and one of his knees was poked through with a metal bar."
"He now looks like a gaunt old man," she added.
Every time she recounts her father's suffering, Danielle gets very sad. "But this is the only way to let people know he is being persecuted, and that hundreds of thousands of Falun Gong practitioners are still being persecuted in China."
Mr. Wang Zhiwen was an engineer for China Railway Materials Commercial Corporation, and a volunteer contact person with the Falun Dafa (Falun Gong) Research Society in Beijing. He was arrested in July 1999, the very month the nationwide persecution began.
When he was released 15 years later, on October 18, 2014, he was immediately transferred to a brainwashing center in the Changping District of Beijing.
Mr. Li, spokesperson for the Washington DC Falun Dafa Association, said, "Today, we practitioners come here to demand that the CCP release Mr. Wang immediately. In addition, we call on people with a sense of justice, including those who work in the embassy, not to assist the persecution. The perpetrators will be brought to justice."
Danielle hopes that her father's ordeal will stir people's conscience, "China is a country with 5,000 years of splendid civilization. That sense of morality and humanity is deep within us. Six decades of communist rule cannot extinguish that conscience."
"Mr. Wang should be freed immediately, and allowed to reunite with his family," said Congressman Chris Smith, chair of the House Foreign Affairs Committee's Human Rights Subcommittee, and co-chair of the U.S. Executive-Congressional Commission on China.
"The brutal campaign to eradicate the Falun Gong from China is one of the great atrocities of this century. The arbitrary detentions must stop, the torture must stop, the black jails and 'brainwashing' centers must close, and there should be no more organ harvesting from any prisoner in China," said Mr. Smith.