Introducing Falun Dafa in the Himalayan Kingdom of Bhutan
October 25, 2014 | By a Minghui correspondent
(Minghui.org) Bhutan is a landlocked country in South Asia, located at the eastern end of the Himalayas. It is bordered on the north by China, and on the south, east, and west by India.
An elderly couple from New Delhi, in North India, recently went to Bhutan to introduce Falun Dafa. The people in Bhutan believe in Buddhism, so it was easy for them to embrace Falun Dafa's universal principles of Truthfulness-Compassion-Forbearance.
The couple visited four schools in Paro City. Although it was exam time, the principal and staff welcomed them. They learned the Falun Dafa exercises and reacted positively when discovering that Falun Dafa is part of the Buddha School.
At one school, more than 200 students and their teachers learned the exercises. The couple informed them that they could download the books Zhuan Falun and Falun Gong from www.falundafa.org free of charge.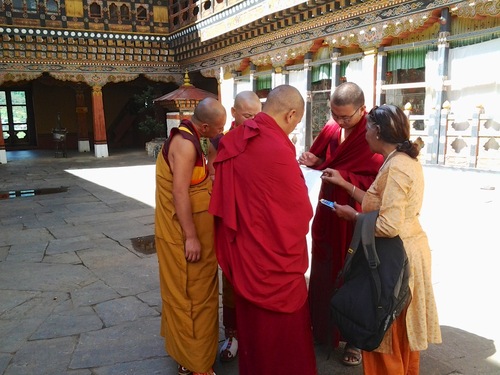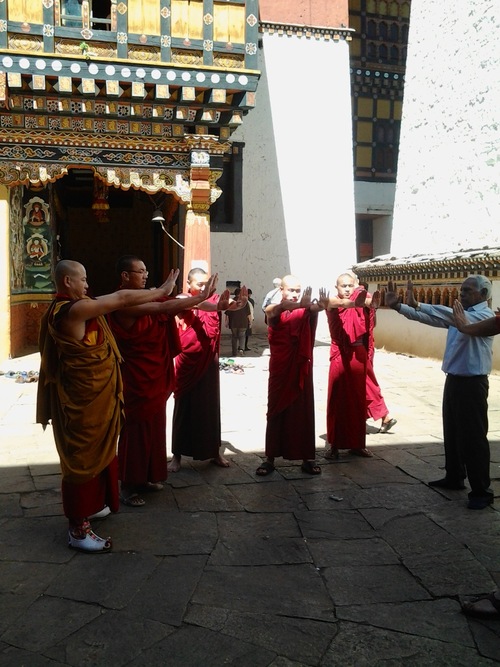 A public school principal learned the exercises and accepted a copy of Zhuan Falun and other Falun Dafa books. He promised to invite the practitioners to return in March 2015 so that all the students in the school could benefit from Falun Dafa.
One day, the practitioners put up Falun Dafa banners in a marketplace. One of them demonstrated the exercises, while the other distributed fliers and told people about the health benefits of Falun Dafa, including how she recovered from migraines, acute back pain, and high blood pressure.
The practitioners visited the capital city of Thimpu during a festival on October 3-5, 2014. They went to a school, where they introduced Falun Dafa and taught the exercises. They also told the students and teachers how Falun Dafa practitioners are being persecuted in China.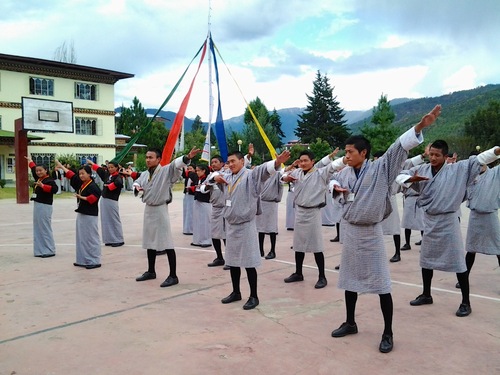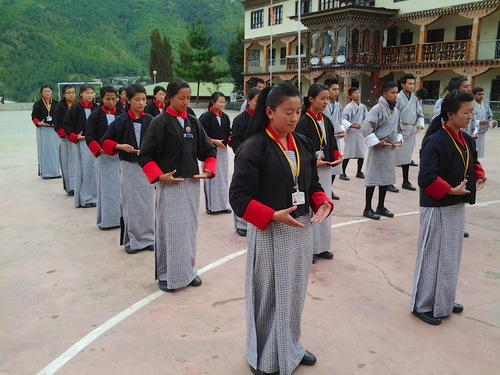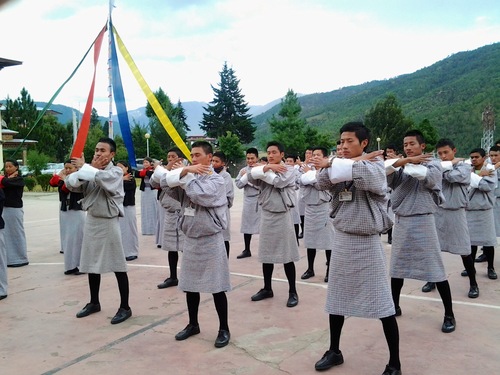 The next day, the practitioners visited a monastery. They distributed fliers and introduced Falun Dafa to thousands of people there. Several monks learned the exercise movements and asked many questions.
When one practitioner demonstrated the sitting meditation, people took photos and asked questions. Her husband gave them fliers and told them that Falun Dafa was a cultivation system of mind and body.
The couple is looking forward to visiting Bhutan again next year.