The Art of Zhen, Shan, Ren International Exhibition Presented in Chiayi City, Taiwan
October 02, 2014 | By Wang Qinghan
(Minghui.org) The Art of Zhen, Shan, Ren International Exhibition opened on September 28, 2014, at the City Cultural Center in Chiayi, a city in southwestern Taiwan. Cultural Affairs Bureau director Hou Jia-Jeng praised the event, "We are happy to hold this exhibition here. It provides an opportunity for people in our areas to appreciate genuine, traditional works of art."
Hou said that he had heard about this international exhibition in the past, and was impressed by the stories presented. "They make people rethink the value of life, for example, perseverance during severe suppression and massive persecution. These artworks are very inspiring and enlightening. I am sure our audience will like them and learn from them."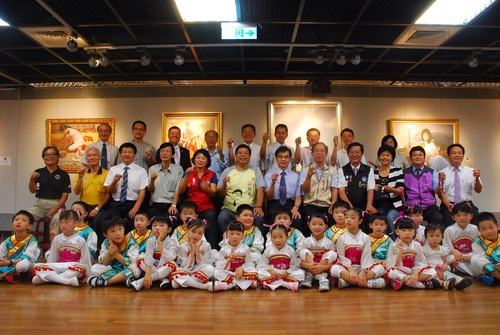 The Art of Zhen, Shan, Ren International Exhibition opened in Chiayi City, Taiwan on September 28, 2014.
The exhibition includes 45 artworks created by 15 artists. "Through the practice of Falun Dafa, these artists found new meaning in life. By letting go of attachments to fame and personal interest, they were able to uplift their mind nature. That is, returning to the origin," explained one exhibition guide.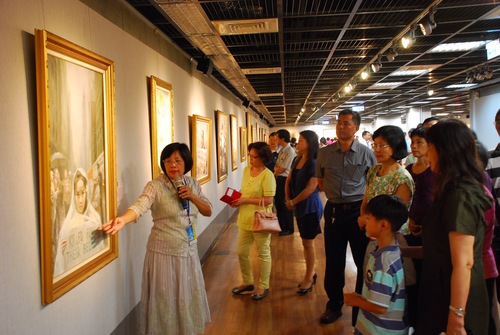 An exhibition guide explains the paintings to visitors.
Many government officials, community leaders, news media, organizations, and local residents joined the opening ceremony. They brought a large number of flower baskets in recognition of the event. Luo Ming, principal of the Chiayi County Yung Ching Senior High School, was moved by artworks, "The characters in these paintings are unique. Their demeanor, and the expressions in their eyes, are so captivating that they relay a deep meaning on a spiritual level." He said this could be the result of these artists' cultivation practice.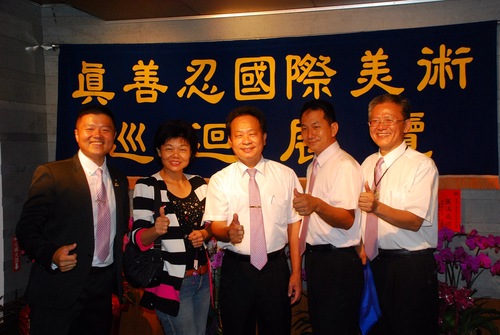 Many government officials and community leaders praised the exhibition during opening ceremony.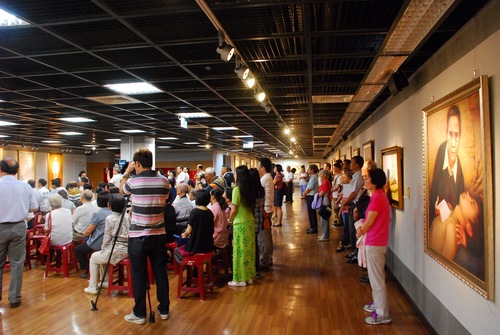 Various news media, organizations, and local residents attended the opening ceremony.
Tsai Wen-hsu, a Chiayi City Council member, was aware of the persecution of Falun Dafa in China. "They [practitioners] have not been treated fairly. We need to support them."
A group of young practitioners from Chiayi Minghui School performed dances during the celebration. They also gave hand-made paper lotus flowers to the ceremony attendees as gifts. This exhibition will last two weeks and conclude on October 12.