Shen Yun Symphony Orchestra Returns to Carnegie Hall
October 14, 2014 | By Minghui correspondent He Yu
(Minghui.org) Shen Yun Symphony Orchestra returned to Carnegie Hall's Perelman Stage for the new 2014 season on October 11 after debuting at Symphony Hall in Boston on October 4.
Audience members appreciated the orchestra's distinctiveness, with its original Chinese compositions and arrangements with Western orchestration, and its authenticity in capturing the essence of Western classics. The impact was described as "spiritually uplifting in a way that was most unusual" and "it connected with my spirit."
The orchestra features this season's new original works adapted from Shen Yun Performing Arts dances, such as "Grand Descent of the Deities," "The Warriors of Wudang Mountain," and "The Steadfast Lotus."
It also pays tribute to celebrated Western classics by composers like Antonin Dvorak and Mikhail Glinka. An erhu trio, a trumpet trio, and three bel canto vocalists were also featured in the concert.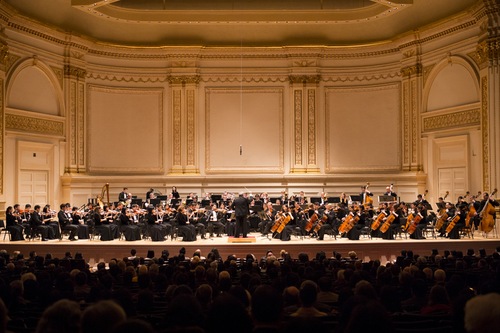 Shen Yun Symphony Orchestra held two performances at Carnegie Hall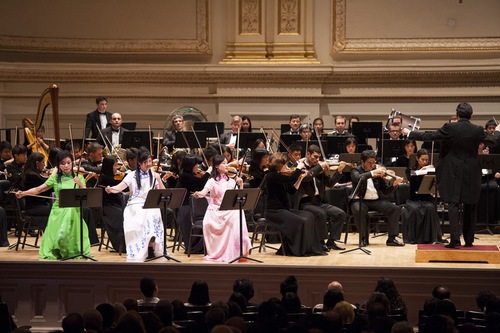 The orchestra's erhu trio performs "Sorrow Melts Away."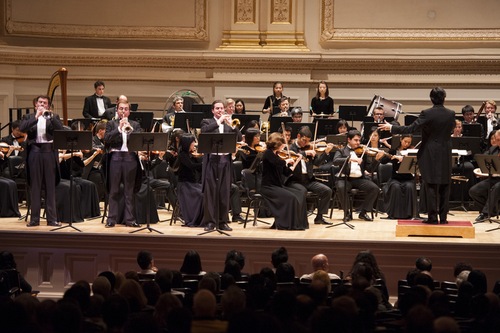 Shen Yun Symphony Orchestra presents two pieces with trumpet trio.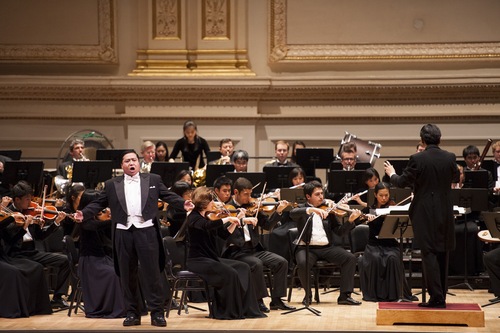 Shen Yun's tenor Tian Ge performs "Nessun Dorma" from Puccini's Turandot.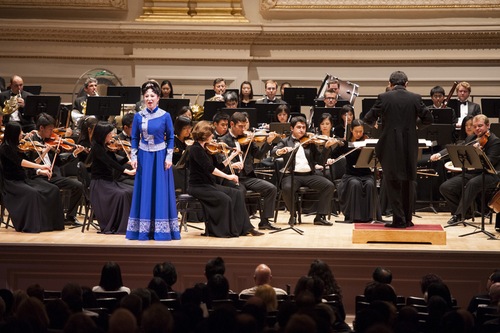 Soprano Jiang Min performs a Shen Yun original song.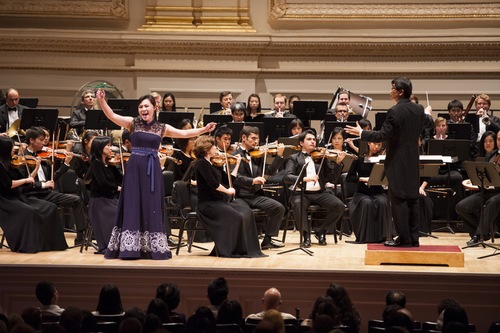 Soprano Geng Haolan performs a Shen Yun original song.
A Moving and Enriching Experience for Musicians
Musician Elizabeth Pecota was moved to tears by the performance.
Hailing from Easton, Pennsylvania, Ms. Elizabeth Pecota, a musician who plays the flute and harp, rated the orchestra as "top-notch." The experience was one that had her crying "at least ten times."
"I loved the way they mixed the East and the West together, I loved the trumpet pieces, the vocalists were superb, the music was varied and rich and covered all types of styles. It was just wonderful," Ms. Pecota said.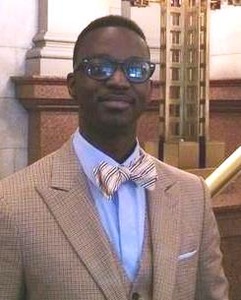 Breyone King, hip hop, R&B, jazz, and acoustic music producer
Breyone King, hip hop, R&B, jazz, and acoustic music producer, felt spiritually connected to the music of Shen Yun, "I felt it more than I listened to it. The music was moving through me so I was able to get visions and experiences. At the end of some pieces, I would feel it and get chills. … The music was connecting to my spirit, and it brightened up and moved into a feeling of victory."
"Spiritually Uplifting in a Way That Was Most Unusual"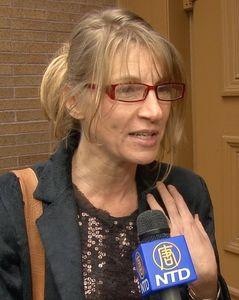 Local writer and journalist Celia Farber
Local writer and journalist Ms. Celia Farber said, "I absolutely loved it. I was crying at the end, it's a little hard to describe, as it was so different, it was magical, very very spiritually uplifting in a way that was most unusual."
This feeling touched Ms. Farber deeply and she noted the differences between Shen Yun and her other concert experiences:
"I have to say it's just a spirit that you feel in the room, in the music, and between the musicians, and between the musicians and the audience It's really hard to say why, it's just different from a Western classical concert, maybe more technical, as they were technically brilliant."
She continued to elaborate that, for her, in a "Western concert, something about the spirit would be more subdued" while the spirit of the Shen Yun concert she had just experienced "was just really full and alive--you could feel it."
Masterfully Original Production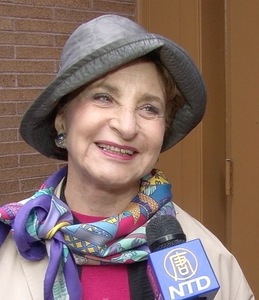 Media producer Lillian Gilden
Media producer Ms. Lillian Gilden said that she had never been to a concert with as many orchestra members as today's Shen Yun concert.
"Spectacular! And what I especially loved [is that] it was big, it was a huge sound, and I loved every minute of it," Ms. Gilden said. "I also loved the idea of combining it with classical numbers. I thought it was unique and very special. I thoroughly enjoyed it."
Ms. Gilden commented on the pieces that were adapted from Shen Yun's dance performances.
"I thought the Chinese composers … , those numbers were especially moving. Those were incredible, for me, very emotional. I really felt the sound and sensitivity of the musicians, as well as the soloists, were very special. It was emotional for me, in many ways. I'm very grateful I was here," said Ms. Gilden.
Another media producer, Biren Majmudar, thought the concert was a life-changing experience, and that it opened up a new level and guides the way. He said, "I did not even realize when she began or ended. I just hoped that it could keep going... All of the pieces were so beautifully original. This music transported me through time space, between the past and now. I imagined it in my mind and was transported with the music."
Shen Yun Symphony Orchestra will continue its North America tour in Toronto on October 16, Chicago on October 21, Miami on October 25, and Sarasota on October 27. Information on upcoming performances and tickets can be found on http://www.shenyun.com/symphony.