Falun Gong Brings Beauty and Diversity to Salmon Days Parade (Photos)
October 13, 2014 | By a practitioner in Washington State, USA
(Minghui.org) Salmon Days festivalgoers were treated to a vibrant display of waist drummers, lion dancers, celestial maidens and practitioners demonstrating the Falun Gong exercises on a beautifully decorated float. The beauty and diversity of the Falun Gong procession was warmly received at the Salmon Days Parade on October 4, 2014.
Salmon Days is an internationally recognized, award winning festival that has been held in Issaquah, Washington on the first full weekend of October since 1970.
The parade grand marshal welcomed the Falun Gong practitioners back to this year's parade and commented on how their contingent has grown even larger.
"This is an ancient Chinese method that teaches people to cultivate themselves," announced the Salmon Days Parade Master of Ceremonies as the Falun Gong procession marched by the main stage.
Falun Gong practitioners participate in the Salmon Days parade 2014
Many people were captivated by the beauty of the "celestial maidens" sitting on the lotus flowers and the practitioners demonstrating the exercises on the float.
"Falun Gong is great," exclaimed a spectator named Johnny. "Truthfulness-Compassion-Forbearance is great, the exercise movements are graceful, I love it."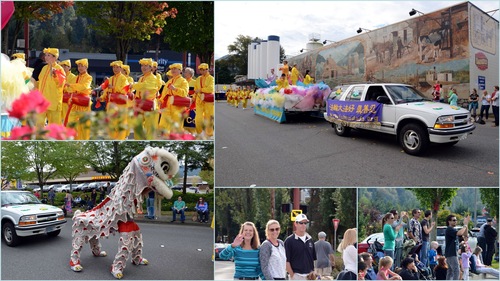 Scenes from the Salmon Days parade
Festivalgoers were pleased to take Falun Gong introductory materials and were interested to learn more about the practice.
Bijia, a Falun Gong practitioner who recently came to the U.S. from China, was moved to tears by the parade. "It's unimaginable under the Chinese Communist Party's rule for Falun Gong to take part in such a parade. I will certainly help more people learn the facts about Dafa," she said.
The Issaquah Salmon Days Festival celebrates the annual return of the salmon to their natal streams with a weekend of activities. More than 90 entries participated in the grand parade this year.
The festival has been an annual community celebration for the past 44 years and regularly draws an estimated 150,000 people.