London Chinatown: Locals and Tourists Connect with Falun Gong During Chinese New Year
January 31, 2014 | By Tang Xiuming, a Minghui correspondent in London
(Minghui.org) London Chinatown attracts its peak traffic around the Chinese New Year. Last weekend, which was the weekend before Chinese New Year, many local Chinese, Chinese students and international tourists visited Chinatown to help celebrate this holiday that has become increasingly global.
Visitors to Chinatown also came across Falun Gong practitioners, who have maintained a regular presence there every weekend. Practitioners hold exercise demonstrations, expose the persecution in China including the forced organ harvesting from living practitioners, and hold signature drives calling for an end to the persecution.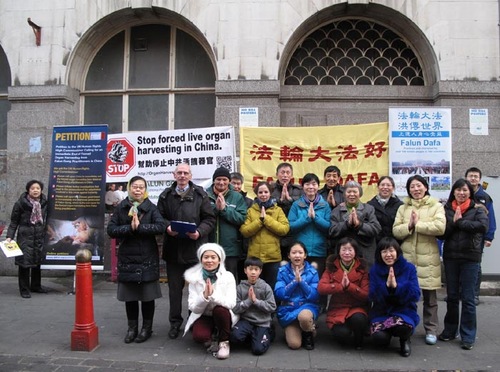 Falun Gong practitioners take a group photo at London Chinatown to wish Mr. Li Hongzhi, founder of Falun Gong, a Happy Chinese New Year.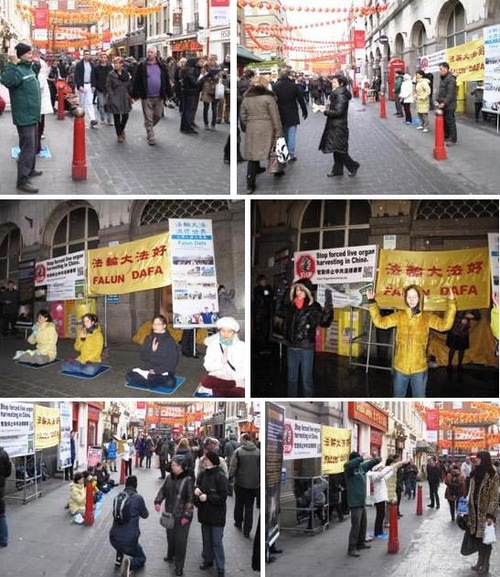 Practitioners demonstrate the Falun Gong exercises in London's Chinatown.
This past weekend, in addition to the regular truth-clarification activities, practitioners also took a group photo to wish Mr. Li Hongzhi, the founder of Falun Gong, a Happy Chinese New Year. They gathered in front of their banners, put their palms together, and said together "We wish Master a Happy New Year!" Many visitors snapped photos of the scene.
The practitioners' activities also caught the attention of many other Chinese people. They talked among each other, "This is Falun Gong. They even have an exercise site here. Look, there are Westerners too!"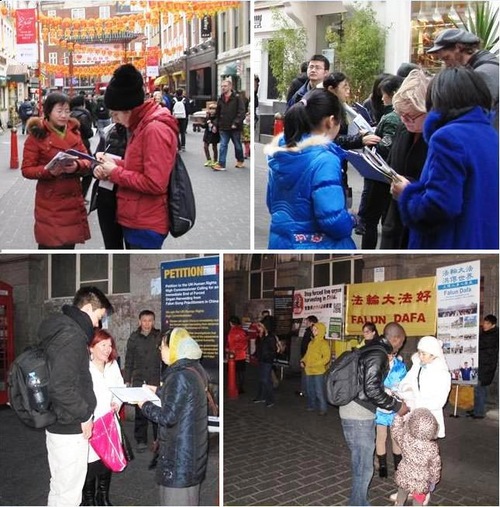 Falun Gong supporters sign a petition calling for an end of the persecution.
At a little over 4 p.m., a pouring rain suddenly arose, lasting for over 10 minutes. Many people ran to find shelter, but the three Falun Gong practitioners continued their meditation as if nothing had happened. Passers-by were impressed by their perseverance and peaceful focus.