(Minghui.org) The wife and two daughters of Mr. Qin Yueming, who was tortured to death in the Jiamusi Prison on February 26, 2011, have resumed their efforts to seek justice for Mr. Qin.
The family's efforts were disrupted in winter 2011, when the mother Ms. Wang Xiuqing and younger daughter Ms. Qin Hailong were thrown into the Qianjin Labor Camp for a one and a half year term. They were arrested because the officers at the Political and Legal Affairs Committee (PLAC) and the 610 Office in Heilongjiang Province tried to force the family to withdraw its appeal that had been accepted by the Compensation Committee of the Higher People's Court in Heilongjiang on September 8, 2011.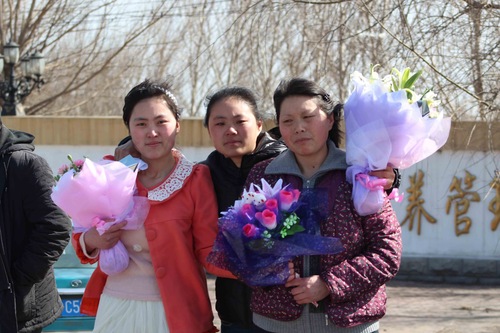 Ms. Wang Xiuqing (right) and her two daughters outside the Qianjin Forced Labor Camp on April 13, 2013, the day of Ms. Wang and the youngest daughter Ms. Qin Hailong's release. The elder daughter Ms. Qin Rongqian, along with neighbors and friends, brought the flowers to welcome them home.
During the past two years, these three women have visited the higher court in Harbin City over 100 times, urging the court to process the case.
The court cannot fairly process the case due to pressure from the PLAC and 610 office. However, it doesn't have a legitimate reason to reject the case, either. Therefore, the judges have been playing "hide and seek" with the women.
Officials Evasive
Director of the Compensation Committee Zhang Yinfeng and Judge Wang Binhong didn't dare to face the women. These officials didn't investigate the case, nor did they conduct judicial review or open a court session. They even blocked the family members and their attorney from reviewing the relevant documents.
Ms. Wang and her daughters Rongqian and Hailong walked into the Heilongjiang Higher People's Court on the morning of October 30, 2013. Several policemen were snacking and chatting, but they became very nervous when they saw the three women. They stopped eating and exchanged looks. The deputy team leader made a phone call to report the women's arrival, while other policemen tried to find out whether the mother and daughters had moved back to Jinshantun in Yichun City, a city of about four hours driving distance to Harbin, and the home of Qin's family prior to Qin Yueming's death.
Ms. Wang met with a judge, whom she had never seen before. She requested to see judge Wang Binhong, who was presiding over her case. This judge stated that Wang was on a business trip. Ms. Wang then requested to see Zhang Yinfeng, the director of the Compensation Committee. The judge told her that Zhang and Wang were on the same trip, and that they would not return until the following week. Ms. Wang wanted to know the progress of her case, but the judge responded: "I don't know anything about your case. Your case is being handled by the presiding judge."
Ms. Qin Rongqian called Judge Wang Binhong's office at around 2:00 p.m. On the same day, and Wang answered the phone. When she heard that it was Ms. Qin Rongqian who called, she sounded nervous: "I am not judge Wang. You called a wrong number." Ms. Qin said: "I know it is you. How can this be a mistake?" Wang immediately hung up and never answered the phone again.
Ms. Wang and her daughters have experienced such evasive actions and delays many times. Ms. Wang tried to make appointments with her more than 100 times. She happened to meet Wang Binhong several times, and Wang Binhong agreed to meet with her at a scheduled time. However, the judge broke her word and never showed up.
Judge Tries to Persuade Family to Drop Appeal
The mother and two daughters did have a meeting with Judge Wang Binhong once, on March 28, 2012. In this one and only meeting that was granted, the judge wanted to explore ways to persuade the family to drop the appeal.
At the meeting, Wang told Ms. Qin Rongqian that Mr. Qin's case didn't qualify for any compensation. However, Wang could speak to the prison and see if the prison can pay a little bit of "compensation" to the family to help with their daily expenses. When Ms. Qin asked for the legal document that determined the disqualification for compensation by the Compensation Committee, judge Wang couldn't provide one but simply said repeatedly, "Your request has been noted. I will give you a reply later."
Mr. Qin Yueming's Death
At around 6 p.m. on February 26, 2011, Mr. Qin Yueming's wife received a phone call from the Jiamusi Prison informing her that Mr. Qin had suffered a sudden heart attack and died. She was summoned to the prison to finish up cremation procedures.
Mr. Qin was transferred to the "Harsh Management Team" in the prison on February 21 when the prison escalated torture in order to achieve a 85-percent "transformation" rate among Falun Gong practitioners. Within six days, Mr. Win was tortured to death.
Mr. Qin was a small business owner living in the Jinshandun District, Yichun City, Heilongjiang Province. He was sentenced to 10 years in prison in April 2002 and transferred to the Jiamusi Prison in 2005. He died at the age of 47.
The two girls, Qin Rongqian and Qin Hailong, were 15 and 13 years old when their dad were sentenced to 10 years in prison, and only 24 and 22 years old when Mr. Qin died of torture.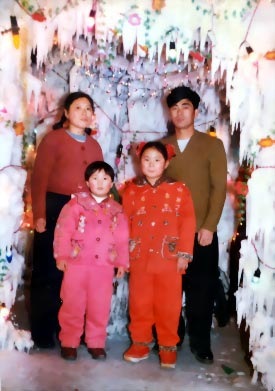 Mr. Qin Yueming's family photo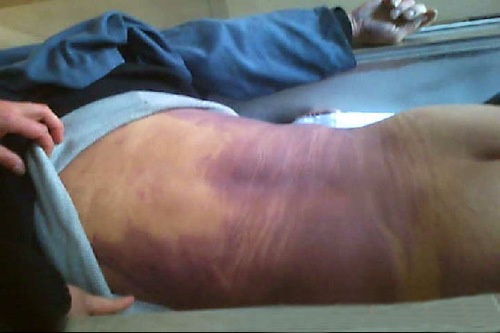 Mr. Qin's dead body showing signs of severe torture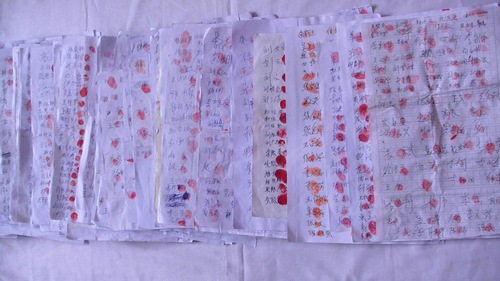 In 2012, over 15,000 citizens in Heilongjiang province signed Ms. Qin Rongqian's petition for the Higher People's Court in Heilongjiang to accept the family's appeal for her father.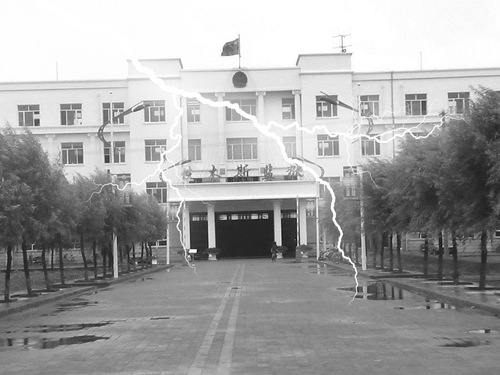 The Jiamusi Prison in Heilongjiang Province
Related articles:
Mr. Qin Yueming Tortured to Death in Jiamusi Prison
Mr. Qin Yueming Tortured to Death in Jiamusi Prison, His Wife and Daughter also Persecuted
Mr. Qin Yueming Brutally Force-fed in Jiamusi Prison the Day Before His Untimely Death (Photos)