Changyi District Judge Refuses Attorneys Access to Their Client's Files
January 26, 2014 | By a Minghui correspondent from Jilin Province, China
(Minghui.org) When Ms. Deng Xiaobo's attorneys went to the Changyi District Court in Jilin City to read her case documents on December 25, 2013, Judge Fu Wenzhong refused to allow them access to the files.
Attorneys Vow to File a Complaint
When the judge claimed that he did not have the documents and told the attorneys to leave and wait for his phone call, they protested, "You told the family that you would see us. We are here even though it is Christmas today. Now you tell us to go back and wait. Where are the documents?"
Fu Wenzhong said, "They are at the Intermediate Court. You need to get their approval to read them."
The attorneys said, "The Intermediate Court does not supervise this court, and the case has not yet been tried. It is wrong for you to keep us from reading our client's file. You must allow us to read the case documents. It's the law."
When Fu Wenzhong made no reply and went back to his computer, the attorneys said, "We can now file a complaint that you broke the law."
Ms. Deng's Sentence Appears to Be Pre-determined
That afternoon, the attorneys had a long meeting with Ms. Deng. She said that a Changyi District Procuratorate representative came to the detention center and told her that she would be sentenced to eight to ten years in prison.
The Changyi District Court would prefer that attorneys not be involved in Ms. Deng's case and is therefore causing difficulties for them.
The attorneys have decided to stay with the case.
Ms. Deng's Arrest
Ms. Deng, who is from Jilin City, Jilin Province, was arrested in her deli by four officers from the Changyi District Police Department and the Donjuzi Police Station at around 9:00 a.m. on October 18, 2013. The police ransacked her store without a search warrant.
They forced her husband to open the door to their home at 11:00 a.m. Again without a warrant, they ransacked the home. Ms. Deng was taken to the Shahezi Brainwashing Center at 6:00 p.m.
She was transferred to an unknown location for interrogation three days later. Two police officers tortured her. She was beaten, kicked, and had water poured over her. Injured and sopping wet, she was taken back to the brainwashing center.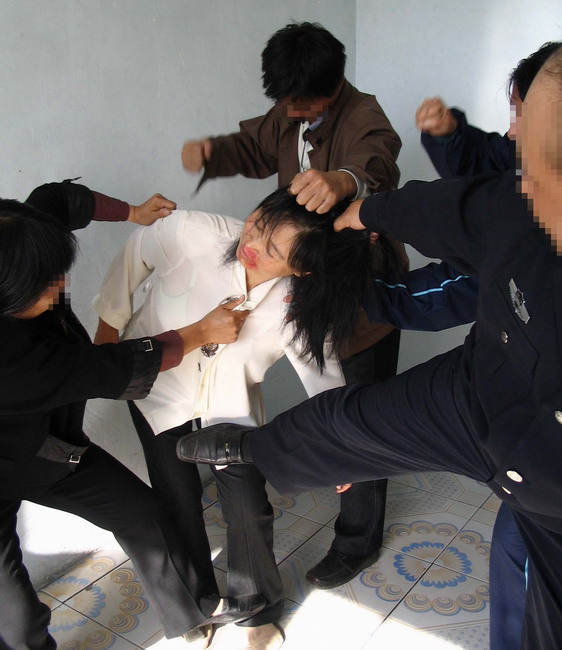 Torture reenactment: Brutal beating
Ms. Deng was transferred to the Jilin Detention Center a few days later. Her family hired two attorneys to represent her.
Parties Responsible for Persecuting Ms. Deng:
Changyi District Procuratorate
Fu Wenzhong (付文忠), Changyi District Court judge: +86-432-62404789 (Office)
Related article:
Deli Owner Detained and Beaten (Photos)