Mr. Liu Haitao Tried by Fushun City Court in Liaoning Province
January 26, 2014 | By a correspondent in Liaoning Province, China
(Minghui.org) Falun Gong practitioner Mr. Liu Haitao from Qingyuan County was placed on trial in the Dongzhou District Court in Fushun on the morning of December 3, 2013. Mr. Liu's family attended the hearing. Also present were clerks from the 610 Office and personnel from the Domestic Security Team of Fushun.
Mr. Liu's lawyer entered a not-guilty plea for his client and requested his release. Mr. Liu himself spoke, stating how Falun Gong had benefited him and taught him how to be a good person. The chief judge eventually announced a court recess.
Mr. Liu declared in his statement that he had not violated any laws by practicing Falun Gong. He also revealed that officers from the Fushun Police Station beat him to the point of bleeding when they arrested him, and that he was brutally taken from his home in December and not allowed to even put on a coat. The officers also stole personal property during the arrest, and used torture and deceit attempting to force a "confession" from him.
Mr. Liu asked his father, "Is the money (10,000 yuan) that I placed under the bed still there?" His father replied, "It was gone after the police left. It's possible that the police took it."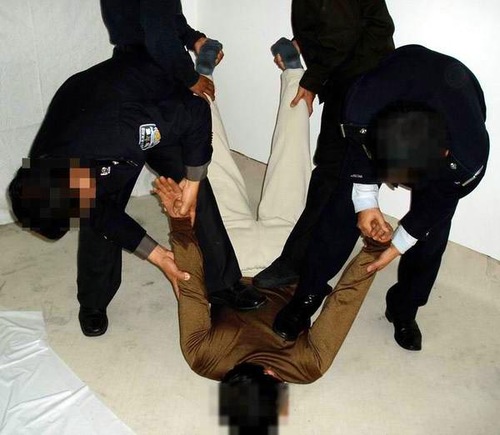 Torture reenactment: Severe beating
As the second advocate, Mr. Liu's father said in his son's defense, "Falun Gong made my son into a good child. My wife and I don't have an income. My son is the backbone of the family and he works hard to support us."
Mr. Liu's lawyer reiterated that it is not illegal to practice Falun Gong, and added, "If someone is punished only because of 'having some Falun Gong-related materials,' our rule of law has lost its dignity!"
After the trial, one of Mr. Liu's relatives said to the lawyer, "What you said is wonderful. Thank you. You have expressed our thoughts."