2013 Germany Falun Dafa Experience Sharing Conference Held in Bavaria
(Minghui.org) The annual Falun Dafa Experience Sharing Conference in Germany took place on December 28, 2013 in Bad Kissingen, Bavaria. Fifteen Falun Gong practitioners shared how they cultivated their hearts and minds in the midst of life's struggles and various volunteer efforts to raise awareness about Falun Gong.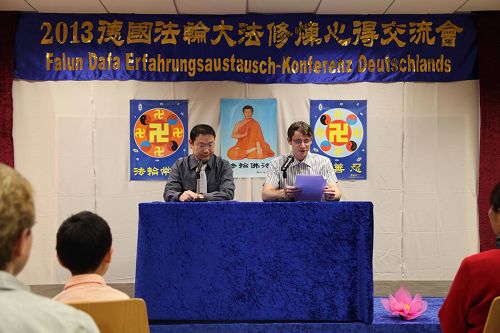 2013 Falun Dafa Sharing Conference in Germany took place on December 28, 2013 in Bad Kissingen, Bavaria.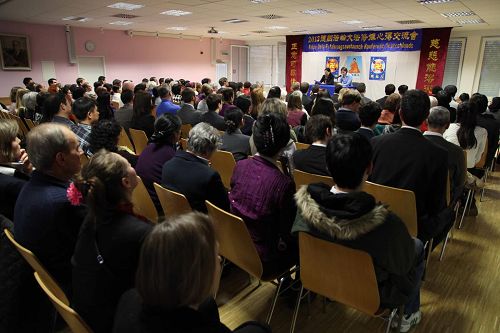 Practitioners share their cultivation experiences at the conference.


Cultivating the Heart and Mind through Clarifying the Facts to Chinese
Two practitioners in Germany shared their experience in calling China to help people there understand the truth about Falun Gong. One compared the experience with that of the "wandering about," a form of Taoist cultivation, in that she endured all kinds of humiliation, which she had never encountered before.
She was a tough woman before she started practicing Falun Gong. She didn't bother to waste time interacting with those she looked down upon. After she started calling China, she had to work hard to refrain from arguing with those who berated her. Sometimes she couldn't endure the humiliation and ended up scolding the person back. However, she said she gradually let go of her deeply rooted arrogance in the process and expanded her compassion.
Another practitioner has made phone calls to China for over six months. She discovered that Chinese in the political and legal systems in China have already sensed the danger they are in due to participating in the persecution. They have no sense of security and are very anxious.
This practitioner tailored the contents of her call to their current mentality to awaken their conscience. She clearly explained to them their situation: the CCP has already pushed them out and plans to use them as scapegoats for the persecution. Meanwhile, those who participate in the persecution will have to face international tribunal and retribution. Many of them chose to quit the Chinese Communist Party (CCP) and its affiliated organizations for their own safety.
A 76-year-old woman has gone to tourist sites in Germany to clarify the facts to Chinese tourists every day for many years. She has endured a great deal of hardship for the sake of the Chinese people.
Balancing Cultivation and Work
The challenge of balancing work, family and Falun Gong projects is real for every practitioner. A practitioner shared how he returned to a proper balance after taking a detour in this respect.
He used to spend too much time producing news in German for New Tang Dynasty Television. When doing this, he neglected his regular job. He also had a lot of conflicts in his family. Finally he realized that he wasn't meeting the cultivation requirement in Master's teaching:
"I would like to tell everyone that you must be in keeping with ordinary people to the greatest extent while cultivating." (Teaching the Fa at the Western U.S. Fa Conference)
He had been leaving a good impression on ordinary people either. He discovered his fear: he was afraid that less time in Falun Gong projects would affect his success of cultivation. He was also reluctant to admit his wrongdoings for the fear of harming the image and reputation of Falun Gong. He realized later that he should be honest with himself and work hard to improve his heart.
Another speaker at the conference, an engineer who came to Germany from China five years ago, shared his experience in trusting Master. During his job hunt, he came to understand why Master's arrangements were the best.
He doesn't have a diploma in Germany and doesn't speak good German. The requirements for engineers in Germany are much higher than those in China. He didn't seem to be a very competitive candidate for the job market. However, he had the understanding that a Falun Gong practitioner should have a good job and validate the beauty of Falun Gong. In the end, he was hired by a multi-national corporation, an industry leader.
Cultivating through Selling Shen Yun Tickets
Selling Shen Yun tickets is a process of saving people. A new German practitioner shared how he stayed at the ticket booth when all others went to help at the theater after the arrival of Shen Yun Performing Arts.
As an introvert, he wasn't confident in working there alone. When it got late and there was virtually no traffic around the ticket booth, he also faced the challenge of leaving or staying. He finally made up his mind: even if there's only one customer tonight, I'm going to stay until close. At about 8 p.m., a customer came and bought one ticket.
Another German practitioner didn't know how to explain to his colleagues, friends, and family that he used his vacation time to sell Shen Yun tickets. He was embarrassed to see them at the ticket booth. After sharing with fellow practitioners, he realized more deeply the significance of Shen Yun. He then very happily introduced Shen Yun to his friends when they met at the ticket booth.
Another German practitioner shared that she might have formed some notions about the mainstream society based on her past experiences. While some of her knowledge might not be wrong, the notions were interfering with her saving sentient beings.
Things changed once she let go of her notions. When she had the strong wish to save sentient beings, others introduced her as a staff member of the Epoch Times newspaper at a party and invited her to tell everyone about Falun Gong and the persecution.
New Practitioners Raise Awareness about Falun Gong
Several new German practitioners spoke at the conference. A young woman has practiced for a year and a half. Her first experience in clarifying the facts was a signature drive to call for an end to organ harvesting in China and she offered the petition to almost all of her colleagues.
She later hosted an "infotag" event ("information day," a very common way for Germans to raise awareness on various issues with a table and some materials). A person joined the practice because of this event. The two of them and another person formed a Fa study group, the first in her city.