Australia: Falun Gong Practitioners in Melbourne Let the Public Know about Forced Organ Harvesting in China (Photos)
(Minghui.org) On August 31, Falun Gong practitioners from Melbourne held an activity in Springvale Shopping Center, telling the public about the persecution of Falun Gong, especially the harvesting of organs from living practitioners in China. Practitioners set up a booth, display boards, and banners, and passed out materials. Most of the customers who frequent this shopping mall are Asian. They were shocked by the brutality of the persecution.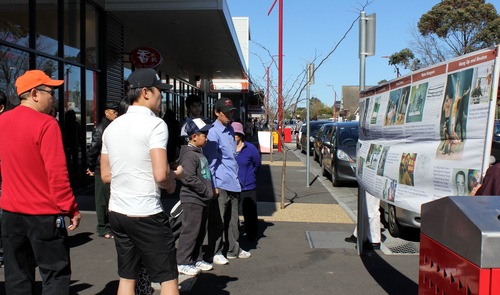 Reading the informational materials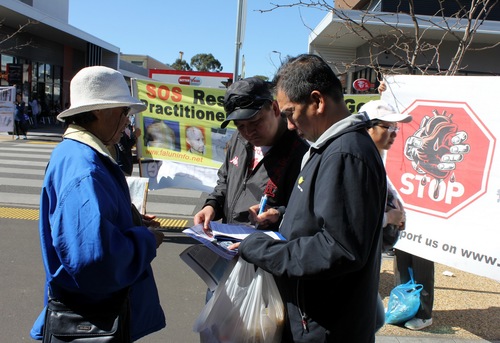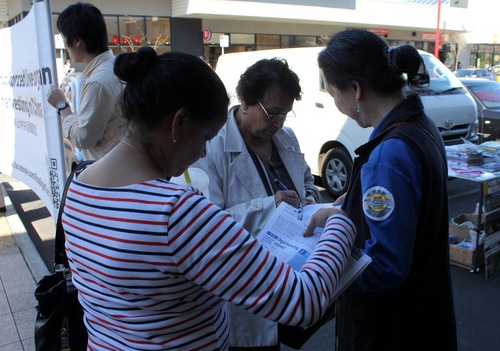 Signing the petition to support Falun Gong
The Divine Land Marching Band, made up of local practitioners, performed at the event, which attracted many people.
Mr. Nguyen and Mr. Van are from Vietnam. They escaped the communist party's tyrannical rule 30 years ago and were well aware of the inherent evilness of the party. Mr. Nguyen said, "We should help to stop the persecution. The whole world should help." They both signed the petition.
One of the major culprits in persecuting Falun Gong in China, Bo Xilai, was tried last month in China. Although the Chinese government tried to conceal his part in the crime of forced organ harvesting, many people learned about it. Last week, an audio recording was made public, in which Bo Xilai admitted his participation when he was visiting Germany in 2006.
Mr. Hjad, a local citizen, moved from India five years ago. He liked the band's performances. "They are well trained. It's great," he said. He had heard about the persecution of Falun Gong. After signing the petition. Mr. Hjad said that he would tell his friends and family members and ask them to help stop it, too.