Ms. Li Xiurong Tortured in Prison and Forced Labor Camp
September 04, 2013 | By Ms. Li Xiurong's daughter from Jiamusi City, Heilongjiang Province
(Minghui.org) My mother Ms. Li Xiurong was arrested in July 2010 for distributing Falun Gong materials. She was sentenced to three years in prison and is being held in Heilongjiang Women's Prison. She has persisted in her belief despite brutal persecution.
I went to visit my mother in prison on August 13, 2012. I treasure the time that we were together and hope she can return home soon.
Benefiting physically and mentally from practicing Falun Gong
My mother used to suffer from neurasthenia, inflammation of the gallbladder, insufficient blood flow to the brain and recurrent vertigo. She often resorted to intravenous injections and acupuncture, which was quite expensive. My father often complained about her poor health and our family life was not harmonious. One day, my mother obtained the book Zhuan Falun and she began to practice Falun Gong. Her health improved gradually and after three months, she had returned to good health.
My father was happy and the family lived in harmony, because my mother benefited so much physically and mentally from practicing Falun Gong.
Police extort 1,000 yuan before releasing my mother
My mother was reported to the local police when she was leaving for Beijing to appeal for the right to practice Falun Gong. Officers from Yonghong Domestic Security Division of Jiamusi, including Guo Weishan and Shi Xiuwen, arrested her and detained her in Jiamusi Detention Center. They then extorted 1,000 yuan from my family before releasing her.
In October 2000, my father told me that my mother had gone to Beijing to appeal for Falun Gong again. I began to worry about her. Later, I was informed that she was arrested in Beijing and taken back to our hometown, where she was held at a detention center. My family was forced to pay 4,000 yuan to cover travel expenses for the police to bring her back from Beijing. She was released shortly before the Chinese New Year in 2001.
Sentenced to three years of forced labor and tortured
My mother and I went to visit my grandparents in Yichun City, Heilongjiang Province in mid-July 2001. We were reported to the authorities before taking the train to return home, at Yichun Train Station. Police searched our luggage and found some Falun Gong materials in my mother's bag. My grandfather was with us at the time, and all three of us were arrested. I was separated from my mother, and was later released along with my grandfather because they didn't find anything in my luggage.
My mother was sentenced to three years of forced labor. Those three years were really tough on me and my father. We were later notified that she had been hospitalized due to deteriorating health. During that time, I visited her every day after school.
One night, my mother managed to escape from the hospital. My father and I were closely monitored by the police, who demanded to know my mother's whereabouts. They lived in our home and followed me everywhere I went. My mother was soon found and taken back to the labor camp.
During her time at the labor camp, my mother was tortured in various ways, including having her hands cuffed behind her back in painful positions, beatings and forced-feeding.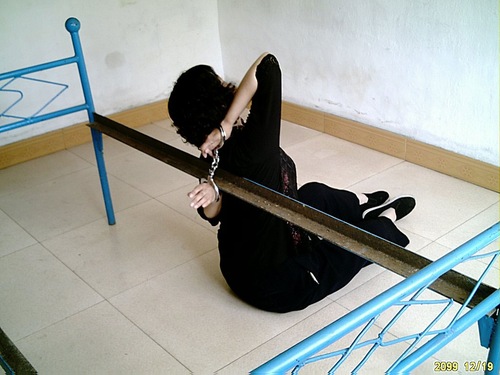 Torture re-enactment: Hands cuffed behind the back with one hand up and one hand down, referred to as "carrying a sword on one's back."
Unsuccessfully asking for my mother's release from prison
On July 19, 2010, officers from Changqing Police Station arrested my mother because she distributed Falun Gong materials. I had witnessed the suffering she experienced over the past years, so I decided to go to the police station to request her release.
I went to the police station with another practitioner's family member who had also been arrested previously. The officers there told us to leave immediately. Then, we went to the Jiao District Police Department. I told the police there how my mother's health had improved from practicing Falun Gong. They refused to listen and even asked us if we were practitioners. They threatened to arrest us and then pushed us out of the police station.
We went to other police and judicial departments over the next few days asking for justice for my mother. However, we were threatened wherever we went.
Other practitioners encouraged me, and told me not to be angry with the police, since they were deceived by the Chinese Communist Party's lies about Falun Gong. These practitioners' compassion and sincerity gave me greater strength to keep fighting for my mother's release.
When my father and I went to Changqing Police Station on August 18, 2010, officer Jin Zehua told us rudely that my mother was under official arrest. We then went to the Jiao District Procuratorate, but the officers there told us that my mother's case had been submitted to the Jiao District Court. My father and I then decided to hire a lawyer for my mother.
On the morning of October 18, 2010, a trial was held for my mother at Jiao District Court. Officials from the local 610 Office and domestic security division were in court. My mother told those present that she had benefited from practicing Falun Gong and that she was innocent. Her lawyer gave strong evidence concerning her innocence. The prosecutor did not respond. No verdict was issued.
My mother was sentenced to a three year prison term on October 23, 2010 and was taken to Heilongjiang Province Women's Prison. My father and I visited her every month. She was deprived of sleep and was forced to sit on a small stool for long periods of time. She was strictly monitored and her health worsened.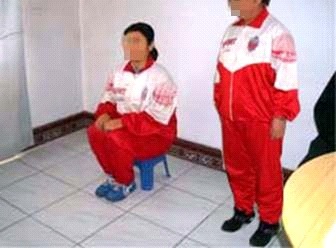 Torture Re-enactment: Sitting on a small stool for long periods of time
When I went to visit my mother on August 13, 2012, she appeared to be very weak. She suffered severe chest pain, her eyesight and hearing had deteriorated, and she had difficulty breathing. Also, her black hair was turning gray.
I won't forsake my mother
For the past 14 years, my family has been constantly harassed by the authorities. My mother has been arrested many times, has been sentenced to forced labor, was imprisoned and was tortured. She was deprived of her basic human rights and lost her freedom.
I treasure the time when my mother and I are together. I know that Dafa gave her strength so that she could continue to be a practitioner. Many practitioners continue to tell people the facts about Falun Gong and the unprecedented persecution. More people worldwide have learned the facts and support Falun Gong. I believe that justice will soon be served in China.