Washington, DC: Falun Gong Signature Drive on the 50th Anniversary of the March on Washington (Photos)
September 04, 2013 | By Jingfei Li from Washington, DC
(Minghui.org) On August 24, 2013, about 100,000 people gathered in Washington, DC, to commemorate and celebrate the "March on Washington for Jobs and Freedom" and the "I Have a Dream" speech delivered by Dr. Martin Luther King Jr. 50 years ago. The march started near the World War II Memorial Park.
Falun Dafa practitioners arrived at the WW II memorial park early in the morning with display boards and audio equipment. They explained the facts about the persecution of Falun Gong in China and collected signatures from march participants on a petition to end the forced live organ harvesting from Falun Gong practitioners in China.
The practitioners set up doubled-sided display boards. One side had pictures of a Western practitioner doing the exercises, and the other side had photos and information about the Chinese Communist Party's crime of harvesting organs from living Falun Gong practitioners. Many participants learned about the persecution in China and signed the petition. Some learned the Falun Gong exercises. Several college students from Taiwan and other tourists took photos in front of the display boards. They said that they were familiar with Falun Gong because there were Falun Gong practitioners clarifying the truth at every major tourist site in Taiwan.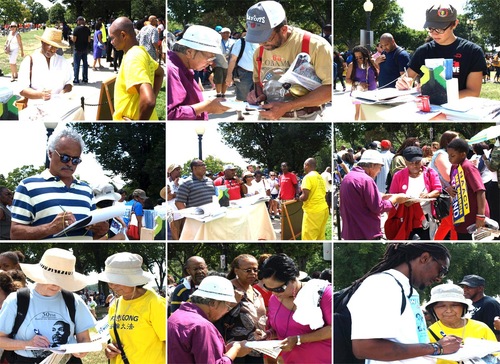 Signature drive at the 50th anniversary celebration of the March on Washington 50 years ago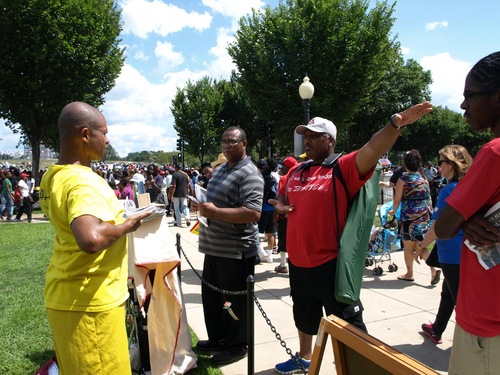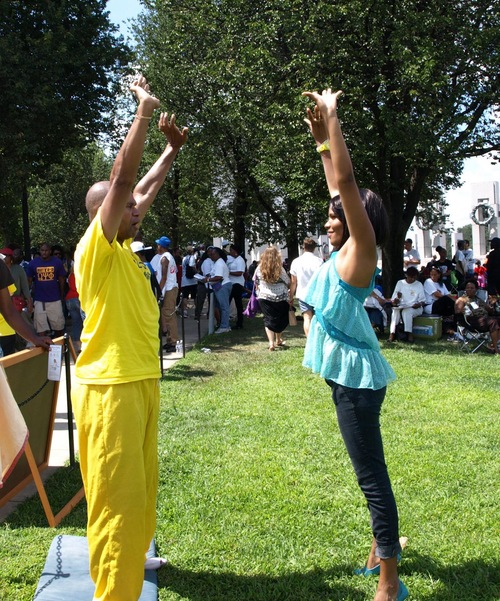 Learning the Falun Gong exercises
Mr. Keith Ware is a Falun Dafa practitioner. He talked about his and his wife's own experiences of practicing Falun Gong as well as the 14-year-long persecution of Falun Gong by the Chinese Communist Party.
Mr. Ware, whose family has lived in Washington, DC for four generations, connected with Falun Gong on April 25, 1999. "I heard a story on NPR [National Public Radio] in April 1999. It was about a large group of Falun Gong practitioners staging a peaceful protest in Beijing. I didn't know what Falun Gong was and I had nothing to do with the politics in China. But the story moved me. I was moved by the tremendous courage displayed by the Falun Gong practitioners."
On January 1 2000, he saw a large group of people doing the Falun Gong exercises on the National Mall, so he and his wife joined the group to learn them and began the cultivation practice. "My wife's health improved quickly. My mental pressure was relieved." From then on, he has joined other Falun Dafa practitioners in telling the world what Falun Gong is, the truth about the persecution in China, and in calling for help to end the persecution.
He said, "I will not stop working to end the persecution until the culprits are brought to justice. The Chinese Communist Party must stop the persecution of Falun Gong immediately."