Illinois: Promoting Falun Dafa at Peoria WorldFest
September 25, 2013 | By a Falun Dafa practitioner in Illinois, USA
(Minghui.org) On September 14, dozens of cultural groups shared their heritage at the 10 th annual Peoria WorldFest, which attracted hundreds of visitors. Falun Dafa practitioners participated in the event for the fourth year in a row to promote Falun Dafa and inform people about the persecution in China.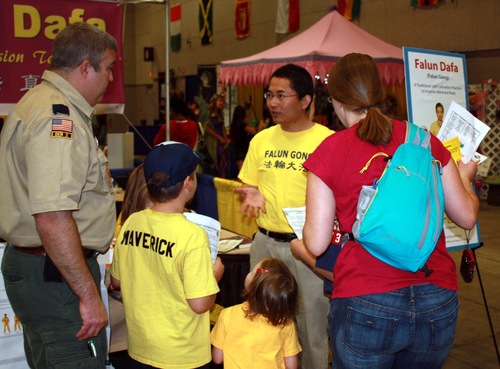 A Falun Dafa practitioner talks to visitors at Peoria WorldFest.
Many locals were curious to learn more about Falun Gong. A few dozen visitors signed up for the free exercise class. A high school student and two college students learned the Falun Gong exercises at the booth by following the exercise teaching video on display.
This year, the practitioners noticed that more Chinese people showed an interest in Falun Gong. They recognized the goodness of the principles of Truthfulness-Compassion-Forbearance, but were still confused by the Chinese Communist Party's propaganda. Practitioners explained that Falun Gong has no interest in political power, like the Chinese government claims. Falun Gong practitioners only ask for the freedom to practice their beliefs and for this they are brutally persecuted by the communist regime. One Chinese man said that the Falun Gong practitioners are very talented, referring to the TV network founded by practitioners, NTDTV. A Chinese manager of a local engineering company brought his father to the Falun Dafa booth and said that they had received Falun Gong fliers two weeks prior in Chicago's Chinatown.
The practitioners also informed visitors about the forced organ harvesting from living Falun Gong practitioners by the Chinese Communist Party and collected signatures on petition forms urging their representatives to co-sponsor House Resolution 281, which calls on the Chinese regime to immediately stop the forced organ harvesting.