More Information about Mr. Yang Zhonggeng's Death in Police Custody
September 23, 2013 | By a Minghui correspondent in Zhejiang Province, China
(Minghui.org) Mr. Yang Zhonggeng, 38, was a Falun Gong practitioner from Ruian City, Zhejiang Province. He was arrested on June 24, 2013, and is believed to have been beaten to death within 4 days after his arrest, on June 28, by officers in Zhengzhou City, Henan Province.
Lingbao City Domestic Security Division notified Mr. Yang's family after his death. The family went to the Lingbao Detention Center and were shown his body, but during the viewing, they were monitored by about 40 plainclothes officers. Mr. Yang was clad only in underwear and covered with a piece of cloth. His body was covered with bruises and one of his legs was black and blue.
Mr. Yang's parents and other family members were stricken with grief. His mother lost consciousness due to the shock. She has been unable to speak to this day.
A family member who tried to take a photo of Mr. Yang's body was forcibly removed by a dozen plainclothes officers. The other family members were told to leave immediately after.
Mr. Yang's family hired several attorneys to sue the person who killed him. However, the Lingbao City and Zhengzhou City Domestic Security Division denied that they had killed Mr. Yang. They claimed that Mr. Yang died from illness.
An autopsy was performed and the medical examiner said that Mr. Yang did not die as a result of physical trauma. Mr. Yang's internal organs were removed and refrigerated for further investigation. His body was cremated.
Although it appeared without a doubt that Mr. Yang was beaten to death, nobody dares to admit it. The medical examiner refused to state the truth. The attorneys did not dare to protest. Mr. Yang's family has yet to be given a satisfactory response about the cause of his death, despite their efforts to obtain the truth.
Background Information
Yang Zhonggeng was into martial arts and qigong since a young age. He started practicing Falun Gong in 1995 at the age of 20.
Mr. Yang was arrested for practicing Falun Gong in December 2000 in Rushan City. He suffered inhuman torture while in police custody and detention, including being shocked with high-voltage electric batons and injection with unknown drugs. He was also subjected to brainwashing in an effort to force him to renounce Falun Gong. He was sentenced to three years in prison with a five-year probation.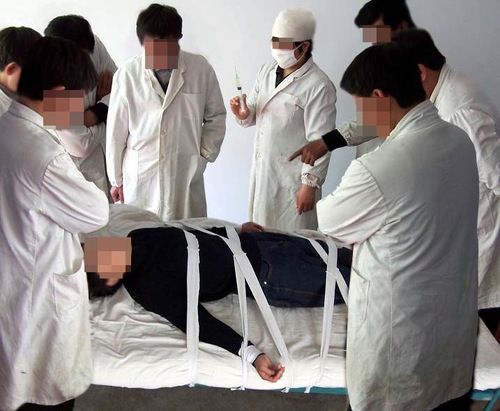 Torture Reenactment: Injected with unknown drugs
Beaten to Death
Several Falun Gong practitioners from Lingbao City were arrested in 2008. Mr. Yang was on the arrest list, but escaped. The Lingbao 610 Office put him on a wanted poster and staged an intensive search for him.
Mr. Yang was arrested on June 24, 2013, when sending express mail at the Zhengzhou Post Office.
Mr. Yang was beaten and tortured while in police custody. The police tried to force him to give them the whereabouts of other practitioners. He was transferred to the Lingbao Detention Center on June 26. He was beaten to death on June 28, just four days after the arrest.
The Lingbao 610 Office tried to cover up the truth and avoid responsibility. They even claimed that Mr. Yang had committed suicide.
Earlier reports: Mr. Yang Zhonggeng Tortured to Death in Henan Province First Hand Account of Falun Gong Practitioner Yang Zhonggeng – Tortured in Ruian City, Zhejiang Province (Photos)