Mr. Yang Zhonggeng Tortured to Death in Henan Province
July 15, 2013 | By a Minghui correspondent in Henan Province, China
(Minghui.org)
Summary of Key Persecution Facts:
Name: Yang Zhonggeng (杨中耿)
Gender: Male
Age: 38
Address: Mayu Town, Ruian City, Zhejiang Province
Occupation : Unknown
Date of Death: June 28, 2013
Date of Most Recent Arrest: June 23, 2013
Most Recent Place of Detention: Lingbao Detention Center (灵宝看守所)
City: Ruian
Province: Zhejiang
Persecution Suffered : Detention, interrogation, illegal sentencing, imprisonment, brainwashing, electric shock, sleep deprivation, forced injections/drug administration, beatings, torture, force-feedings, extortion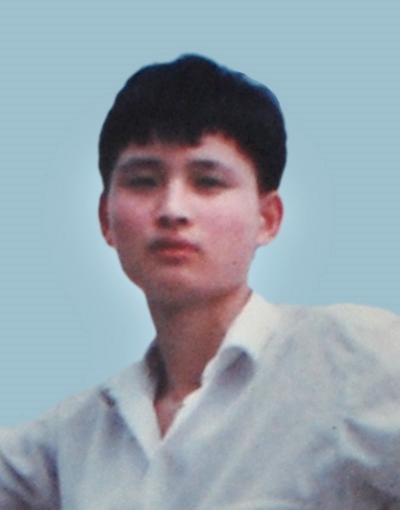 Mr. Yang Zhonggeng
Mr. Yang Zhonggeng, 38, was a Falun Gong practitioner from Ruian City, Zhejiang Province. He was tortured to death by police in Zhengzhou City, Henan Province. His body is still being held at the Lingbao Detention Center in Henan.
Upon seeing his body, Mr. Yang's parents and other family members were stricken with grief. His mother lost consciousness due to the deep sorrow and shock. She has been unable to speak to this day.
Background Information
Mr. Yang, Mr. Li Yuhang, and Ms. Hong Yan were arrested on June 23, 2013. Mr. Yang was sending express mail at the Zhengzhou Post Office at the time.
Mr. Yang was beaten and tortured while in police custody until he was on the verge of death. He was then transferred to the Lingbao Detention Center. He passed away on June 28, just five days after the arrest.
Over a Decade of Persecution
Mr. Yang had also been arrested for his belief in Falun Gong in December 2000 in Rushan City. He suffered inhumane torture—including being shocked with high-voltage electric batons and injected with unknown drugs—while in police custody and detention. He was also subjected to brainwashing. He was sentenced to three years in prison with a five-year probation.
Mr. Yang's firsthand account of the persecution he had suffered at that time can be found here:
Firsthand Account of Falun Gong Practitioner Yang Zhonggeng Tortured in Ruian City, Zhejiang Province