Sweden: People Welcome Falun Gong at Annual Cultural Festival (Photos)
September 22, 2013 | By a Falun Gong practitioner in Sweden
(Minghui.org) Practitioners in Sweden took part in an annual cultural festival on September 14, 2013, to introduce Falun Gong and raise public awareness about the communist regime's violent suppression of the peaceful meditation practice in China.
The wildly popular event was held in a college town of Uppsala, located about 55 miles north of Stockholm.
Practitioners demonstrated the five gentle exercises of Falun Gong and set up informational displays to expose the Chinese Communist Party's crimes against humanity.
Uppsala locals learn the Falun Gong exercises.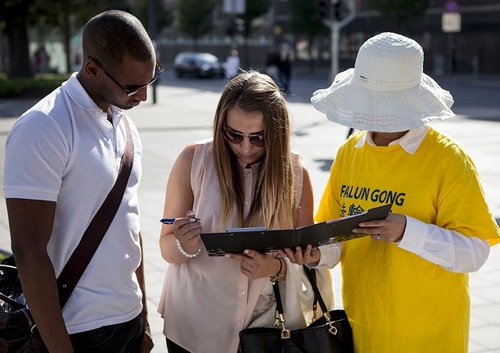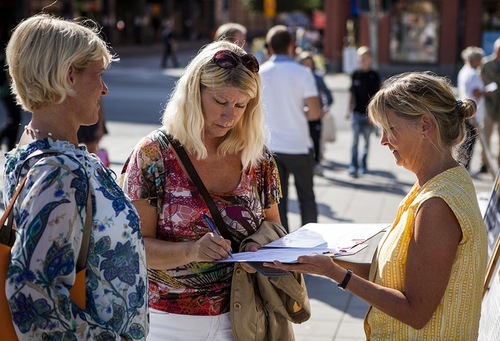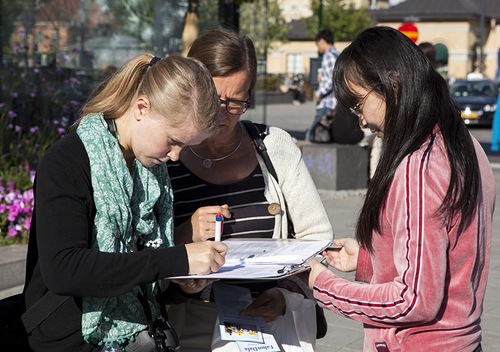 Passersby sign a petition condemning the Chinese communist regime's forced organ harvesting from living Falun Gong practitioners.
The peaceful exercise movements accompanied by serene music attracted many passersby.
A Swedish couple spoke to a practitioner at length about Falun Gong and then said, "We would like to learn the exercises!" When they found out that there are local exercise sites in both Uppsala and Stockholm, the husband exclaimed, "This is great!"
Many people read the practitioners' display boards and asked, "Why is the Chinese regime persecuting people for following the principles of Truthfulness-Compassion-Forbearance [the guiding principles of Falun Gong]?"
After they learned the facts, many people took the initiative to sign a petition condemning the Chinese Communist Party for its criminal practice of forced organ harvesting from living Falun Gong practitioners.
"I recently visited China, and I enjoy traditional Chinese culture," explained a Swedish man after reading the informational display boards. It is wrong for the regime to abuse human rights, he said. Upon signing the petition, he called his family over and asked them to sign, too.
Throughout the day, groups of Chinese students came over to the practitioners' booth and accepted informational materials in Chinese. They said that they would do some further research on the Internet to learn more about the spiritual practice.
Some Chinese students asked a lot of questions about Falun Gong and the ongoing persecution in China. Once he understood the facts, one student decided to quit the Youth League affiliated with the Chinese Communist Party on the spot.