A Gifted Poet Arrested Again After Nine Years in Prison (Photos)
September 22, 2013 | By a Minghui correspondent from Liaoning Province, China
(Minghui.org) Ms. Fu Ying, a Falun Gong practitioner and gifted poet from Liaoning Province, was recently illegally arrested by police in Shenyang City. This arrest comes just two years after her nine-year incarceration in the Liaoning Women's Prison.
Ms. Fu Ying's crime? Her steadfast faith in Falun Gong.
Ms. Fu Ying's entire family has been relentlessly persecuted for over 14 years for their peaceful belief.
Arrested Again Two Years after Release from Prison
A group of police officers ransacked Ms. Fu Ying's apartment in Huanggu District and arrested her around 1 p.m. on August 30, 2013. They also confiscated her and her niece's computers, as well as other personal belongings. Officers from the Shenyang and Huanggu Domestic Security Divisions and Liaohe Police Station were involved in the arrest.
At 11:30 p.m. the same night, officer Yin from the Liaohe Police Station called Ms. Fu Ying's family to inform them of her "criminal detention." The next morning, police transferred Ms. Fu to the No. 1 Detention Center in Shenyang.
Relentlessly Persecuted
Ms. Fu Ying, 45, is a remarkably gifted poet. Her previous employers include the Xiaoqing Media Corporation of Beijing, Beijing Television Station, Anshan City Propane Company, and "Cross-Century Talented People" magazine. She has also co-authored a collection of poems with other writers.
Ms. Fu Ying began practicing Falun Dafa in 1998, and benefited both physically and mentally from the practice. Since the Chinese communist regime launched a brutal persecution of Falun Gong in 1999, however, she has been subjected to great suffering for her peaceful faith.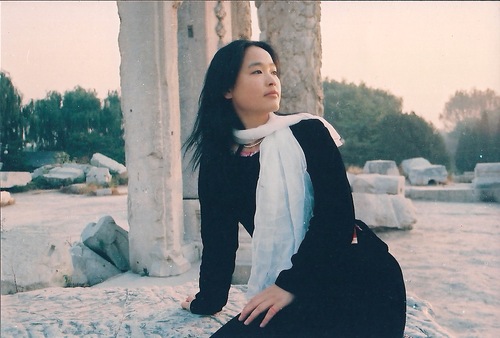 Ms. Fu Ying before the persecution
Shortly after the persecution began, Ms. Fu Ying was detained by the Lishan Police Branch in Anshan City for 15 days for appealing to the government for the right to practice Falun Gong. During her detention, the Anshan City Propane Company terminated her employment.
In 2000, she was arrested in Tiananmen Square, detained by the Tiedong District Police Branch of Anshan City for 15 days, and fined 5,000 yuan.
In July 2001, police from the Chaoyang Police Branch of Beijing abducted then 34-year-old Ms. Fu Ying from her residence near the Beijing Olympic Village.
Ms. Fu Ying was sentenced to nine years in prison by Beijing Intermediate Court. In April 2003, she was sent to Liaoning Women's Prison. The nine-year imprisonment was so devastating that her hair turned white and her face became disfigured.
She was released on July 10, 2010. She had written many poems in prison, but authorities did not allow her to take them home.
After her release, Ms. Fu Ying looked after her elderly mother and young niece, as her sister, Ms. Fu Yan (the niece's mother), was also imprisoned for practicing Falun Gong.
In August 2012, the niece went to a vocational college in Shenyang. Ms. Fu Ying accompanied her there and worked part-time to support her. During her stay in Shenyang, she was arrested again.
Mother and Sister Arrested and Detained
Ms. Fu's mother, Ms. Tong Shuping, lived in Dashiqiao City. Like her daughters, Ms. Tong began to practice Falun Gong in 1998. Soon thereafter, her diabetes, osteoproliferation, heart disease and colitis miraculously disappeared; she never took medicine again.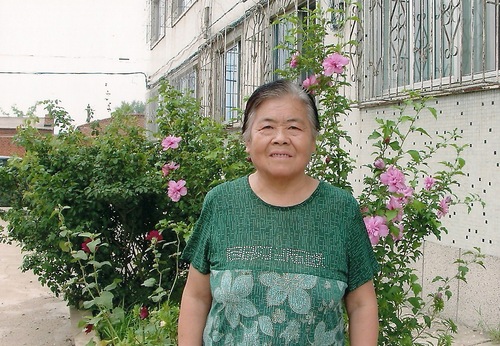 Ms. Tong Shuping
Ms. Tong was arrested for her faith at least three times and sent to a forced labor camp once. At one time, she had to become homeless in order to avoid another arrest.
Ms. Tong's third daughter, Ms. Fu Qiang, used to be paralyzed and bedridden. After she began to practice Falun Gong, she was able to lead a normal life.
After the Chinese Communist Party began to persecute Falun Gong in July 1999, Ms. Fu Qiang wrote to the leaders of the state, explaining the physical and mental benefits she had experienced from Falun Gong. As a result, she was detained by police for 15 days and then sentenced to 18 months of forced labor.
Later, she was released on parole for medical treatment. In 2002, she was taken to the Yingkou City Detention Center and subjected to intensive brainwashing for two weeks.
Another Sister Sentenced to 13.5 Years in Prison
Ms. Tong's other daughter, Ms. Fu Yan, used to run a business in Beijing. In August 2001, police abducted her from her residence in Beijing. They sent her to the Masanjia Forced Labor Camp for three years.
On February 17, 2003, police transferred her to the Dashiqiao Detention Center, where she received a new sentence of eight years in prison.
Ms. Fu Yan developed heart disease and hypertension as a result of the abuse in the detention center. She was then sent to a hospital for medical treatment. She managed to escape from the hospital, but was arrested again in Anshan City two months later.
In 2003, she was incarcerated in the Liaoning Women's Prison. Due to her steadfast spiritual belief, Dashiqiao City Court extended her prison term by five and a half years, totaling 13.5 years of imprisonment.
Ms. Fu Yan used to have a happy family. However, unable to withstand the pressure of the persecution and her long-term imprisonment, her husband divorced her in 2008. Their young daughter was sent to live with her grandparents.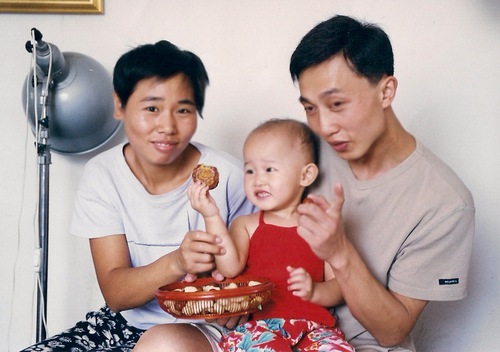 Ms. Fu Yan with her family
A Life of Suffering Due to the Persecution
After both Ms. Fu Ying and Ms. Fu Yan were arrested, detained and sentenced to prison terms in 2001, their mother became ill and was hospitalized.
In 2003, both sisters were detained in the Liaoning Women's Prison. Ms. Tong, who was over 70 at the time, and her husband, Mr. Fu Chengyong, lived a hard life, taking care of their young granddaughter. Every month, they traveled from Dashiqiao City to the prison to visit their daughters.
Ms. Tong's husband succumbed to the stress and passed away in 2008.
Three months later, Ms. Tong's son-in-law, who had married her third daughter, Ms. Fu Qiang, also suddenly passed away, leaving behind a disabled wife and a two-year-old daughter.
In April 2010, Ms. Tong's eldest daughter, Ms. Fu Wen, suffered a cerebral haemorrhage and became bedridden.
In September 2010, Ms. Tong hired a Beijing lawyer to appeal to Yingkuo City Intermediate Court on behalf of Ms. Fu Yan, but the appeal met with innumerable obstacles.
On March 5, 2011, the court rejected Ms. Fu Yan's appeal. One week later, Ms. Tong died, exhausted both physically and mentally.
The entire family has been relentlessly persecuted for over 14 years for their peaceful belief in Truthfulness-Compassion-Forbearance, the guiding principles of Falun Gong.
Agencies and people responsible for the persecution: Chen Junyi (陈军义), deputy director, Liaohe Police Station in Huanggu District, Shenyang City: +86-24-86227493 Shenyang Domestic Security Branch Huanggu District Domestic Security Division Huanggu District Police Department
Related article: Family Devastated by Years of Persecution