Injected with Unknown Drugs in Prison, Locked Up in a Mental Hospital
September 13, 2013 | By a Minghui correspondent from Yunnan Province, China
(Minghui.org)
Summary of Key Persecution Facts:
Name : Zhao Feiqiong (赵飞琼)
Gender : Female
Age : 41
Address : Unknown
Date of Most Recent Arrest : June 5, 2013
Most Recent Place of Detention : Yunfeng Mental Hospital (云峰精神病院)
City : Xuanwei
Province : Yunnan
Persecution Suffered : Forced labor, brainwashing, illegal sentencing, forced injections, beatings, imprisonment, solitary confinement, torture, force-feedings, fired from workplace, physical restraint, mental hospital, interrogation, detention
On May 16, 2013, Ms. Zhao Feiqiong, a 41-year old Falun Gong practitioner from Kunming City, finished her four-year term in Yunnan Province No. 2 Women's Prison. By that time, she had endured a total of 10 years of imprisonment.
Before her release that time, she was injected with unknown drugs that left three big puncture marks on her groin. Days later, she began to be dizzy, sleepy, forgetful, and slow to react.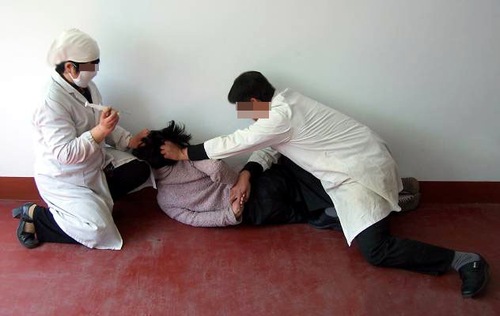 Torture reenactment: Injected with unknown drugs
The scars that cover her body are a silent testament to the torture and abuse she was subjected to. Because her family in Kunming City had been broken apart, she had no home to go to. The police sent her to her parents' home in Xuanwei City, to be placed under residential surveillance.
Because Ms. Zhao missed her daughter in Kunming City, she went back to Kunming on May18 to see her and found a job there. On June 5, Kong Weibo, head of the 610 Office and head of the Political and Legal Affairs Committee in Xuanwei City, together with officers from the Hongqiao Police Station, arrested her on her way to work and took her back to Xuanwei City. That night, they took her to Yunfeng Mental Hospital in Xuanwei City, claiming that she had a mental disorder.
Tortured in Yunnan Province No. 2 Women's Prison
Ms. Zhao was illegally arrested on May 16, 2009, when she was distributing Falun Gong informational materials and jailed at the Wuhua Detention Center in Kunming City for six months. She was then sentenced to four years of incarceration and taken to the Yunnan Province No. 2 Women's Prison.
On January 18, 2010, she shouted, "Falun Dafa is good!" The guards and inmates put handcuffs on her and put her in solitary. When she managed to take the cuffs off, they handcuffed her again, this time behind her back, and left her. Hours later, they handcuffed her in front. They didn't take the handcuffs off until the next day.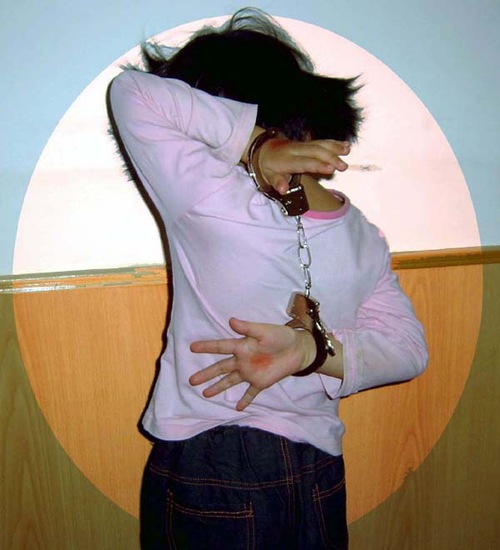 Torture reenactment: Handcuffed behind the back
In the middle of March 2010, the prison began enlarging its solitary confinement area, and construction workers from other cities worked on the site. Although Ms. Zhao was imprisoned, she still wanted to let others know the facts, so she shouted to the workers, "Falun Dafa is good. The world needs Truthfulness-Compassion-Forbearance! The evil Communist Party is persecuting and imprisoning good people who practice Truthfulness-Compassion-Forbearance!" Guards Liang Jie and Kong Yinyin ordered criminal inmate Zhao Xiaolan to slam Ms. Zhao's head against the wall, which caused a big lump on her head. She was confined in the gloomy solitary cell for over nine months and was not sent back to a regular prison cell until September 2 that year.
On April 17, 2011, Ms. Zhao shouted again, "Falun Dafa is good!" Her voice was so strong that it could be heard all over the prison. The inmates who were assigned to monitor her said that a practitioner who had written the three statements was so touched by Ms. Zhao's voice she renounced her "confession." Guards Tang Yufang and Li Jinhui claimed Ms. Zhao was too influential, so they once again put her in solitary. They even stripped off all her clothes and took away all the bedding. It was cold that night and it began to rain. She was chilled and blue all over, but guard Li Jinhui opened the window and door. Only after 11 a.m. the next day did they finally give her some thin clothing. She held a hunger strike for three days, and the prison doctor planned to force-feed her. This time, they left her in solitary for over seven months and didn't return her to the cell until January 5, 2012.
On March 13, 2012, just days after the Chinese New Year, she was put in the solitary cell again. On November 14, she was transferred to the 8 th Division, which was specially set aside for detainees with AIDS, leprosy, and tuberculosis. When the guards and other detainees had to go there, they all wore two or three layers of surgical masks, but Ms. Zhao didn't have any protective clothing.
At the end of April 2013, she was shoved to the floor by several guards and prisoners and injected with unknown drugs. On May 16, her four-year term was over, but she had no home to return to, because during her detention her husband had divorced her. Officers from the Hongqiao Police Station in Xuanwei City and her ex-husband's family members took her to her parents.
On May 18, 2013, three days after she was released, Ms. Zhao was taken to the Yunfeng Mental Hospital in Xuanwei City. The outside of the hospital looks like an Industry and Commercial Bank that closed many years ago, but if you enter from the side door you see that it's actually a mental hospital with many patients. After Ms. Zhao was locked up in a small room, she protested and refused to take any medicine or get injections. She was not released until three days later. While she was there, the authorities went to her ex-husband's family and her daughter's school to harass them.
Repeated persecution in the "black jails" of the CCP
Ms. Zhao began her practice of Falun Gong in 1997 and benefited both physically and mentally. She was dedicated and followed the principles of Truthfulness-Compassion-Forbearance. She respected her mother-in-law and took good care of her husband. Her family became happier, and the neighbors praised her and said that she was a good wife.
After the Communist Party launched its persecution of Falun Gong in 1999, because Ms. Zhao persisted in her belief, she was repeatedly arrested and sentenced to forced labor and imprisonment. Her detention terms amounted to over 10 years total.
From 2001 to 2003, she was detained for two years in the Yunnan Province Women's Forced Labor Camp. Because she refused to be "transformed," her term was extended by 59 days.
From August 10, 2004, to August 9, 2008, she was persecuted for four years in the Yunnan Province No. 2 Women's Prison. After she was released, she lost her job and her husband divorced her. She had to move from place to place looking for odd jobs to support herself.
From May 16, 2009, to May 16, 2013, she was again in prison.
For more details about the persecution Ms. Zhao suffered, please refer to:
"Small Stool" Torture Method Used on Practitioners in Yunnan Province Second Women's Prison
Yunnan Province No. 2 Women's Prison Uses Drugs on Detainees, Causing Many to Suffer from Mental Disorders