Canada: Falun Gong Practitioners Raise Awareness in Victoria, British Columbia (Photos)
(Minghui.org) Practitioners held an event in front of the British Columbia Parliament Buildings in Victoria, the capital of British Columbia, on August 31. They introduced the peaceful spiritual practice of Falun Gong to passerby, and collected numerous signatures condemning the Chinese communist regime's organ harvesting atrocities in China. Practitioners demonstrated the exercises, and the Divine Land Marching Band and a waist drum group performed at the event.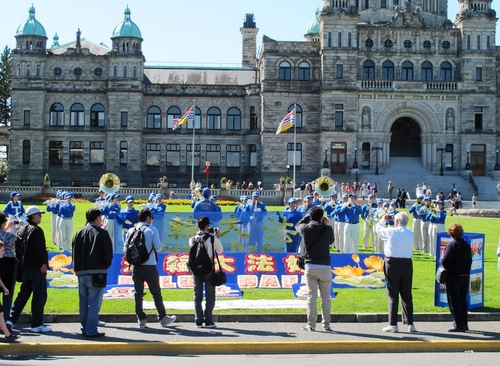 The Divine Land Marching Band performs.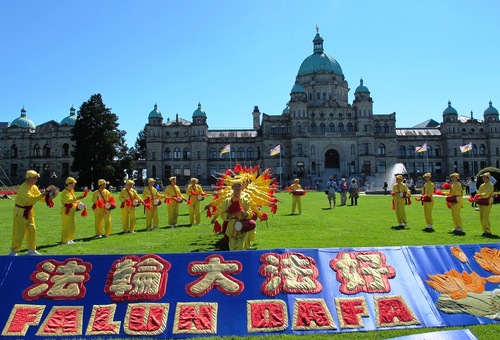 Practitioners perform waist drums.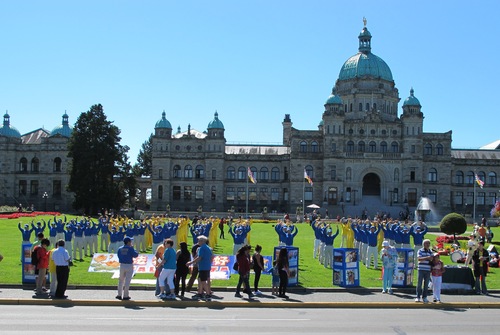 Demonstrating the exercises.
During the event, many people stopped to learn more, take photos or follow along with the practitioners' movements to learn the exercises. Many people who stopped to sign the petition were already well aware of Falun Gong and the persecution in China.
Ms. Yu, a practitioner who participated in collecting signatures and talking to Chinese tourists, said: "Almost everybody who came by signed the petition. I ran into a Chinese tourist group. The members are government officials. More than 10 members decided to quit the Chinese Communist Party after learning the truth about the persecution."
Two Chinese young women with large suitcases watched the practitioners' performances for a long time. They told practitioners that they are new college students, and had just gotten off the airplane from China. On the bus from the airport, they ran into a Falun Gong practitioner, who told them about the event, so they came to the event before going to the university campus.
The two were amazed to see Falun Gong being openly promoted. One of them said: "It is impossible to see this in China. The persecution is really severe." They talked to practitioners for a long time, and asked many questions about the Chinese government's propaganda, such as the self-immolation on Tiananmen Square. They both then decided to renounce their memberships the Party's organizations.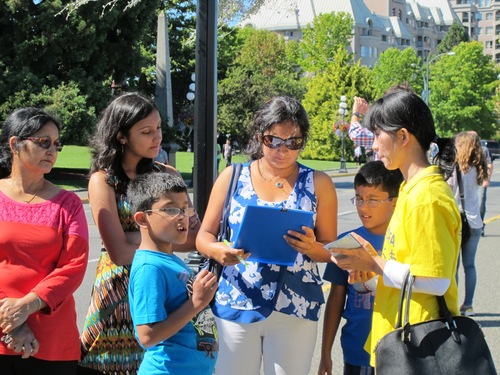 People signing the petition to condemn organ harvesting.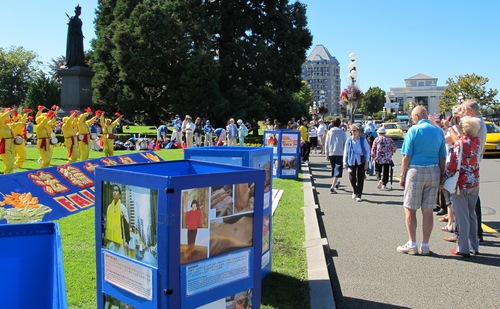 Passersby view the performances and display boards.
Calnet and Glenn, a local couple, had never heard about Falun Gong. Two young practitioners talked to them for a long time. They were deeply touched by practitioners' spirit. Glenn said: "I admire your courage. Your parents should be proud of you." They are Christians. "I believe that no tyrant power can last long. The Chinese government looks powerful, but we believe that God will punish them," Calnet said.
Ms. Liang and her family are from Hong Kong. They watched the practitioners' performances and viewed the display boards. Ms. Liang said: "I respect Falun Gong. I admire your courage and spirit." Ms. Liang condemned the Hong Kong government for helping the communist party to persecute Falun Gong. "Hong Kong people don't like that. We protested the government's violation of our human rights," she said.