San Francisco: "We Should Let Everybody Know Just How Evil the Communist Party Really Is" (Photos)
(Minghui.org) On September 5, Falun Gong practitioners in San Francisco held a press conference in front of City Hall to draw attention to the persecution of Falun Gong in China and seek public support for House Resolution 281. The resolution expresses concern over persistent and credible reports of systematic, state-sanctioned organ harvesting from non-consenting prisoners of conscience in China, including large numbers of Falun Gong practitioners imprisoned for their religious beliefs, and members of other religious and ethnic minorities.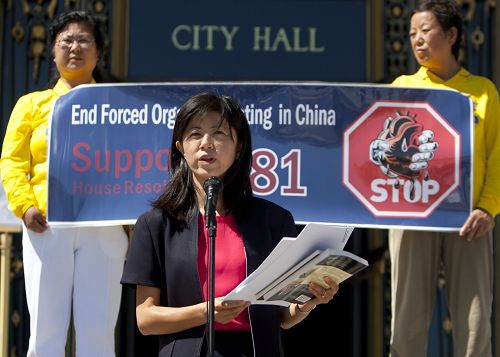 The press conference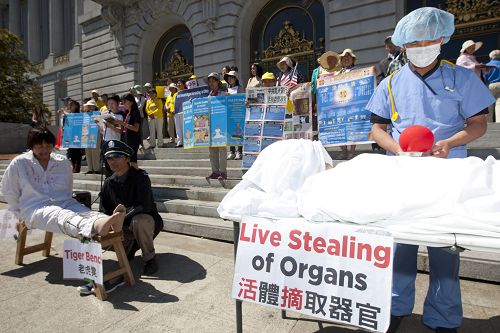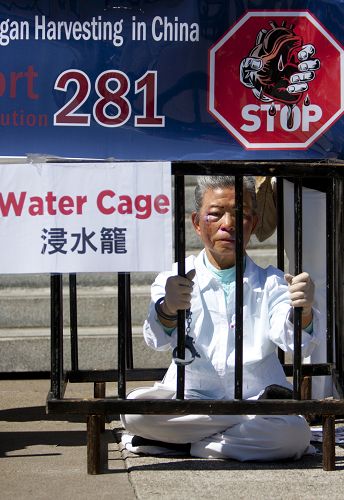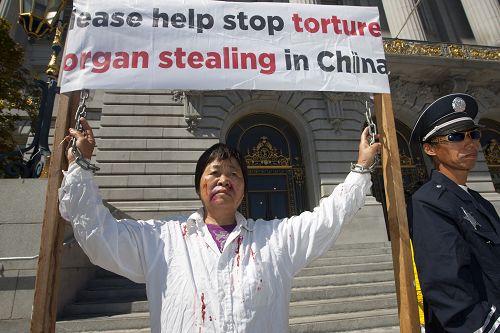 Re-enacting forms of torture the Chinese Communist Party has used on Falun Gong practitioners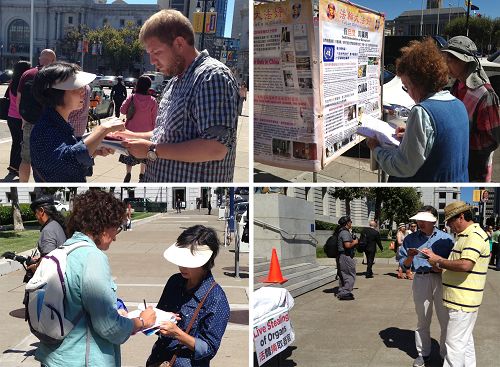 Studying the informational materials and signing the petition.
Several practitioners told their own experiences of being tortured in China. Local media interviewed them.
Practitioners set up information display boards and re-enacted different forms of torture that the Chinese Communist Party has used on Falun Gong practitioners.
Ms. Li, a local practitioner, was imprisoned in China in 2004 and badly tortured. Officials shocked her with electric batons and burned her skin. She was given a physical and had blood drawn. A prison official told her that all the jailed Falun Gong practitioners were examined. Ms. Li later realized that they drew her blood to check for a match for an organ transplant.
Dr. Li Tong, a retired professor from China, also told of being tortured in Beijing. In January 2001, she was held in Shijingshan Detention Center in Beijing. Every practitioner detained there was beaten. The police then poured cold water on them and made them walk outside, where the temperature was below freezing. Dr. Li had a chance to explain the facts about Falun Gong to a police officer for two hours. The officer was touched by what she said, and told her that the practitioners who refused to give their names would be sent to a remote area and might not ever come back.
Dr. Li said that the prison took blood samples from all the young practitioners, which did not make sense, because the prison was not really concerned about their health.
A few years later, Dr. Li realized that those practitioners who refused to give their names had disappeared and might have become involuntary organ donors. She said that, because so many Falun Gong practitioners were jailed, Chinese hospitals were able to claim that they could find an organ match in just a few days, while it usually take months or even years in other countries.
Dr. Li called upon the public to support House Resolution 281.