Two Falun Gong Women in Their 60's Sentenced to Six Years in Prison at a Sham Trial in Shanghai
August 06, 2013 | By a Minghui correspondent from Shanghai, China
(Minghui.org) Ms. Bai Gendi and Ms. Yao Yuhua from Shanghai, both in their 60s, have been illegally sentenced to prison for their belief in Falun Gong. The Xuhui District Court sentenced Ms. Bai to 6.5 years and Ms. Yao to 6 years on May 3, 2013. Their appeals were denied on June 18.
Since the Chinese communist regime began to persecute Falun Gong in 1999, Ms. Bai and Ms. Yao have been arrested many times for their faith. Ms. Bai has been arrested six times and detained for a total of 10 years and 2 months.
On September 10, 2012, officers from the Xuhui Police Department arrested the two practitioners on the street. They did so, citing orders from above to "prepare" for the 18th National Congress of the Chinese Communist Party (CCP). Since Falun Gong practitioners dare to publicize the persecution and mistreatment they receive, the CCP routinely rounds them up and keeps them hidden out of sight during any of the Party's so-called "sensitive dates," such as the National Congress.
Ms. Bai and Ms. Yao were put on trial at the Xuhui District Court in Shanghai at 2:30 p.m. on May 3, 2013.
The venue was changed last minute from Room No. 6 to Room No. 7. Although it was supposed to be a public trial, only the attorneys and two relatives of each defendant were permitted in, a total of five people. Plainclothes police walked around the courthouse, closely inspecting everyone.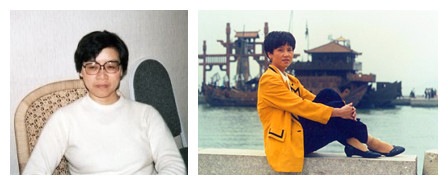 Ms. Bai Gendi and Ms. Yao Yuhua
Ms. Bai and Ms. Yao yelled out "Falun Dafa is good!" "Truthfulness-Compassion-Forbearance is good!" and "Heaven will eliminate the CCP!" during the trial, which lasted 90 minutes. Nobody could hear clearly what the judge or the public prosecutor said. The defense attorney suggested adjournment, but the presiding judge, Zhu Xiwei, did not agree.
The judge and the prosecutor did not listen to defense arguments or ask questions; they simply went through the motions. The prosecutor hastily presented some testimony, photos and videos, without calling any witnesses.
When the defense attorney asked, "Which provision have the defendants violated?" he was stopped by the judge, who said that the attorney did not have the qualifications to ask such questions.
In the last 10 minutes of the hearing, the two practitioners were removed from the courtroom. They were then sentenced to prison.
Background Information: Ms. Bai Gendi
Ms. Bai Gendi was born on September 21, 1951. Her residence is on Leshan Road in the Xuhui District of Shanghai. She was an official in the human resources section of the Oil Department in Beijing and a mid-level manager at the East Sea Oil Company.
After the persecution began in 1999, Ms. Bai was the first person to be sentenced to forced labor in Shanghai. She has been arrested six times and imprisoned for over 10 years for practicing Falun Gong.
Shanghai Transportation University claimed that Ms. Bai had motivated the students to appeal in Beijing; the university officials exerted their influence to get Ms. Bai sentenced.
During her detention in the Qingsong Women's Forced Labor Camp in Shanghai, she was frequently detained in a small cell and hung up by handcuffs until she fainted. She was also forced to work over 18 hours daily for a long period of time.
Background Information: Ms. Yao Yuhua
Ms. Yao Yuhua was born on October 23, 1954. Her home is on Leshan Road in the Xuhui District of Shanghai.
She said: "I am very fortunate. I obtained the Fa and understood the reasons for my unhappy life. I let go of my pursuit of fame, self-interest and affection and became very happy!"
Soon after the persecution began, Ms. Yao was preparing to go to Beijing to appeal for the right to practice Falun Gong. Even before her departure, however, she was arrested by police.
Ms. Yao had to jump out from the window of the police building to escape, sustaining several fractured ribs and a fractured pelvis. Two young agents were then stationed in her small studio to monitor her around the clock. The two men lived with her and her daughter for six months. Later, the police repeatedly came to harass her at home and at work, which caused her to lose her job.
Agencies and Individuals Participating in the Persecution
The following people participated in the persecution of Ms. Bai and Ms. Yao since their arrests on September 10, 2012:
610 Office in Xuhui District: - Shi Huaying, director (in office since February 2013) - Lu Hengjiong, director (left his post in February 2013, now director of Social Security Comprehensive Administration Commission Office and deputy Party Secretary of the Political and Legal Affairs Committee) - Cui Tiejun, director (left his post on September 13, 2011, now investigator in the 610 Office) - Ma Dengshan, deputy director - Shi Huaying, former deputy director of the Letter and Petition Office in district council and district government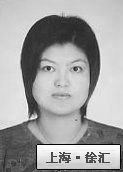 Shi Huaying (born in February 1971, lives in Shanghai, joined the CCP in June 1991 and got a job in July 1991)
Xuhui Court: - Guo Weiqing, director - Cui Jianping, deputy director (in charge of criminal court) - Zhu Yizhen, presiding judge - Zhu Xiwei, judge - Luo Tao, judge - Shi Xuting, clerk • Xuhui District Police Department: - Han Liming, director (also Party secretary, superintendent, deputy director of Xuhui District, deputy Party secretary of district Political and Legal Affairs Committee) - Bao Guoguo, political commissar (also deputy Party secretary, secretary of Discipline Inspection Commission) - Wang Ying, Domestic Security Division