Vancouver, Canada: Practitioners Stage Peaceful Protest in Front of Chinese Consulate (Photos)
August 04, 2013 | By Minghui correspondent Zhang Ran
(Minghui.org) On July 20, 2013, Canadian practitioners gathered in front of the Chinese Consulate in Vancouver to protest the Chinese Communist Party's (CCP) persecution of Falun Gong and to commemorate fellow practitioners who lost their lives as a result of the persecution. They formed a "Great Wall of Truth" with their informational banners and display boards and held a candlelight vigil.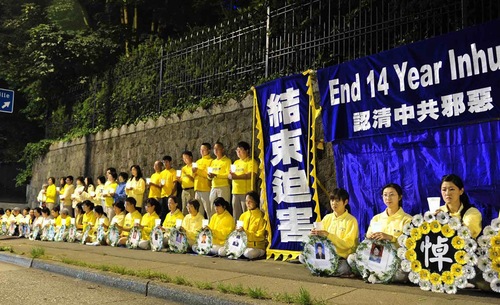 Practitioners stage peaceful protest in front of Chinese Consulate in Vancouver, Canada
The street in front of the Chinese Consulate is a very busy thoroughfare. Practitioners has been peacefully protesting the persecution of Falun Gong for many years at this location. A lot of drivers slow down or honk their horn in support when they see practitioners standing in front of the Chinese Embassy.
Mr. Zhang started practicing Falun Gong prior to 1999, when the persecution began. His parents and sister are all Falun Gong practitioners as well. His mother, sister, and wife were persecuted and imprisoned in China for persisting in following Falun Gong's principles of Truthfulness-Compassion-Forbearance.
After Mr. Zhang immigrated to Canada, he petitioned the Canadian government to help rescue his family. Now, his family members are all safe and living in Canada or the United States.
Mr. Zhang said that although many practitioners are being persecuted in China, the real victims of the persecution are those people who are being deceived by the Party's propaganda and slander towards Falun Gong. "These people do not know the facts," she said. "They just listen to the CCP's lies. However, in the end, justice will prevail and all those who took part in the persecution will be held accountable, just like the accomplices in Hitler's genocide of the Jews. Practitioners have been clarifying the truth for 14 years, which has given people ample opportunities to choose between right and wrong."
Ms. Zhao, also a Falun Gong practitioner, said that she goes to the Vancouver Airport to tell arriving passengers from China about Falun Gong. "Over the last 14 years, more and more people have come to know the facts about Falun Gong, including many airport security guards," she said.
"When these Chinese people go back to China, after having understood the truth about Falun Dafa, they tell others, and thus the word spreads. One Chinese passenger, who often travels between China and Vancouver, once took some informational materials back to China. When I saw him again at the airport, he asked me for some more fliers. 'Nowadays, there is no need to bring back food or clothes to China," he said. "However, it vitally important to bring back Falun Gong-related materials, because there are a lot of people waiting for them!'"