Chinese College Professor Convicted for Singing "An Ode to Lotus Blossom" at Wedding
August 14, 2013 | By Zhang Baosheng, a Falun Gong practitioner from Acheng, Harbin City, China
(Minghui.org)
Summary of Key Persecution Facts:
Name: Zhang Baosheng (张宝胜)
Gender: Male
Age: 51
Address: Limin Development District, Hulan, Harbin City, Heilongjiang Province, China
Occupation: Professor at Heilongjiang College of Construction
Date of Most Recent Arrest: September 20, 2011
Most Recent Place of Detention: The Daqing Prison in Heilongjiang Province (黑龙江大庆监狱)
City: Daqing
Province: Heilongjiang
Persecution Suffered: Forced labor, brainwashing, illegal sentencing, beatings, imprisonment, torture, fired from workplace, home ransacked, detention.
Mr. Zhang Baosheng, 51, was a professor at Heilongjiang College of Construction in Heilongjiang Province, China. He's been described as an honest, modest, and polite man who enjoys helping others.
Mr. Zhang hosted a wedding reception for his friend's son in 2011, and sang "An Ode to the Lotus Blossom." This targeted him as a Falun Gong practitioner. Four months later he was arrested, prosecuted, and sentenced to prison for his faith in Falun Gong. He was sent to the Hulan Prison in July 2012 and transferred to the Daqing Prison in October 2012, where he is presently incarcerated.
The following is his account of the persecution he has suffered, in his own words:
I was critically ill in 1996. When no hospital could do anything for me, I decided to try practicing Falun Gong. Unbelievably, I was completely well after just a few days—it was a miracle! While I was enjoying my new life as a healthy man, in July 1999, the Chinese Communist regime began its suppression of Falun Gong. The regime's Falun Gong policy violates its own constitutional decrees. I have been arrested, incarcerated, and subjected to brainwashing. I was also suspended from my job with loss of pay, and was illegally tried because I refused to renounce my faith in Falun Gong.
After I was arrested by Wang Yunfei, a police officer from the Chengbei Police Station in Acheng, Heilongjiang Province, I was incarcerated in the No. 2 Detention Center, the No. 1 Detention Center, and the Acheng Forced Brainwashing Center, from January to July 2001. I was also suspended from my job without pay for three years after the arrest, and given only a monthly stipend of 120 yuan.
I exercised my constitutional right to appeal at different levels, but without any success. I eventually went to the 610 Office, the Party organization responsible for my arrest and detention, and talked to Wang Xiaoguang, Wu Da, and Bi Shufen. I also wrote to then-mayor Liu Fa, but again to no avail.
Because the 610 Office attempted to have me arrested again, I had no choice but to flee from my home and hide. I was homeless for six months, from June to December 2003.
After repeated appeals, I was finally reinstated to my job three years later.
Maintaining Righteous Thoughts with Suffering amid Suffering
I hosted a wedding reception for a friend's son in May 2011. I sang "An Ode to the Lotus Blossom" at the wedding. There was a painting of flying goddesses and lotus blossoms on stage.
I was arrested by four police officers on September 20, 2011, as I was about to leave home for work. I resisted the arrest because I knew I had committed no crime. I knew I was being arrested simply because of my faith in Falun Gong.
Officer Song punched me in the stomach while the others grabbed my arms and held me to the ground. They handcuffed me with so much force that my wrists were covered with blood.
Some colleagues of mine who live in the same community witnessed the scene and were frozen with fear. I shouted at them to them for help, but was hauled into a police car.
Officer Yang Zicheng and others from the Acheng Domestic Security Division ransacked my home and took photographs of my home. They also submitted Falun Gong materials that they claimed were "discovered in my home" as evidence against me. The materials were actually planted there by officers after my arrest.
While I was incarcerated at the Acheng Detention Center, I felt pressure in my chest and experienced a shortness of breath. I was diagnosed with cardiac insufficiency, meaning that my heart could not pump enough blood to circulate throughout my entire body. I was also diagnosed with a mild lung infection.
The authorities refused to give me any medical treatment or release me on medical bail, which, of course, was a violation of prison regulations. I soon fainted. When I came to, I got up in the middle of the night to practice the Falun Gong sitting meditation. I recovered after practicing Falun Gong exercises for some time.
Deprived of the Most Basic Human Rights
At my trial in Acheng People's Court on March 27, 2012, I maintained that the only reason I was being tried for singing "An Ode to the Lotus Blossom" was because Falun Gong is a Buddha-school cultivation practice, and lotus blossoms are a symbol of Buddhism. I was sentenced to five years in prison based on such so-called "evidence."
My family and fellow practitioners hired an attorney from Beijing to represent me in court. The attorney cited Article 35 and 36 of China's Constitution that warrant Chinese citizens' freedom of speech and spiritual belief. The attorney also attempted to appeal to the judge's conscience, but I was nonetheless found guilty for practicing Falun Gong.
I was transferred from the Acheng Detention Center to the Hulan Prison on July 25, 2012, and sent directly to the prison's Intensive Training Team, which is essentially an intensive system of forced labor with an escalated level of torture. Every Falun Gong practitioner sent to the team faces unimaginable torture. It is literally a living hell. Prison inmates are ordered to beat and torture Falun Gong practitioners, and they receive reduction in prison terms as a reward.
I was once beaten up by four inmates, including Sun Xianglong, Zhao Liguo, Tan Xiaobo, and a man known as Monkey. After they knocked me to the ground, they began punching and kicking me until I passed out. When I came to, they began beating me again.
They also subjected me to a torture called "driving an airplane." I was forced to the ground so that I was face down, and my arms were pulled back and upward while they stepped on my back. The pain was enough to make one pass out. My right leg, chest, and toes of my left foot were covered with bruises. It was a morbid sight, and the bruises remained for over a month.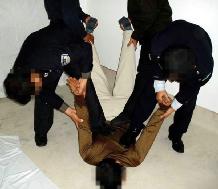 Torture re-enactment: "Driving an airplane"
I decided to go on a hunger strike as a non-violent means to protest the torture and abuse, which were clearly in violation of prison laws, but the prison simply responded by ordering the inmates to beat me. They punched my head, face, chest, and back. I tried to explain to the prison guards why I was on the hunger strike, but they ordered the inmates to silence me by stuffing socks into my mouth.
While I was still healing from the brutal beatings, scabies formed all over my body. It was terribly itchy and painful. Nevertheless, I was still forced to perform slaver labor, making car seats, which brings large profits to the prison.
The prison accommodations were way below a reasonable standard. The authorities forced six people to sleep in beds designed for three. We had to sleep on our sides while we were all filed into the bed together. The thin quilts were always damp and covered with lice, which helped facilitate the spread of scabies. In my estimation, 80 to 90 percent of the inmates must have contracted scabies.
I was made to get up at 4:00 a.m. and start laboring at around 6:00 a.m. There was no lunch break, and we were forced to work until after 7:00 p.m. We worked as slaves every day. It was very exhausting, and I constantly had lower back pain and swollen legs. The scabies made it even worse. It really was a living hell.
Since being transferred from Acheng on October 18, 2012, I've been incarcerated at the Daqing Prison.