Ms. Chen Hemei Arrested Four Months Ago, Family Contact Forbidden
July 07, 2013 | By a Minghui correspondent from Zhejiang Province, China
(Minghui.org) Ms. Chen Hemei, 65, is from Ruian City. When she began to practice Falun Gong and cultivate herself according to Truthfulness-Compassion-Forbearance, she became healthy and cheerful. Wherever she went, Ms. Chen brought the truth and goodness of Falun Gong to people.
On the morning of February 28, 2013, Mayu Police Station officers arrested Ms. Chen as she clarified the truth of Falun Gong to villagers in Yangxia Village, Mayu Town. The police later ransacked her home, then sent her to Fengao Detention Center in Ruian City. Ms. Chen is currently detained in the Longwan District Detention Center in Wenzhou City. Four months have passed and there is no news of her, causing her family and friends to be very concerned.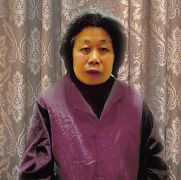 Ms. Chen Hemei
Before Ms. Chen started practicing Falun Gong, she had pain in her legs and feet. She became healthy and content after practicing Falun Dafa. She follows the principles of Truthfulness-Compassion-Forbearance and doesn't compete for personal gain.
Ms. Chen made a living doing clothing alterations. She used her own money to print materials that clarified the truth of Falun Gong, then distributed them to let people know that Falun Gong is good and that the Chinese Communist Party is wrong to persecute the practice.
Ms. Chen had previously been arrested three times. After the first arrest she was held in a detention center for several months; the second time, she was sent to a forced labor camp for a year. After her third arrest, she was sentenced to two years. Ms. Chen's arrest and detention have brought great distress to her and her family.
Parties involved in the persecution:
Lin Dechi, Party secretary of Mayu Town, Ruian City: 86-13780139088 (Cell)
Ye Xufeng, mayor of Mayu Town, Ruian City: 86- 13515875528 (Cell)
Chen Maohuan, Mayu Town 610 Office: 13958850060 (Cell)
Lin Buzhi, director, Mayu Police Station: 86-13806803555 (Cell)
Chen Shuhua, policeman: 86-15067866066 (Cell)