British Parliamentarians Express Concern Over Organ Harvesting Atrocities in China
(Minghui.org) An organization in the United Kingdom - Doctors Against Forced Organ Harvesting (DAFOH) held a forum in British Parliament on the afternoon of June 24, 2013, for the purpose of exposing the "unprecedented evil" of live organ harvesting of Falun Gong practitioners by the Chinese Communist regime.
Conservative Member of Parliament (MP) Mr. Neil Parish presided over the forum, which was attended by seven additional MPs, a representative of Lords, around ten MP assistants, and other representatives of British mainstream society.
Forum organized by DAFOH in British Parliament to expose "unprecedented atrocities" of live organ harvesting of Falun Gong practitioners by the Chinese Communist regime
Distinguished key speaker Mr. David Kilgour, Former Canadian Secretary of State for Asia-Pacific, renowned international human rights lawyer Mr. David Matas, well-known author Mr. Ethan Gutmann and Professor Li Huige from DAFOH gave speeches during the three-hour forum.
Each speaker presented new research and further exposed the horrendous atrocities of widespread live organ harvesting for exorbitant profits.
They pointed out that the CCP regime is still trying to conceal such "unprecedented evil", however, the international community will no longer avoid these bloody acts and are taking action at multiple levels - the state government, organizations and individuals, in order to bring these crimes against humanity to an end as soon as possible.
Forum attendees were visibly moved by the facts presented. The forum Chairman and attendees had an interactive session with the speakers to gain a better understanding about Falun Gong and the CCP's crimes, and to discuss possible measures for UK to help stop live organ harvesting.
UK Members of Parliament: We Must Take Immediate Action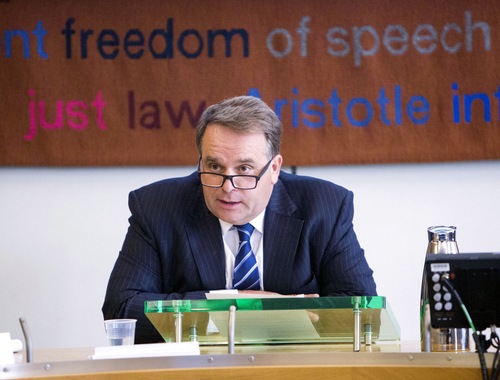 UK politician, MP Mr. Neil Parish presiding over the forum to expose the "unprecedented evil"
Organ harvesting atrocities are drawing more and more attention in British society. Forum Chairman Mr. Parish stated repeatedly, that the atrocities of live organ harvesting were extremely shocking, "It's absolutely incredible and terrifying that Falun Gong practitioners have been killed for their organs on such a large scale simply for holding to their beliefs. I must pass such information to the Secretaries, and we must take action."
Mr. Parish is a Conservative Party politician in the UK and served as a Member of the European Parliament (MEP) for Southwest England from 1999 to 2009. He stated his intention to pass the findings of the forum to the highest level of the UK government, "I will next meet with the Foreign Secretary. I will organize today's information and make sure that I deliver a convincing document to him."
Mr. Angus Brendan MacNeil is a MP representing the Scottish National Party, and also the spokesperson for SNP Westminster deputy leader. He indicated receiving letters from his electorate, asking him to attend the forum.
At first, he was not eager to attend, and felt that the topic of live organ harvesting was a bit heavy, but his wife actually encouraged him to come in order to respect the requests of his electorate.
He decided to attend a small part of the forum, then said: "After I sat down and listened, I felt it would be a shame if I took a step back in the face of such evil."
During an interview, he expressed that the information provided at the forum was extremely helpful, and he was shocked to learn that people were murdered for this purpose; this was a tragedy for all mankind.
"Clearly, this is crime against humanity, against human nature, because it occurred on the basis of persecuting people for their beliefs. What I found most unacceptable is that people demand the organs of healthy Falun Gong practitioners. This is directly asking for the death of someone else for their own survival. I'm extremely shocked that human morals have degenerated to such a low level!"
Most of the attendees came to the forum in response to the call from their electorate similar to Mr. MacNeil.
Increased Depth of Understanding of the CCP's Immoral Nature and Unprecedented Atrocities
Several forum speakers pointed out the CCP regime's attempts to cover up evidence of the crimes they have committed. Mr. David Matas identified the major discrepancy between the number of organ donors and the number of organ transplants.
He suggested that the CCP regime should provide an explanation instead of asking independent investigators to provide the data. He stated: "The Chinese Communist regime should explain the source of those organs, but they have kept silent all this time."
During the discussion, Mr. Ethan Gutmann called for the British government to treat the information from independent investigators seriously and not fall victim of the deceptions typically utilized by the CCP regime.
He emphasized his investigation results, and in particular, that live organ harvesting by the CCP regime increased dramatically after the persecution of Falun Gong began.
According to his investigation, approximately 65,000 practitioners were subjected to live organ harvesting between 2000 and 2008. Mr. Gutmann believes that a high level of the CCP regime is involved in the crime of live organ harvesting, based on analysis of information about Wang Lijun, he said "They know about it, but keep it a secret."
Wang Lijun was founder and head of the On-Site Psychology Research Center (OSPRC) of the Public Security Bureau in Jinzhou, Liaoning Province, where research was carried out on how to prolong death after drug injection so that live organs could be harvested. Wang received the Guanghua Innovation Special Contribution Award" for his research. At the award ceremony, Wang announced in his acceptance speech that the so-called "research" "is the result of several thousand intensive onsite cases."
Professor Li Huige pointed out that the large-scale live organ harvesting of Falun Gong practitioners was a systematic crime under the CCP autocracy, and identified Wang Lijun as a typical killing machine enabled to run at high speed under the support of the system.
MP Mr. McNeil expressed during an interview that the live organ harvesting of practitioners was "systematic murder", and hoped that the Chinese people would soon be free from such a "murderous system".
Mr. Matas pointed out, "In fact, the entire (CCP) system is criminal"; "When justice prevails, we will need to bring them to trial one by one."
Mr. MacNeil also said, "No matter who they are, as long as they're involved in this (live organ harvesting), they're involved in crimes against humanity, and therefore must be brought to trial for justice. Anyone involved in crimes against humanity cannot escape punishment."
He then gave an example to emphasize his point, where a 94 year-old Hungarian who participated in persecution in 1945 was recently brought to justice even though almost seventy years had passed. "If you have committed such crimes, you'll not only have a guilty conscience and not sleep well at night, but in the end, will also be brought to trial."
Suggestions for an Action Plan from the United Kingdom MPs
Mr. Parish summarized their suggestions in an action plan, which primarily stated: 1. To inform and warn the British people through an education program about live organ harvesting via the widely-known UK Foreign Office website. The main message being that a practitioner in China may be murdered upon demand for an organ transplant. 2. Members of Parliament unite (for the strongest possible response). Forum attendees expressed that they would make efforts to work with MPs from various parties, including those of the Scottish Parliament. Mr. Parish repeated that there should be joint efforts from these two groups. 3. Drawing on the experience of Australia and other countries, especially that of the New South Wales, to make laws and put in effect a series of measures including legal regulations to prevent the British people from going to China for organ transplants.
Exposing Terrible Crimes Triggered Interest in Learning About Falun Gong
This was the second forum held in the British Parliament House in less than two months, the previous one was on April 29. The forums have inspired MPs and attendees alike to become more aware of the facts about Falun Gong. Forum speakers clarified that victims of the large-scale live organ harvesting were innocent Falun Gong practitioners - not criminals with death penalties as claimed by the CCP regime. The shocking fact that such a large group practicing spiritual cultivation has been treated inhumanly and with such cruelty, has inspired people to want to know more about Falun Gong and why the CCP persecutes the group.
During the forum, one government official who'd also attended the first forum asked: "What exactly is Falun Gong?" The conference room was silent for a brief moment, as the group thoughtfully considered their own understanding.
A number of speakers then responded that Falun Gong represents the universal values of "Truthfulness-Compassion-Forbearance"; Falun Gong is practiced in over one hundred countries around the world, and Falun Gong practitioners are a most peaceful group of people in the world who hold belief in such values.
At that point, Mr. McNeil joined in and said, "Britain also needs (Falun Dafa)."