Montreal, Canada: Rally and Candlelight Vigil Held to Condemn the 14-Year Long Persecution of Falun Gong (Photos)
(Minghui.org) On July 19, Falun Gong practitioners from Montreal, Canada, held a rally in front of the Chinese Consulate, exposing the brutality of the persecution of Falun Gong, and calling for an end to the injustice.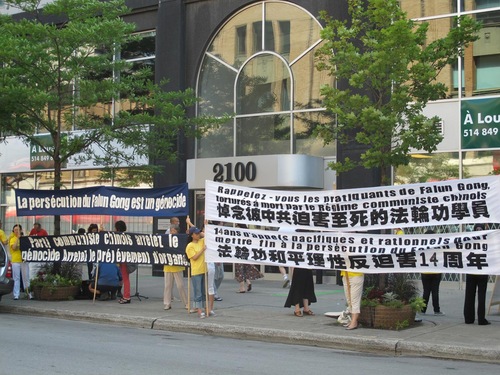 The rally
Practitioners gave speeches in Chinese, English and French, touching upon the history of Falun Gong and exposing the brutal persecution that began on July 20, 1999 in China. Ms. He, a practitioner, said in her speech: "The Chinese consulates overseas are tools that the Chinese government uses to persecute Falun Gong in other countries. The consulates serve the Communist regime, not the Chinese people. They spread propaganda attacking Falun Gong, and spy on Falun Gong practitioners. This is how the Chinese government extends their evil persecution to people in other countries."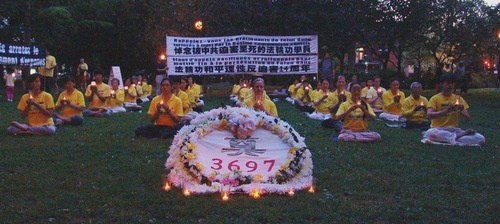 Candlelight vigil at La Fontaine Park
On July 20, practitioners held a candlelight vigil at La Fontaine Park, commemorating those who were tortured to death in the persecution of Falun Gong in the past 14 years. Many tourists stopped at the vigil, and were shocked to learn about Communist regime's brutal organ harvesting crimes. At 7 p.m., practitioners demonstrated the exercises, attracting many tourists. Some of them had never heard about the organ harvesting atrocities. Many signed the petition and encouraged practitioners to keep up the good work to further raise awareness and stop the persecution.