Mr. Hao Wuzhong in Critical Condition in Jinan No. 1 Prison, Denied Family Visits
July 24, 2013 | By a Minghui correspondent from Shandong Province, China
(Minghui.org)
Name: Hao Wuzhong(郝务忠)
Gender: Male
Age: 64
Address: Weifang City, Shandong Province
Occupation: Retired laborer
Date of Most Recent Arrest: February, 28, 2009
Most recent place of detention: Jinan No. 1 Prison (济南监狱)
City: Jinan
Province: Shandong
Persecution Suffered: Detention, slapped in the face, beatings, handcuffed behind the back, extortion, damaging force-feeding, doused with cold water, insults, brainwashing, interrogation by torture, iron chai r , sleep deprivation, illegal trial, illegal sentencing, imprisonment, denied visits
Hao Wuzhong is a Falun Dafa practitioner. He is retired from the Binhaikaifa District Soda Ash Plant in Weifang, Shangdong Province. He suffered from numerous health problems before practicing Falun Gong, but regained his health shortly afterwards. When he was arrested, his retirement pension was suspended. No one would help his wife when she asked about it, so she had to go to work to support herself.
Mr. Hao was detained twice from 1999 to 2013, and was harassed numerous times by his employer and Binhai Subdivision police officers. Hanting Court in Weifang City sentenced him to nine years. He is still in Jinan No. 1 Prison, 11 th ward.
In July 2012, Mr. Hao and other Falun Gong practitioners began a hunger strike after inmates were directed to beat them. He developed hypertension and heart disease. His family tried to visit him several times, but the prison authorities refused to allow it. Mr. Hao is now in critical condition. Please pay close attention to his situation.
Arrested, detained, and fined numerous times
On July 23, 1999, Weifang Soda Ash Plant workshop director Huang Yude, deputy director Li Mingjie, and security director Li Xueshu went to Mr. Hao's home twice. They ordered him to write a guarantee statement agreeing not to practice Falun Gong anymore. If he didn't, he would not be allowed to return to work.
On July 3, 2000, Mr. Hao and eight other practitioners were doing the Falun Gong exercises near the east side of a lake. Wang Chunqiao, deputy director of the Haihua Police Department, ordered his officers to arrest them and take them to Dawa Police Station.
Wang Chunqiao handcuffed Mr. Hao behind his back and forced him to sit up straight outside for several hours. He was detained for over a week for "endangering the social order." Mr. Hao began a hunger strike, so Wang Chunqiao ordered force-feeding, which was carried out by police officers and a nurse. Over 10 officers pinned him down on a bed while director Yang Zhiying stepped on Mr. Hao's left ankle. The pain from this lasted a long time, and his left arm was bleeding. After the force-feeding, he vomited blood for quite a while. Wang Chunqiao screamed: "Lock him up on the iron chair!" He was tortured for seven days and forced to pay 100 yuan for living expenses.
On July 15, 2000, Mr. Hao went to Beijing to appeal for Falun Gong. He was arrested at the appeals office door, and Weifang Police Department escorted him back to Dawa Police Station on the 17 th . They took the 200 yuan cash he had with him. The next day, Wang Chunqiao tried to get Mr. Hao's fingerprints on his detention document, but Mr. Hao refused to cooperate. Several people assisted in obtaining his fingerprints. He was detained for one month for "undermining law enforcement." He was severely abused by inmates Fu and Ma, and forced to do slave labor for over 12 hours a day. When he was released, Binhai Police Subdivision extorted 1000 yuan from him. They also forced him to pay 740 yuan in travel expenses from Beijing.
On December 28, 2000, his employer's security director tricked him into going to the Laohekou Brainwashing Center, where he was then persecuted for three months. He was not allowed to go to work from July 3, 2000, to March of 2001, and he did not receive his salary during that period, so after adding in the fine, the result was a 15,000-yuan financial loss. Whenever there were sensitive dates and holidays, people monitored him at his residence, and the police harassed him many times at night.
Arrested at home and sentenced to nine years
Around 6 a.m. on February 28, 2009, Binhaikaifa District Police Department chief Wang Yong and others tried to break into Mr. Hao's home. His wife refused to open the door, so Wang Yong climbed over the wall that surrounded their yard. His wife picked up a knife, preparing to defend her family. Mr. Hao was afraid his wife might hurt someone and asked her to stop. Additional officers broke into their house through a window and took Mr. Hao and his wife to the police station. Mr. Hao was detained in Shouguang Detention Center, tortured on an iron chair, and deprived of sleep for over ten days.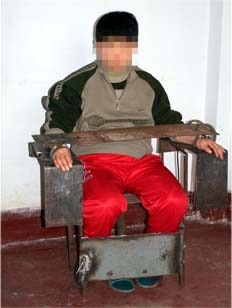 Torture reenactment: Iron chair
On June 29, 2009, Hanting Court in Weifang City put Mr. Hao on trial for over four hours. He reminded the court that belief in Falun Gong's principles of Truthfulness-Compassion-Forbearance was not a crime. Even though he had a lawyer from Beijing to defend him, the court sentenced Mr. Hao to nine years, without notifying his family. He appealed the decision.
On November 20, 2009, the Binhaikaifa Police Subdivision again failed to notify Mr. Hao's family when they transferred him from Shouguang Detention Center to Jinan No. 1 Prison.
The CCP uses Jinan, the Shandong Province No. 1 Prison, as its key base for persecuting Falun Gong practitioners. The No. 11 prison district is well-known for persecuting practitioners.
Guard: You will neither die nor live
In June 2012, deputy director Niu Qifeng ordered death row inmates Qi Dongxing (who has beaten several Falun Gong practitioners until they were disabled or dead). Xu Wenbin, and Ning Yong (used to be armed police officer), as well as inmates Lu Yuxiang, Teng Deyi, and Lu Zhonglin, to beat Falun Gong practitioner Zhang Huirong from 6 a.m. to 10:30 a.m. Mr. Zhang could not move after that. His clothes were torn to pieces, he was covered with bruises, and an X-ray at the prison hospital revealed back injuries.
Several Falun Gong practitioners protested and appealed to a guard, but the guard responded, "The director ordered it. He is handling this, and it is none of your business." Practitioner Shi Zenglei protested, "Last week Lu Xinliang was beaten, and now it is Zhang Huirong. We want to go home alive." The guard replied, "Don't worry, you will neither die nor live."
On July 10, 2012, when Mr. Hao was walking around his cell, inmate Zhao Liang grabbed Mr. Hao's neck and began slapping his face until it bled. The inmate leader was Li Tianming.
On July 12, Mr. Hao, Mr. Shi Zenglei, and Mr. Liu Ruping began a hunger strike, because the prison used inmates to abuse and beat Falun Gong practitioners. Not only did guard Hu Po not punish the perpetrators, but he was personally involved in persecuting Mr. Hao who had been on the hunger strike for three days. His blood pressure was over 200 then. Guard Li Wei was afraid Mr. Hao would die in prison, so he took him to the hospital for emergency care that afternoon.
On January 19, 2013, his wife went to visit him but was put off by a prison official, who stated that Mr. Hao was being treated for hypertension. She refused to leave until they let her in, so they pushed her out and shut the door.
She returned on May 1, and the guard told her again that her husband was hospitalized for treatment. She asked to visit him in person as she was concerned about his wellbeing. The guard stated that Mr. Hao had several illnesses and refused her again.
Personnel involved in the persecution:
Shandong No. 1 Prison:
Fei Guanghe, official: 86-531-87075516(Office), 86-531-87075333, 86-531-87075518, 86-531-87072666(Home), 86-13954161333(Cell)
Wang Shugui, deputy warden responsible for "transforming" practitioners: 86-531-87075536(Office), 86-531-87075528(Office), 86-531- 87075666(Home)
No. 11 prison ward Zhang Leiguang, warden: 86-531-87075200(Office), 86-531-87072612(Home) Li Wei, political instructor: 86-531-87075200(Office), 86-531-87075325(Home), 86-531-87072680, 86-531-86657816(Cell)