Firsthand Account: Mr. Jin Jie From Jiamusi City Recounts Torture at Suihua Forced Labor Camp
July 22, 2013 | By a Minghui correspondent in Heilongjiang Province, China
(Minghui.org)
Summary of Key Persecution Facts
Name: Jin Jie (金杰)
Gender: Male
Age: 55
Address: Unknown
Occupation: Unknown
Date of Most Recent Arrest: May 20, 2011
Most Recent Place of Detention: Suihua Forced Labor Camp (绥化劳教所)
Detention City: Jiamusi
Detention Province: Heilongjiang
Persecution Suffered: Interrogation, detention, illegal sentencing, imprisonment, forced labor, brainwashing, torture, electric shock, beatings, force-feedings, home ransacked.
Mr. Jin Jie, 55, was arrested on May 20, 2011, by officers from the Xilin Police Station in Jiamusi City. He was beaten and locked in an iron cage at the police station. Later, he was transferred to the Jiamusi City Detention Center, where he was handcuffed, shackled, tied to an iron ring on the ground, and force-fed.
Mr. Jin was illegally detained at the Suihua Forced Labor Camp for a year and a half. There, he was shocked with electric batons, brutally beaten and forced to sit on a small stool for prolonged periods of time.
Below is Mr. Jin's personal account of the torture he experienced and survived.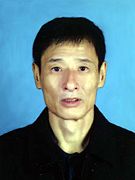 Mr. Jin Jie
1. Arrested, Beaten and Caged
On May 20, 2011, I was distributing truth clarifying materials to people in a district selling computers in Jiamusi City. I was arrested by police and taken to the Xiangyang Police Substation. They took my cell phone and called my brother-in-law, saying that they found my cell phone in a rental car and needed my wife's phone number. Then, they used the same lie on my wife.
After 5 p.m., the officers from the Xiangyang Police Substation drove me to my wife's workplace and then to my home. Without showing any search warrant, they ransacked my home and took all of the Falun Dafa books, computers and private belongings.
Then they sent me to the Xilin Police Station and interrogated me. A police officer (about 1.7 meters tall) asked for my name. When I refused to answer, he punched my head with his fist and locked me in an iron cage for 24 hours.
2. Handcuffed, Shackled, Chained and Force-Fed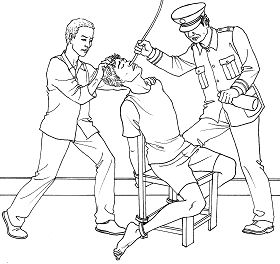 Torture illustration: Being force-fed.
About 1 p.m. the next day, they took me to the Jiamusi City Detention Center. I shouted aloud, "Falun Dafa is good! I did not commit any crime!"
I did not eat for three days [in protest of the persecution]. On the fourth day, they force-fed me. This lasted for the next 25 days.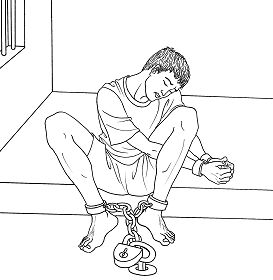 Handcuffs and fetters used on Falun Gong practitioners.
They put handcuffs on me for 18 days and shackles for 12 days. In the evening, they chained me to iron rings on the ground. All of these are inhumane treatments.
3. Beaten, Shocked with Electric Batons and Forced to Sit on a Small Stool
After 8 a.m. on June 14, 2011, three police officers came to take me to the infamous Suihua Forced Labor Camp. Along the way, the car had an oil leak. They called for another car from the Suihua Police Department. At that time, I had already lost a lot of weight and was very thin.
Upon arrival at the labor camp, I went through a formal physical checkup. Then, they tried to force me to give up Falun Dafa practice and write the three statements. When I refused, officers Shi Jian and Jin Qingfu beat me with electric batons.
Shi threatened: "I can beat you every day. By applying the baton to your chest, you will end up with tuberculosis." When they saw that I was barely alive and still refused to give up my faith, they handcuffed me to a bed. They wanted to use my fingerprint as a signature on the "three statements" but were not successful. The entire incident took about two hours.
Another police officer, Li Hongjiang, ordered me to recite the regulations of the labor camp. I said: "I am not a criminal. I should not recite them." [In retaliation], every day after dinner he forced me to sit on a small stool until midnight. He also slapped my face, saying: "If you don't recite the rules, you have not done your duty. Hence, you cannot see visitors, buy things or call home."
I did not listen to him and ended up sitting on the small stool for 45 days.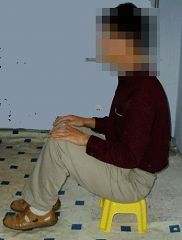 Torture illustration: Sitting motionless on a small stool.
At the labor camp, they used two criminal inmates to monitor and bully one practitioner. Practitioners were not allowed to talk to each other or share things. I did not follow their rules. When Li Hongjiang heard about it, he forced me to sit on a small stool for 8-10 days at a time.
A criminal inmate from Huanan County named Lin kicked me for no reason. A bump appeared where he kicked me, and it is still there today.
4. Abused Again and Ordered to Lie
On November 26, 2011, some staff members from the 610 Office came to check on progress made at the labor camp. Officers Pan Juying, Shi Jian, and Li Hongchao ordered me ahead of time to tell the 610 Office staff that I had given up Falun Dafa practice. I told them that as a practitioner of Truthfulness-Compassion-Forbearance [the three main tenets of Falun Dafa], I would not lie.
Shi slapped my face more than 20 times. Then, he put an electric baton on my mouth. My teeth became loose, and my face got distorted. They did not let me eat for three days.
When Captain Pan Juying came to talk to me, I told him, "If you need someone to lie, don't ask me."

Electric batons used to shock Falun Gong practitioners.
On January 1, 2012, I told Guo Liming about Falun Dafa. He told officer Shi Jian about it. Shi forced me to sit on a small stool for 10 days.
In March, criminal inmate Wu Hongchao was slandering Falun Dafa. I said to him: "Dafa practitioners believe in Truthfulness-Compassion-Forbearance. They are seeking to be good people. Slandering Falun Dafa is not good for you." He replied by beating me.
Political instructor Fan Xiaodong and Captain Pan Juying said to me: "When local criminals beat you, we stay on their side. We receive credit for beating you."
I replied: "Tell me, what is wrong with practicing Truthfulness-Compassion-Forbearance? You set up criminals to bully us. Do you really want us to learn to be criminals? If you get a truly good man to tell me how to be a better person, that would be to your credit."
They had nothing to say and left.
I was released on November 7, 2012.