Zhai Hui, Senior Technician from Shenyang City, Barely Alive Due to Persecution (Photos)
July 14, 2013 | By a Minghui correspondent from Liaoning Province, China
Name : Zhai Hui (翟辉)
Gender: Male
Age: 51
Address: Shenyang City, Liaoning Province
Occupation : Senior technician (food researcher)
Date of Most Recent Arrest: April 15, 2012
Most Recent Place of Detention : Shenyang No. 242 Hospital (沈阳市242医院)
City: Shenyang
Province : Liaoning
Persecution Suffered : Home ransacked, detained, illegal trial, illegal sentencing, imprisonment
(Minghui.org) Mr. Zhai Hui, a Falun Gong practitioner from Shenyang City, was arrested in April 2012. At the end of 2012, he was illegally sentenced to four years. As a result of abuse in detention, Mr. Zhai is now near death. On June 20 he was urgently transferred to Hunnan Hospital attached to the Shenyang Army General Hospital. His family members took care of him in the hospital. But every day, several prison guards supervised him. When he did not improve, he was transferred back to the 242 Hospital.
Mr. Zhai has been persecuted to the point that he is now very weak and barely able to walk. He doesn't have enough strength to sit up straight, and talking even a little exhausts him. He had a fever and diarrhea. He has become emaciated. Despite his condition, he was still handcuffed to the bed.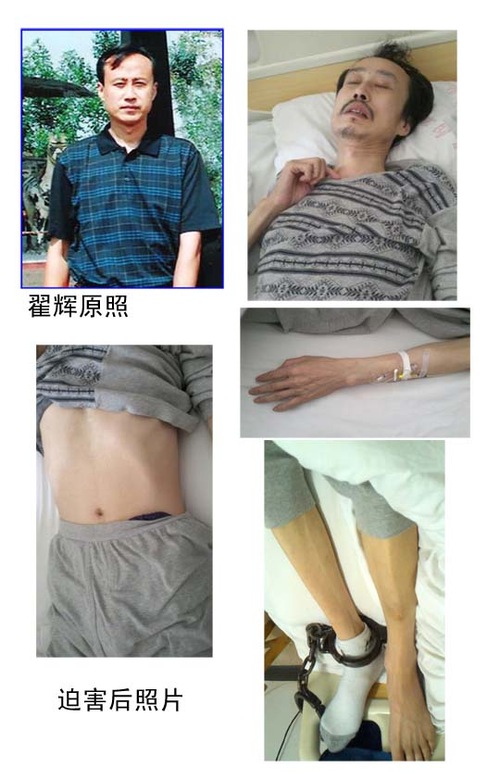 Image at upper left shows Mr. Zhai prior to arrest. The other images show his current condition in the hospital.
Mr. Zhai was an advanced technician at Shenyang City Foods Research Institute and Liaoning Province Forage Research Institute. He worked very diligently. Before he cultivated Dafa, he suffered from serious gastric disease, which defied treatment. After practicing Falun Gong, he improved tremendously. His stomach recovered and, guided by Truthfulness-Compassion-Forbearance, he treated others with great compassion without concern for personal gain or loss.
Arrested in Shenyang City sweep
On April 15, 2012, the police knocked him down in the building where he lived and arrested him. Officers claiming to be from the Shenyang City Police Department Shenhe Branch and the Binhe Police Station pried open his door and broke into his home. They said that they suspected he had installed a TV satellite antenna and had leaked government secrets.
Several other practitioners were arrested that day, including Ms. Meng Qingjie and Mr. Jiang Dexin. Ms. Meng is a teacher who has been tolerant, ready to help others, and highly praised after she began practicing Falun Gong. When she was arrested, she was taking care of her daughter who had just delivered a baby girl less than ten days earlier.
Mr. Jiang Dexin was arrested by the Shenyang City Domestic Security Division and the Dongzhou Police Station on Zhangdang Street when he was visiting his mother-in-law. The police covered his head with a black cloth and took him away. Several officers took turns viciously beating him. They shocked him with taser guns all day and night. He lost consciousness several times and was covered with sores. Mr. Jiang used to be unconventional and unrestrained, and his family could do nothing about it. After cultivating Falun Gong, he developed integrity and lived his life according to Truthfulness-Compassion-Forbearance.
The Shenyang City Domestic Security Division arrested over 20 practitioners from different areas, cities, and towns in Shenyang City that day. The police searched the their homes, and confiscated their personal belongings including computers, books, cash, bank cards, and other items.
Secret trial of Mr. Zhai and two other practitioners
The Shenyang City 610 Office and the Domestic Security Division then directed the city and county courts to hand down heavy sentences. One of the wrongful cases stemmed from the Shenyang 610 Office directing the Shenhe District court to try Mr. Zhai Hui, Ms. Meng Qingjie, and Mr. Jiang Dexin together. They claimed the three were a "gang," trying to get them long sentences. The Shenhe District Procuratorate twice returned the file, refusing to place the case on file for investigation and prosecution.
On December 25, the Shenhe District Court tried the three secretly. Only three family members were allowed to be present. Mr. Zhai Hui was convicted of "installing" a satellite receiver, although no "proof" was ever produced.
Mr. Jiang Dexin and Ms. Meng Qingjie were also charged, but as with Mr. Zhai, not based on any legal grounds. Mr. Jiang testified that the police tortured them in an attempt to obtain "evidence." When he showed the court his missing teeth and the injuries he had sustained, the judge did not investigate and prevented further questioning. The defense lawyer pointed out that practicing Falun Gong is not a crime and that the practitioners should be released.
Mr. Zhai Hui was wrongfully sentenced to four years, Ms. Meng Qingjie to six years, and Mr. Jiang Dexin to six years.
Mr. Zhai was taken to the Shenyang City Xinjin Prison. Due to his weakened condition, and severely limited ability to function on his own, the prison refused to take him. On June 9, he was sent to the Shenyang 242 Hospital. On June 20, he was transferred to Hunnan Hospital of Shenyang Army Hospital.
He remains in poor condition, barely able to eat and almost too weak to utter a sound. On June 25, Mr. Zhai was transferred back to Shenyang City 242 Hospital.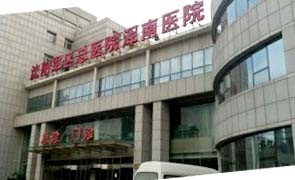 Hunnan Hospital of Shenyang Army General Hospital
Departments and persons in charge:
1. Binhe Police Station of the Shenhe District: 86-24-24813076 Cui Nin, director
2. The Domestic Security Division of Shenyang City Police Department Shenhe Branch: Zhou, person in charge: 86-24-2842260 86-24-24844574 86-24-24850789
3. Shenhe District Court of Shenyang City: Li Yajun (female), president and the Party secretary: 86-24-84119988, 86-13804210666(Cell) Jiao Yuling, judge: 86-24-84119981(Office)
4. Shenhe District Detention Center: Zhang Botao, director: 86-24-24230100
Related article: Zhai Hui Detained for Over a Month, His Family Not Allowed to Visit