2013 Ukraine Falun Dafa Experience Sharing Conference Held in Kiev (Photos)
(Minghui.org) Falun Dafa practitioners in Ukraine held an experience sharing conference in Kiev, the capital city of Ukraine, on June 14-16, 2013. Sixteen practitioners shared their cultivation experiences before an audience of Russian and Ukrainian practitioners. Besides attending a group Fa study and exercises, most conference attendees also participated in activities on the city's business street to raise awareness about Falun Gong.
Ukraine practitioners' waist drum group performs in the city of Kiev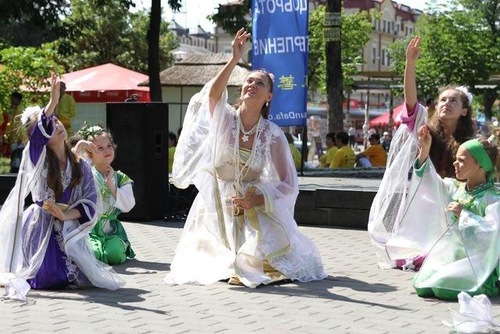 Dance performance by practitioners in the center of Kiev's business district
A practitioner from a northern Ukraine city shared his experience of eliminating the attachment to self and the propensity to order people around to do things.
A music and dance teacher talked about how watching the Shen Yun Performing Arts had deeply inspired her, and how it had it enabled her to more effectively teach her students. As a result, the mini-drama that she recently directed, "Journey of a Little Lotus," won admiration from the entire audience. People praised her dancers and singers, saying that they were "genuine, graceful, and full of heart."
A practitioner in Kiev shared her experience organizing The Art of Zhen, Shan, Ren International Exhibition, which she has been doing since 2009. After reading some of the visitors' guest book comments, she wished that more people would view the paintings. One visitor wrote, "When one enters the exhibition hall, it is the graceful beginning. When one leaves, they are protected against evil, hatred, and disharmony."
Another practitioner from Kiev narrated his experience of showing the film, Free China in Georgia. After overcoming various tribulations, he and his fellow practitioners presented their first public showing of the award-winning documentary, as originally scheduled. The success of the event showed him the importance of cooperating as a group.
He said the film had a profound effect on the human rights activists who had not known the truth about Falun Gong. These activists later contacted the practitioners and asked them questions about the practice and the persecution. As a result, they are now paying closer attention to Falun Gong and the Chinese regime's human rights violations in China.