Russia: Clarifying the Truth to Chinese Tourists and Passersby in Moscow (Photos)
June 22, 2013 | By a practitioner in Moscow
(Minghui.org) The Arbat is a popular pedestrian walkway in the center of the historic district in Moscow. Over the years, many visiting Chinese have learned the truth about Falun Gong from local practitioners.
Practitioners have been clarifying the truth to passerby on the Arbat almost every week for the past year. In the beginning, most people knew very little about Falun Gong or had a wrong understanding about the practice.
Through Russian practitioners' persistent efforts, the situation has greatly improved, with some Chinese tourists even coming up to ask for Dafa-related materials. More and more people are coming to know the facts about Falun Gong and the evil nature of the Chinese regime.
Practitioners hand out Dafa-related materials to Chinese tourists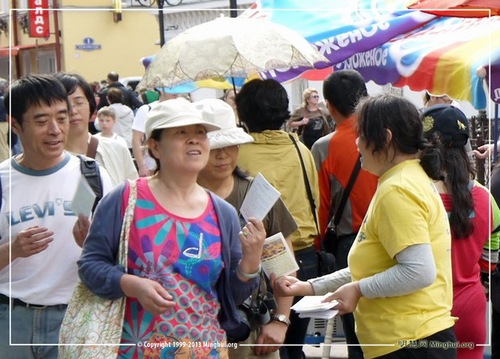 Clarifying the truth to Chinese tourists on the Arbat walkway in Moscow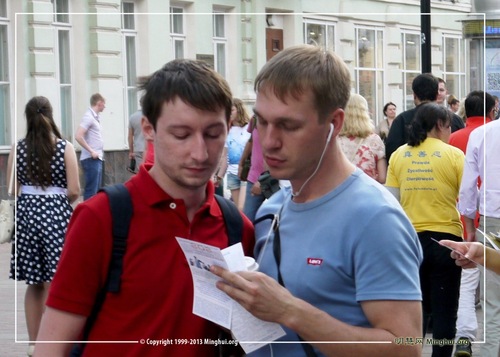 Reading a truth-clarification flier
Now when practitioners start telling people about Falun Gong, many say, "Thank you, but we already know about it!"
Some tourists from Asian countries such as Vietnam, Korea, and Singapore can also read Chinese. Many of them take the practitioners' fliers, saying, "We will share this material with our family and friends back home!"
A lot of people took photos of the practitioners introducing Falun Gong while others had photos taken with practitioners wearing their yellow Dafa T-shirts. Some tourists accepted the practitioners' fliers, quickly put them inside their bags, and smiled.