Canadian Practitioners Rally to Expose the Crimes Committed in Chinese Labor Camps (Photos)
June 16, 2013 | By Minghui correspondent Wang Mei in Vancouver, Canada
(Minghui.org) On June 8, 2013, Canadian practitioners held a rally in front of Canada's Vancouver Art Gallery to raise awareness about the persecution of Falun Gong in China. Several practitioners recounted their experiences of being imprisoned and tortured in Chinese labor camps.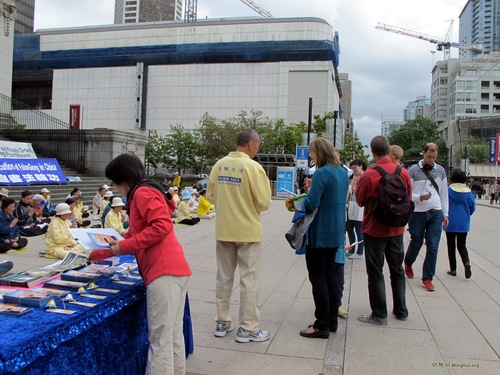 Passersby learn the facts about the persecution of Falun Gong in China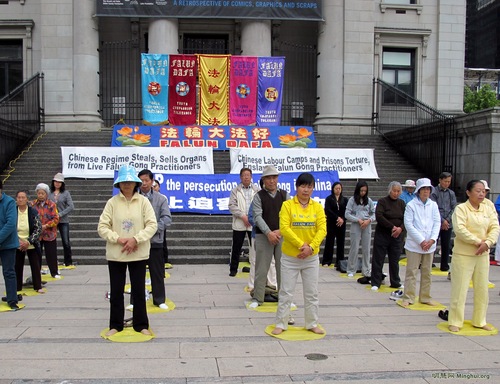 Practitioners demonstrate the exercises in front of the Vancouver Art Gallery
Almost Becoming a Victim of Live Organ Harvesting
Jing Tian from Liaoning Province, China, recounted how she and her entire family had been persecuted in China for practicing Falun Gong. Her younger sister, Jing Cai, was sentenced to 13 years in prison in 2003; her younger brother, Jing Yu, to 10 years; and her mother, Chen Jun, to three years.
Her sister was released on a medical parole after being tortured almost to death. The two sisters were finally rescued and given political asylum in Canada. Their brother was released in December 2010, and their mother died in 2011, after being brutally tortured.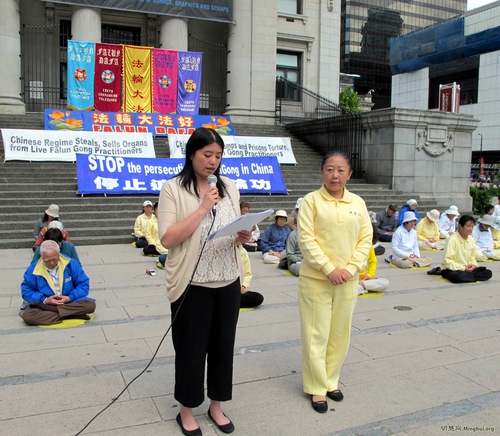 Jing Tian talks about her experience in a Chinese labor camp
Ms. Jing's husband, Chen Song, was twice imprisoned in the Zhangshi Brainwashing Center in Shenyang City for three years. The guards once shocked him with over 20 electric batons over the course of an entire day. Mr. Chen's skin was severely burned and ulcerated.
Ms. Jing said that she and her sister were forced to have their blood tested on five separate occasions. After learning about the Chinese regime's practice of live organ harvesting from Falun Dafa practitioners, they both realized how close they came to sharing the same fate.
Another Account of Torture
Tang Feng from Jilin Province, shared how he was arrested, detained, and tortured for seven months for practicing Falun Gong. He described how he was beaten, handcuffed, deprived of sleep, shackled, shocked in his genital area with electric batons, sprayed with chili pepper, burned with lit cigarettes, force fed, and confined to an iron chair. He also had smoke forced up his nostrils.
His condition rapidly deteriorated until he was emaciated, his leg muscles had atrophied, and he had no feeling from the waist down.
Mr. Tang said that he had personally witnessed many practitioners being tortured to death.
Learning the Facts about the Persecution Is Important
Xin Di was incarcerated in the Second Women's Forced Labor Camp in Shandong Province for three years. "I was locked up solitary confinement for 13 months; deprived of sleep for 40 days straight, forced to stand still for nine days in a row, and not allowed to use the toilet or my wash hands. As a result, I was crippled for over six months.
"The guards encouraged other inmates to beat my legs and joints with wooden batons until I couldn't move," she explained. "My arms were full of cuts and bruises from being pinched by inmates with sharp fingernails. Despite being tortured like this, I still had to do 17 hours of hard labor a day."
Ms. Xin said that the guards forced her to have a comprehensive blood exam and an ultrasound scan of her kidneys and liver. In 2002, a guard told her that they were going to move her to an undefined location and that she was not coming back.
A few days later, they told her that they were not going to move her because her family frequently visited her in prison and the guards did not want any backlash from her family if she failed to return.
"My family's care and concern for me saved me from becoming a victim of live organ harvesting," Ms. Xin contends.
Raising International Awareness
Vancouver Falun Dafa Association spokesperson Ms. Zhang Su urged the international community to pay close attention to the persecution of Falun Dafa practitioners in China, especially pertaining to the issue of live organ harvesting.
Ms. Zhang said that she would be submitting a stack of signed petitions calling on the Canadian government to speak out on behalf of the Falun Dafa practitioners in China who are being persecuted for their beliefs.