Canada: Member of Parliament Libby Davies Sends Congratulations for Falun Dafa Month
(Minghui.org) May 2013 marks the 21st anniversary of the introduction of Falun Dafa to the public by Mr. Li Hongzhi, the founder of Falun Dafa. Falun Dafa practitioners in communities across Canada will celebrate Falun Dafa Month with parades and free public traditional Chinese dancing and singing performances.
On this occasion, honorable Libby Davies, Member of Parliament of Canada, sent the following congratulations to Falun Dafa Association of Vancouver on the celebration of Falun Dafa Month.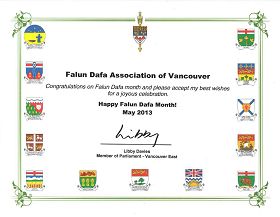 Falun Dafa Association of Vancouver
Congratulations on Falun Dafa month and please accept my best wishes for a joyous celebration.
Happy Falun Dafa Month!
May 2013
Libby Davies
Member of Parliament – Vancouver East