Shen Yun Creates Timeless Memories for New York Theatergoers (Photos)
(Minghui.org) Shen Yun Performing Arts was warmly received by audiences in The David H. Koch Theater at Lincoln Center in New York, on April 20-28, 2013. The theater's namesake, Mr. Koch, attended one of the eleven shows performed by the New York-based dance company.
Theater's Namesake "Loved" Shen Yun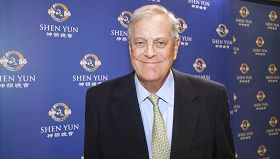 American businessman and philanthropist, David H. Koch
One very special audience member, David H. Koch, the theater's namesake, said that he had found Shen Yun "inspirational," and that it put him in a "good mood."
"It's an art form that I'm not familiar with, but I certainly loved it tonight," Mr. Koch said, after watching the show.
Mr. Koch, a philanthropist and vice president of Koch Industries, is the fourth richest person in the United States. His generous $100 million donation in 2008 enabled the recent renovation of the theater.
He thought that Shen Yun was a good fit for the venue. "I'm very pleased that a company of this talent performs here, and their dance is exposed to New Yorkers," he said. "It's obvious that there's a lot of people in New York City who like this entertainment."
The executive found the unique combination of a Western philharmonic orchestra and traditional Chinese instruments in the show "very soothing, pleasing."
One of Shen Yun's award-winning singers, soprano Haolan Geng, stood out for Mr. Koch. "The power of her voice was remarkable, and such purity, and such drama, it was quite wonderful," he explained.
Mr. Koch commented on the athletic skill of the Shen Yun dancers, saying it was "quite something." He added, "I hope to see more of it in the future."
Investment Banker: Shen Yun "An Incredible Tour de Force"
Frederick Frank, vice chairman at Peter J. Solomon Company
Frederick Frank, vice chairman at Peter J. Solomon Company, and former vice chairman at Lehman Brothers, said he had "a thoroughly enjoyable time" watching Shen Yun.
"It shows a dedication close to perfection," he said of the dancers. "The dedication these people have to make sure that [their movements are] synchronized perfectly is really astonishing," he added. "And they do it with a very engaging smile on all their faces—this is hard work—and they certainly give the impression they are enjoying it," he explained. "I am enjoying it as well, and it's an incredible tour de force."
Mr. Frank noted that the choreography was "spectacular" while demonstrating "discipline [that] is unmatched."
Mr. Frank's wife, Mary, who is also an investment banker, described Shen Yun as "wonderful" and "quite extraordinary."
"It's fast-paced and it's very engaging. The music is engaging," Mr. Frank concluded.
Former president of Procter and Gamble for Europe, the Middle East, and Africa, Harald Einsmann
Also in the audience was Harald Einsmann, former president of Procter and Gamble for Europe, the Middle East, and Africa. "Let me tell you. Number one, the dances are fabulous. The technology with the projection is fabulous," Mr. Einsmann enthused.
Accompanying him was his wife, Elke, who also thought the performance was beautiful. "The music … especially the Chinese music, it's so … such a balance," she said, adding that "everybody must like it."
Bob Brunner, vice president and head of U.S. operations at Nigerian Airline Arik, said, "The mix between using the screen, to using the dance, to the costuming, the way it all brought together the storyline which was the message, [it was] very powerful."
For his wife Karen, Shen Yun was a "fantastic eye opener into a great culture," adding, "I thought it was very interesting seeing this was ancient Chinese but you could definitely see where other dancing has come from, based on this. I thought that was great."
Shen Yun Uplifts Humanity, Says Opera Star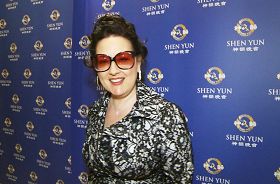 Opera singer and television personality, Cristina Fontanelli
Opera singer and television personality, Cristina Fontanelli, said that Shen Yun's award-winning sopranos and tenors, and the themes that they conveyed, resonated with her.
"They are very beautiful, their voices are beautiful. The songs they sang, I noticed very carefully, the lyrics of the songs, they are very profound. They are very meaningful," Ms. Fontanelli said.
Described in professional reviews as having no equal and being a vocal genius, she frequently appears at world-class venues such as the Kennedy Center in Washington D.C., and New York's Lincoln Center. Her vast repertoire includes works in eight languages.
"I was raised a Catholic, a Christian. I did not understand that the Chinese also believe in heaven and that your actions on Earth are watched and recognized," she explained. "It is a beautiful thing."
She said she understands how the spiritual practice Falun Gong ties into ancient Chinese culture, and the fact that "it is important to know" about traditional Chinese values.
"It makes me feel so warm-hearted towards the Chinese people, because it is universal: We all want truth, compassion, and tolerance," she said. "I just wish all the Chinese people could see this beautiful representation of the 5,000 years of their beautiful culture."
Noting the fact that the Chinese Communist Party will not allow Shen Yun to perform in China, even though the dance company actively promotes ancient Chinese culture, she said, "We are fortunate in the United States, and in lots of other parts of the world, that we can see whatever we like."
She concluded, "This is a show of great beauty and it lifts up humanity."
Singer "Burst Into Tears"
Award-wininng soprano, Victoria Wefer
Award-winning soprano, Victoria Wefer, said she was enchanted by the music and vocals in Shen Yun, calling them, "absolutely supreme."
Ms. Wefer explained, "During the erhu solo, I literally burst into tears during the first two notes. I started crying because it was a human voice, just like our violin of the West. And to hear it, it was very powerful." She was referring to virtuoso Xiaochun Qi's "Sacred Destiny."
The two sopranos also impressed Ms. Wefer. "The applause was almost deafening at one point. And that was well deserved," she said.
"A couple of messages stayed with me as the lights dimmed, Ms. Wefer said. "Tolerance. Mercy. Patience. And love. Everything was so beautiful, so very well done. I will be back here next year for sure. And I will bring friends."
Ms. Wefer has performed for royalty in Europe, as well as many audiences in the Unites States, and the rest of the world.
Company President Sees Shen Yun for Fourth Time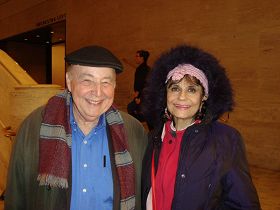 Company president, Mr. Zlokower and his wife
Harry Zlokower, who attended the show with his wife Nicole, is president of the Zlokower Company, a public relations agency, and a columnist for the New York Real Estate Journal. "We feel very happy... very cool and calm," he said.
The Zlokowers have seen Shen Yun four times, mainly because the performance relaxes them. "No stress—we feel enchanted," said Mrs. Zlokower. "Very soothing."
"Really Inspirational," Says Digital Designer
Digital designer and video producer, Thes Hansen
Thes Hansen, a principal at TELEGRAPHICMEDIA, took his eleven-year-old daughter to see Shen Yun. He said he was amazed and inspired by the show.
"There's a lot of ideas that pop out of my [head] just seeing it," he said. "The live performance was really inspirational. It's very good."
The digital backdrops especially caught Mr. Hansen's eye since he is a digital designer and video editor. "It's the telling of a story in a different way," he said. "The digital visuals interacting with the screen, so nice. Really good. I'm a tech guy so I really appreciate all that."
He added, "I'm just impressed with the professional level of these performers, bringing their craft, their energy, and their focus. And they're so in sync!"
Sources: TheEpochTimes.com
NTDTV.org