Madrid, Spain: Commemorating the Peaceful April 25 Appeal (Photos)
May 03, 2013 | By a practitioner in Spain
(Minghui.org) Falun Gong practitioner in Spain gathered in front of the Chinese embassy on the morning of April 24, 2013 to commemorate the 14th anniversary of the April 25 appeal in Beijing.
Practitioners displayed large banners and display boards exposing the brutal persecution of Falun Gong by the Chinese Communist Party (CCP). While distributing leaflets, they spoke to people about the torture and forced organ harvesting from living Falun Gong practitioners in China, and collected signatures for a petition opposing the persecution. Practitioners also demonstrated the exercises.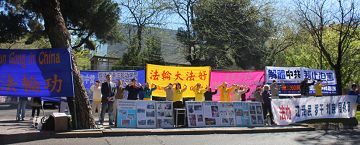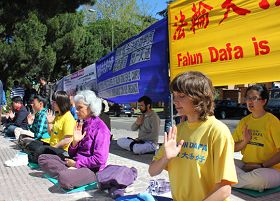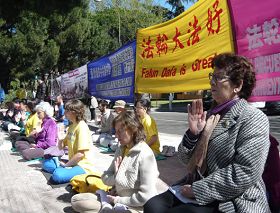 Commemorating the peaceful April 25 appeal, practitioners in Spain protest the persecution in front of the Chinese embassy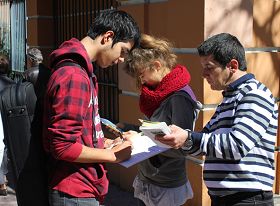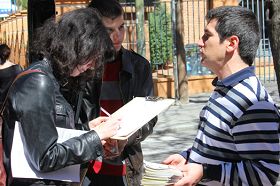 Spanish citizens sign the petition to support Falun Gong
The peaceful appeal caught the attention of many pedestrians, who crossed the road to view the display and sign the petition.
People in their cars honked their horns and waved their hands through the window to show support. Some called out: "Keep it up!'"
After reading a truth clarification flyer, a man said: "My wife and I are doctors. There's even such a crime of harvesting organs from living people in China. It's really shocking, unbelievable! The CCP is even more evil than the Nazis! We hope this persecution will end soon."
Rally at Puerta del Sol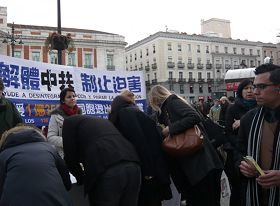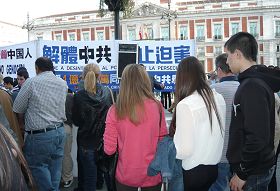 Practitioners in Spain raise awareness about the CCP's atrocities at Puerta del Sol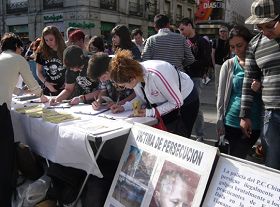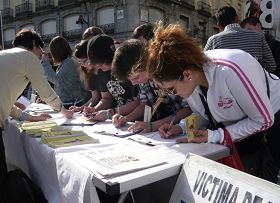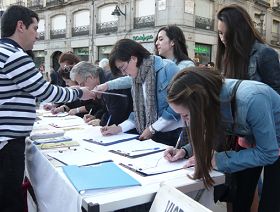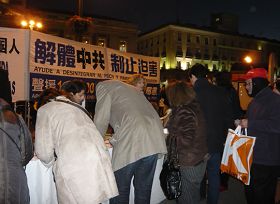 A continuous stream of people came to support Falun Gong practitioners' efforts to end the persecution
From 5:30 p.m. to 8:30 p.m., practitioners gathered at the Puerta del Sol ("Gate of the Sun" square), centre of Madrid, where they continued to raise awareness about the persecution and draw support.
A Spanish lady in her 60s was very emotional upon viewing the display boards. She tugged at a practitioner asking: "What's happening? Why are these people subjected to such torture?" The practitioner explained to her in detail and she was moved to tears. She solemnly signed the petition. Before she left, she hugged this practitioner tightly and said to her: "Thank you for telling me this, it's very important! Good work, keep it up! Let more people know the truth!"
Standing nearby, there was a Chinese student listening to the practitioner's conversation with the elderly lady. The student said: "My teacher gave me a DVD about Falun Gong, but I haven't watched it yet. I'll definitely watch it when I get back. I came to Europe as a tourist, and saw the Falun Gong activities in Germany and France. I didn't realize that people in so many countries practice Falun Gong. Falun Gong must be really good to have so many people practicing it."
Quitting the CCP
Several young students from China were asked by a Falun Gong practitioner whether or not they had heard about the movement to quit the CCP. One of the boys said with a smile: "I've quit already!"
He went on to explain: "I went to DynaWeb and Epoch Times websites by using the internet censorship circumvention software. I learned quite a lot of facts about Falun Gong. I used a pseudonym and quit the CCP's Youth League and Young Pioneers on the Epoch Times website."
When the practitioner advised his companions to quit the CCP, he also encouraged them: "Go ahead quit, quit!" After they learned the facts, these young men all agreed to quit the CCP organizations. As they left they kept saying: "Thank you! Thank you!"