Paris, France: Rally in Front of Chinese Embassy Honors the April 25 Appeal (Photos)
May 03, 2013 | By Yu Ning
(Minghui.org) April 25, 2013, marked the 14th anniversary of the peaceful appeal by Falun Gong practitioners in China. On this day in 1999, over 10,000 practitioners went to Beijing to urge the central government to cease unwarranted harassment and preserve freedom of belief guaranteed by the Constitution.
While the international community lauded the peaceful effort, the communist regime, under the leadership of Jiang Zemin, chose to launch a brutal suppression of Falun Gong within 3 months of the event.
Falun Gong practitioners held an annual rally in front of the Chinese Embassy in Paris, France, to commemorate the April 25 Appeal and expose the 14-year-long persecution of Falun Gong in China. They also demonstrated Falun Gong exercises and distributed informational materials to introduce the practice to the public.
Many people stopped by to hear the facts, and some even asked where the local practice sites were so that they could learn Falun Gong (also known as Falun Dafa).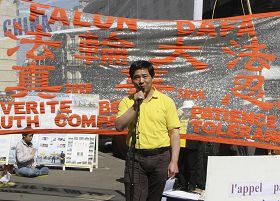 Hanlong Tang, chair of the French Falun Dafa Association speaks speech at the rally.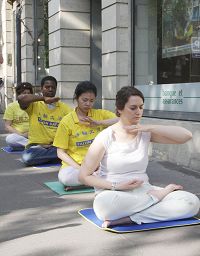 Practitioners demonstrate Falun Gong exercises.
Hanlong Tang, chair of the French Falun Dafa Association, said: "During these 14 years, Falun Gong practitioners around the world have never stopped clarifying the truth about the persecution to governments and the public in various countries.
''Today, French President [François] Hollande will start his visit to China. Before his departure, the French Falun Dafa Association submitted to him a letter to call his attention to the Falun Gong issue. We hope that he will talk about the Falun Gong issue when meeting with Chinese leaders.
"Today, our rally in front of the Chinese Embassy is again a call on the French president to pay attention to the Falun Gong issue and demand that the Chinese Communist Party (CCP) immediately stop the persecution of Falun Gong practitioners."
Practitioner Recalls Being Persecuted in Forced Labor Camp
Practitioners present at the peaceful appeal in Beijing on April 25, 1999, or involved in the incident in Tianjin that had led to the appeal, shared their personal experiences at the rally. Tianjin police had arrested more than 40 local Falun Gong practitioners without proper procedure or reason, prompting practitioners to seek help from the central authorities.
Falun Gong practitioner Zhe Wang exiled from Tianjin to France. He recalled: "On April 21, 1999, scientist Zuoxiu He published an article in the Youth Science and Technology magazine of the Tianjin Institute of Education titled 'I do not approve of young people practicing qigong.' The article criticized Falun Gong by quoting false examples made by a Beijing TV Station in 1998.
"As a Falun Gong practitioner and someone who has benefited greatly from the practice, I went to the Tianjin Institute of Education on April 21 to clarify the facts about Falun Gong to the editor-in-chief of the magazine. It turned out that the courtyard of the Institute of Education was full of other practitioners, each of whom also came to clarify the situation. We were standing there orderly, quietly reading books, and waiting for a response from officials. Occasionally, practitioners would pass by and pick up any rubbish they saw on the ground, leaving the place clean and spotless.
"Two days later, on April 23, police arrested 45 Falun Gong practitioners in Tianjin. There were some Falun Gong practitioners who were injured and bleeding [during the arrest]. As a result, on April 24, practitioners went to the Tianjin municipal government. Staff there said that we should go to the State Council Appeals Office in Beijing. Over 10,000 people came to participate in a peaceful appeal that took place on April 25, 1999, in Beijing."
In 2001 Zhe Wang was illegally detained in a forced labor camp in Tianjin for distributing Falun Gong informational materials. He was subjected to cruel torture resulting in paraplegia. At the rally, he shared some of his experience, recalling that he was beaten and shocked with 6 or 7 electric batons for long periods of time, so that his back was full of pustules. The pustules spread to his chest and neck, finally affecting his spine and a ribs, resulting in paraplegia. He underwent a painful surgery without anesthetics.
Upon his release from the labor camp and resuming his practice of Falun Gong, he eventually recovered miraculously.
He said, "I will continue to expose this brutal persecution, until the persecution stops."
Practitioner Recounts Her Experience in Tianjin
Chunfang Zhang, a practitioner another from Tianjin, also spoke of her experience: "I went to the Tianjin Institute of Education on the afternoon of April 23. There were many Falun Gong practitioners there. Some were studying the Falun Gong books, some were meditating. They were all very quite; only a small number of practitioners went in to clarifying the facts to the magazine editorial team.
"Unexpectedly, in the evening when it got dark, a lot of policemen suddenly arrived with electric batons to drive and beat practitioners violently. An elderly practitioner, nearly 70 years old, whom I knew well, was beaten by a policemen. As she was beaten, she called out: 'I am a living evidence [that Falun Gong is good]. I practice Falun Gong and 24 kinds of diseases that previously plagued me have all disappeared. Falun Gong is good!' At that moment, I told the policemen: 'She is the same age as your grandmother! How can you beat such an elderly lady?!'
"I was also hit, which caused an injury to my right arm, and I could not lift it for some time. Those practitioners who insisted on staying in the courtyard were thrown into police cars. Some of the practitioners were injured during the arrest.
"Later many practitioners went to Tianjin municipal government to request the release of arrested practitioners. On the afternoon of April 24, I also went to there. The Tianjin municipal government said the Ministry of Public Security had intervened in the matter, and the arrested Falun Gong practitioners would not be released without the authorization from Beijing. Tianjin police thus suggested: 'You go to Beijing. Only by going to Beijing can you solve the problem.' Therefore, the April 25 peaceful appeal then took place.
"In reality, the CCP and Jiang Zemin knew very well what Falun Gong was. And they were even more clear that people who practice Falun Gong are all good people, that Falun Gong is righteous. The nature of the CCP is that of lies, evilness and fighting, which contradicts Falun Gong's principles of Truthfulness-Compassion-Forbearance. That is the reason the CCP wants to destroy Falun Gong. It can be said that their persecution of Falun Gong was carefully plotted long ago."
The Power of Justice Will Prevail
Jian Zhang, a pro-democracy student leader from the June 4, 1989, student demonstration on Tiananmen Square —which turned into the Tiananmen Square Massacre when the regime deployed tanks against the unarmed demonstrators—came to the rally to support Falun Gong practitioners.
He said: "Fourteen years ago, Jiang Zemin said it would take only three months to terminate this peaceful group. Yet, 14 years later, we still see Falun Gong practitioners' strong presence all around the world.
"In 1949, when the CCP took over mainland China, it launched a full-scale repression of dissidents in China. However, the Chinese people's desire for freedom and kindness have never been eliminated. The power of justice and kindness exists forever.
"Just recently, official media in mainland China reported on Masanjia Labor Camp's abuse of inmates, among whom are petitioners, dissidents, with the majority being Falun Gong practitioners. The current Chinese leaders are very clear on how those labor camps seriously abuse Chinese people's human rights. However, the regime covers up the facts with propaganda, which illustrates that the evil power of the CCP is still able to suppress the Chinese people as it used to."